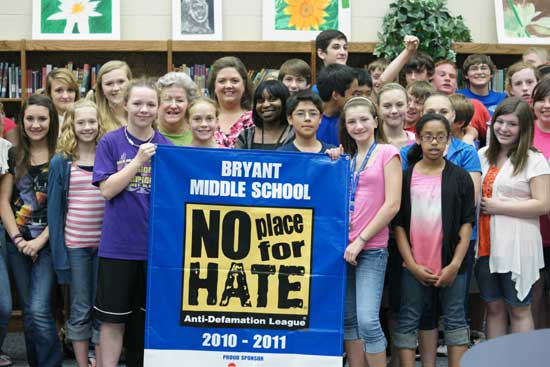 As the 2010–2011 school year came to a close, students and faculty from Bryant Middle School celebrated their[more] No Place for Hate® designation. Employees from Entergy Arkansas presented the No Place for Hate banner to the entire school.
No Place for Hate®, a national initiative of the Anti-Defamation League (ADL), is a year-long program that empowers schools to challenge discrimination and bullying and create respectful, safe and bias-free learning environments. To earn this distinction, schools take the No Place for Hate® pledge to create an inclusive school environment, and implement activities, lesson plans and projects that promote respect for differences, facilitate inter-group dialogue, and promote harmony. Activities include: mural paintings, drama, dance and musical performances, essay writing, book reading, cultural fairs, civil rights presentations and more.
Bryant Middle School is part of a No Place for Hate® partnership, which is underwritten by a grant from the Entergy Charitable Foundation. In this unique ADL–Entergy partnership, which takes place in schools throughout ADL's South Central region of Louisiana, Arkansas and Mississippi, Entergy employees serve as No Place for Hate® Ambassadors who help identify potential schools, implement the initiative and participate in school programs. There are 28 No Place for Hate® schools throughout the South Central region, of which 18 are part of the ADL-Entergy partnership.
No Place for Hate Resolution of Respect (Middle and High Schools)
I pledge from this day forward to do my best to combat prejudice and to stop those who, because of hate or ignorance, would hurt anyone or violate their civil rights. I will try at all times to be aware of my own biases and seek to gain understanding of those who I perceive as being different from myself. I will speak out against all forms of prejudice and discrimination. I will reach out to support those who are targets of hate. I will think about specific ways my community members can promote respect for people and create a prejudice-free zone. I firmly believe that one person can make a difference and that no person can be an "innocent" bystander when it comes to opposing hate. I recognize that respecting individual dignity, achieving equality and promoting intergroup harmony are the responsibilities of all people. By signing this pledge, I commit myself to creating a community that is No Place for Hate®.
No Place for Hate Promise (Elementary School)
I promise to do my best to treat everyone fairly.I promise to do my best to be kind to everyone—even if they are not like me. If I see someone being hurt or bullied, I will tell a teacher. Everyone should be able to feel safe and happy at school. I want our school to be No Place for Hate®
"The immediate object of the Anti-Defamation League is to stop, by appeals to reason and conscience and, if necessary, by appeals to law, the defamation of the Jewish people. Its ultimate purpose is to secure justice and fair treatment to all citizens alike and to put an end forever to unjust and unfair discrimination against and ridicule of any sect or body of citizens."