Photos courtesy of Paul Dotson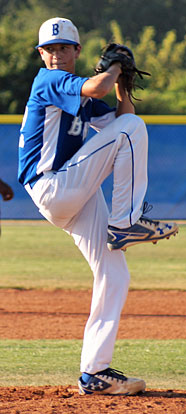 HUGO, Okla. — The Bryant All-Stars rallied for four runs in the top of the fifth to erase a 5-1 deficit then struck for four more in the top of the seventh to escape with a 9-5 victory over Opps, Ala., in the opening round of the 2016 Babe Ruth 13U Southwest Regional Tournament on Friday.
Bryant, the Arkansas champion, advances to play on Saturday at 2:30 p.m., against either Levelland, Texas.
Bryant's team, coached by Greg Riggs with assistance from Matt Orender and Scott Allison, includes Kannon Allison, 
Dakota Clay, Joey Jilek,
 Cooper Kinzler,
 Cameron McDonald,
 Dayton Medlock, Justin Orender,
 Alec Purdom, 
Ryan Riggs,
 Blaine Sears,
 Brandon Thomsee and Joshua Turner.
Allison got the win on the mound in relief of Turner, the starter. Allison allowed just one run on three hits over the final five innings. He walked two and struck out six.
At the plate, Jilek drove in three runs and McDonald knocked in two.
It didn't look good for Bryant through four innings. In the fifth, Sears walked to lead off but was thrown out trying to steal. Riggs drew a free pass then so did Clay. A wild pitch put them at second and third for Jilek, who cracked a single to center to make it 5-2.
Turner got a sacrifice bunt down and Bryant had runners at second and third for McDonald, who cane through with a two-run double. Orender singled him to third then Allison beat out an infield hit to get McDonald home with the tying run.
Allison pitched around a two-out walk in the bottom of the fifth and again in the bottom of the sixth, setting up the game-breaking outburst in the top of the seventh.
This time, McDonald instigated the rally with an infield hit. Orender drew a walk and both advanced on Allison's grounder to first. Purdom snapped the tie with a line drive single up the middle.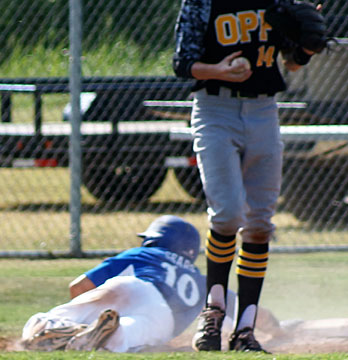 Medlock came on to run for Purdom and proceeded to steal second. Sears walked to load the bases. Though the Opps catcher made a nice play on a tapper off Riggs' bat, Clay was plunked by a pitch to force in a run before Jilek came through with the crowning block, a two-run double to right.
Allison induced grounders to Turner at third and Clay at short before ending the game in style with a strikeout.
Bryant had staked out a 1-0 lead in the top of the first. Sears singled and swiped second. Riggs beat out an infield safety then he swiped second. A passed ball allowed Sears to score. With two down, Turner and McDonald each drew free passes to load the bases but Opps escaped without further damage.
The Alabama team racked up four runs in the bottom of the first. It stayed 4-1 until the bottom of the fourth when Opps got another one.