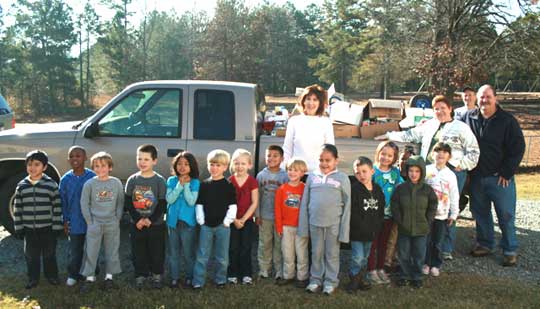 In a food drive sponsored by high school organizations Junior Civitan, National Honor Society, and Air Force Junior ROTC, Bryant School District students and staff collected over 1,473 pounds (23,561 ounces) of food and over $500 to purchase turkeys for those less fortunate this holiday season. The ROTC students were able to assemble 60 boxes of food in all, with 50 being Boxes of Love that were delivered to families here in Saline County. The remaining food donations were donated to the Arkansas Rice Depot.[more]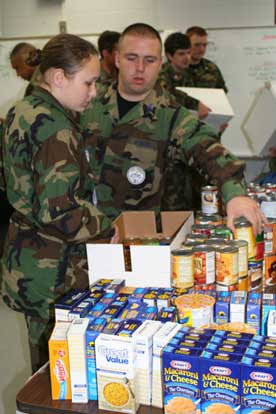 As part of the drive, high school classes competed against each other for the most food donated. The winners in the classroom competition were: in 3rd place with over 1, 876 ounces collected, Mrs. Myra Paulk class; in second place with over 2,461 ounces collected, Mr. J.David Moorman's class; and in first place with over 4,852 ounces collected, Mrs. Donna Schrader and Coach Jason Hay's class.
The district would like to extend their appreciation for the three coordinating organizations and their staff sponsors, Becky Dees (Jr. Civitan), Kelli Fulton (National Honor Society), and Lt. Col. Ricky Willis (ROTC).
In another area of the district, Mrs. Marla Smith's kindergarten class from R.L. Davis Elementary helped organize a food drive within their school. The students and staff at Davis alone collected 2,317 food items, which assembled into 30 Thanksgiving boxes to Living Stone Fellowship church to feed hungry families coming to them for assistance. Also, four abundant holiday boxes were delivered to families at Davis that are in need this season.
The rest of the food items were picked up by Healing Waters, a local food pantry. When Healing Waters Executive Director Robert Holt received the food, he was extremely appreciative of the unexpected donation. According to PTO President and Davis Secretary Brandi Soucy "… he prayed that they would have enough food this season to feed the hungry families in the Shannon Hills community". It was Soucy's hope that the food donated from Davis would "make a huge difference in easing the strain of the upcoming holiday."
For further information, contact Jessica Norris, Director of Communications, at jnorris@bryantschools.org.