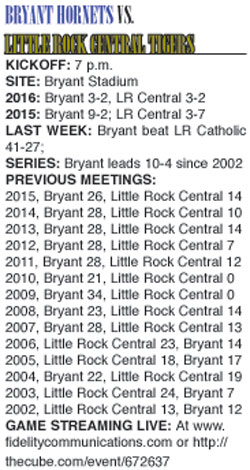 File photo by Kevin Nagle
The Bryant Hornets and the Little Rock Central Tigers, who battle tonight in a 7A-Central Conference game at Bryant Stadium, have something particular in common. Both of them have been shut out by the physical, talented Fort Smith Northside Grizzlies' defense.
Central absorbed a 19-0 loss last week after Bryant fell 29-0 the previous Friday night.
Despite that result, Bryant head coach Buck James has said that his team improved along the way and, perhaps, the seeds of last Thursday's 41-27 win over Little Rock Catholic were planted.
Now, after what James called his team's best week of practice all year — funny what a healthy victory can do for you — they'll try to build on that win with another against a Tigers team that started the year impressively but has run into two of the top teams in the 7A-Central Conference over the last two weeks, losing to North Little Rock 49-7 before taking on Northside.
That not withstanding, the defenses of the Tigers and the Hornets have been integral to their successes this season. Central downed Rogers Heritage 31-14 then Bentonville West 37-14 at home before winning at West Memphis, 17-12.
In the win over the new Bentonville West team, the Tigers' defense produced eight sacks including four that involved Malik Allen. They forced four turnovers.
Against West Memphis that had eight tackles for losses, forced three turnovers and scored off two of them.
The Hornets' defense was led by linebacker Marvin Moody, who had 22 tackles, blocked a punt and recovered it for a touchdown against Catholic. Cornerback Andrew Hayes and defensive tackle Kajuan Robinson, both sophomores, each ran back an interception for a touchdown.
"Our football team got better," James stated. "We were able to capitalize on some mistakes. We were able to make some plays. I thought we were a lot more versatile on offense. Offensively we improved and defensively we just keep getting better. Hopefully that continues."
Quarterbacks Ren Hefley and Beaux Bonvillain combined to complete 19 of 35 passes for 237 yards against Catholic including the first Bryant touchdown pass, a bubble screen to sophomore Randy Thomas that he took 25 yards to the house.
Work continues on trying to develop an offensive line. New offensive line coach Shane Clancy inherited a situation where there were no returning starters up front.
"They get better every week," James said. "There was a lot of pressure, a lot of blitzes (from Catholic). I thought they did a good job. We were able to run the football a little bit better.
"It's baby steps," he said. "We've got to keep getting better.
The personnel has been mixed and matched by Clancy based on the individuals' work in practice during the week.
"I'm proud of the way those guys keep progressing," James added.
Central's offense features junior quarterback Jacob Howard and running backs Marlo Thompson and Oscar Adaway III.
At 0-2 in the league, the Tigers figure to be fired up for the chance to notch a conference win.
"Central's very athletic. They're well coached. They're good at what they do," James said of the Tigers. "Their defensive front might be as good as anybody we've seen. They've got a lot of speed in the secondary. They've got great tailbacks and a very good quarterback. Our work's cut out for us."
The coach acknowledged that the early success — 17 points in the first quarter — was a big step for his team against Catholic.
"We've got to be able to score some points," he related. "We've got to be able to keep the ball away from them. We've got to take care of the football. Hopefully, we can score early where our defense can play with a lead.
"We've got to play better on special teams," James mentioned, referring to a kickoff return at the end of the first half for Catholic that deflated some of the Hornets' momentum, trimming what would've been a 20-7 halftime lead to a one-score difference.
The rivalry between Central and Bryant goes back to 2002. The Hornets have won 10 of the 14 meetings including nine in a row dating back to 2006.