Photos courtesy of Olaf Hoerschelmann
Taking advantage of an early opportunity to compete, 14 schools, including Fayetteville, came to Bryant on Thursday for a season-opening Bryant November Invitational swim and dive meet at the Bishop Park Aquatic Center.
Bryant's girls and boys teams each finished third in their respective divisions. The Lady Hornets accumulated 306 points to finish behind Fayetteville (449) and Cabot (353). The Hornets finished with 284 points behind Fayetteville (407) and Cabot (331).
The top performance for the Bryant teams came from Michael Higgs, who won the 100-yard butterfly with a time of 56.40. He beat out Cabot's Alex Layman (59.09).
For the Lady Hornets, Jessica Butler shined, finishing second in both the 100 butterfly in 1:05.36 and the 50 freestyle in 25.92. She also contributed the anchor leg to the team's 200-yard freestyle relay, joining Taylor Wilson, Kayla Vaughan, and Lara Kockaya with a time of 1:50.99.
In the 50 free, Butler was edged by North Little Rock's Anna Jaworski (25.84), finishing just ahead of Fayetteville's Olivia Keith (25.94). In the butterfly, Lydia Huthmaker won in 1:03.99. Lizzie Stevens of Fayetteville was third in 1:05.76.
The winning time in the 200 relay was turned in by Fayetteville at 1:49.88. Bryant edged North Little Rock for second. The Lady Charging Wildcats finished in 1:52.77.
For the Hornets, Kyle Henry turned in a second-place performance in the 500 freestyle. His 5:36.02 trailed only North Little Rock's Joseph Potts, who finished in 4:58.28. Cabot's Chase Foiles was third in 5:37.98.
For the girls, third-place finishes were turned in by Paris Works in the one-meter dive, accumulating a score of 135.35; Taylor Wilson in the 200 free in a time of 2:18.05; Kockaya in the 200 individual medley in 2:29.64; as well as the 400-free relay team of Erin Vaughn, Hailey Addison, Jamie Hammers and Kayla Vaughan at 4:40.17.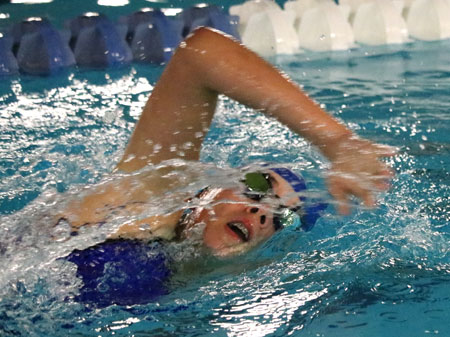 For the Hornets, third-place finishers included Caivon Crosby in the one-meter dive with a score of 131.50 plus the 200-yard relay team of Alex Ball, Tristan Hoerschelmann, Higgs and Henry (1:53.96) and the 400-yard freestyle relay team of Hoerschelmann, Dylan Althen, Jacob Eubanks and Jacob Rhode (4:04.47).
Sara Weber finished fourth in the one-meter dive for the girls with a score of 113.75 while Mark Calimpong took fourth in the boys one-meter dive with a score of 130.20. In the 200-yard freestyle relay, the team of Trevor Ball, Althen, Henry and Higgs took fourth in 1:43.89.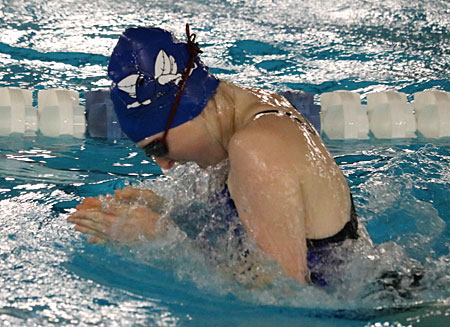 The Lady Hornets' 200 medley relay team of Ellie Hooten, Kockaya, Butler and Wilson turned in a 2:08.17 to finish fifth. In addition, Maria Carmona was fifth in the dive competition and Wilson was fifth in the 500 free in a time of 6:02.49.
The Hornets picked up fifth-place points in the 50 free from Eubanks who turned in a 24.57 clocking. Henry was sixth in 24.68, Eubands was sixth in the 100 free (56.53) and Rhode was sixth in the 500 free (5:46.78).
Rhode was seventh in the 200 free with a time of 2:11.96. Jalen Dinstbier was 14th in 2:34.18. Alex Ball was seventh in the 200 medley, finishing in 2:27.44 with Althen 11th in 2:47.72.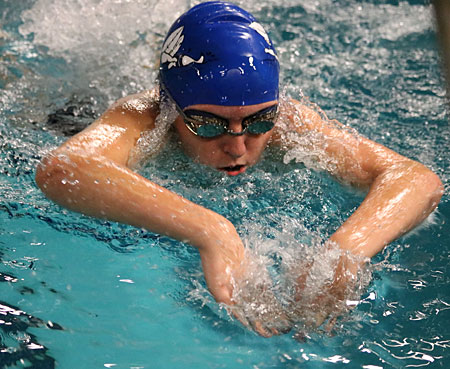 Trevor Ball's 1:14.96 was seventh in the 100-yard backstroke with a time of 1:14.96. Calimprong was 11th in 1:30.98.
Completing the boys results, Alex Ball was 10th in the 500 free (6:03.32), Hoershelmann was 11th in the 100 breast stroke (1:17.65) and 14th in the 50 free (27.52), while Althen took 15th in the 100 fly (1:15.98).
For the girls, Kayla Vaughan's 2:31.77 was good for eighth in the 200 free. Taylor Vaughn was 16th in 2:49.98.
In the 100-yard breast stroke, Kockaya was ninth in 1:19.45, Elizabeth Milam was 13th in 1:25.07 and Addison was 16th in 1:27.89.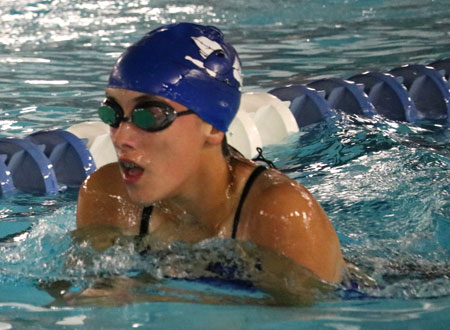 Erin Vaughn was ninth in the 100 fly (1:15.00) and Leela Hoerschelmann was 13th (1:24.90). Leela Hoerschelmann was also ninth in the 200 IM with a time of 2:49.68 with Addison 11th in 2:51.69 and Erin Vaughn 13th in 2:57.13.
Works took ninth in the 500 free with a time of 8:00.44.
In the 100 backstroke, Hooten was 10th (1:23.57) and Jaden Heath was 16th (1:32.18). In the 50 free, Kayla Vaughan was 10th (28.79) and Hooten 16th (30.62). Jamie Hammers added 14th-place points in the 100 free with a time of 1:11.06.
The Bryant squads, coached by Angel Dale and Blake Ratliff, return to competition on Tuesday, Nov. 29, at Conway.