By Kirk Stewart
The Central Arkansas S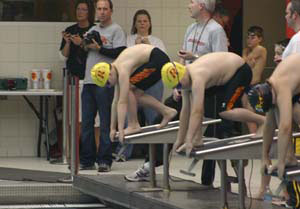 wim Club, which includes seven members from the Bryant area, finished sixth in the team competition at the state meet in Fayetteville held Saturday, Feb. 14. It was the first trip to State for the CASC Racers who are coached by Patrick Bass.The Racers consist of swimmers from different areas central Arkansas.
The Bryant area – and therefore the Bryant Barracudas swim team – was represented by Mason Nelson, Emily Dabbs, Audrey Guyett, Nicole Guyett, Monica Guyett, Luke Jamison and Justine Tazelaar.
Audrey Guyett left the meet as the highest-ranked 9-year-old in the state, scoring the most points of anyone on the team.
Bass reported that Nelson got off to a bit of a rough start but finished strong in his last event. He added that Dabbs,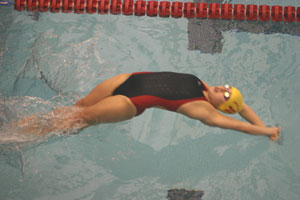 had her best meet of the year dropping the most time of anyone on the team. Nicole Guyett turned in a good meet and Bass indicated he was very impressed with her technique.
Bass also mentioned that Monica Guyett has a bright future. "She races with so much heart," he said.
In addition, Jamison set two new personal bests during the day and Tazelaar, the team captain, received high praise from her coach, who said, "She's shows her character and leads by example."
BryantDaily.com will be covering the Bryant Barracudas swim team this summer, as well.