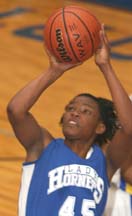 NORTH LITTLE ROCK (February 23, 2009) – Alana Morris, junior basketball player for Bryant High School, was honored as the Arvest Player of the Week at the Downtown Tip Off Club luncheon in North Little Rock today.
Morris, along with her coach, Blake Condley, received the award given by Larry Choate, representative from Arvest Bank, and guest speaker Steve Shields from the University of Arkansas at Little Rock.
Morris averages 19 points, eight rebounds, four assists, and three steals per game. Her season highs include 27 points and 20 rebounds against Cabot High School and 22 points and 18 rebounds against Little Rock Central High School.
Each week Arvest recognizes a male and female high school basketball player in Arkansas for their accomplishments in the sport. Luncheons are held on Mondays in North Little Rock a
t the Wyndham Riverfront Hotel or the North Little Rock Chamber of Commerce. For more information, contact Kenda Ford, NLR Chamber of Commerce, at (501) 372-5959.