Photos courtesy of Jon Staton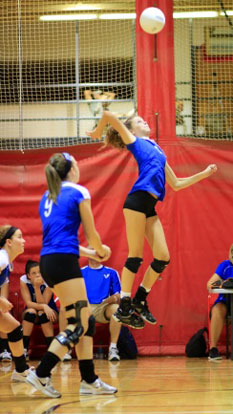 RUSSELLVILLE — After three consecutive gut-wrenching losses in 7A/6A-Central Conference matches — two of them in long-distance venues — the Bryant Lady Hornets volleyball team provided themselves with a strong dose of renewed confidence at a tournament held at Russellville High School Saturday. For the second time in as many such events this season, Bryant won its pool, this time by winning five of six games against the likes of Springdale, Alma (which defeated Bryant just last Thursday) and Morrilton.
In bracket play, the Lady Hornets were seeded fifth and, in the first round, ousted Beebe 2-0 before running into a Springdale Har-Ber team that had just too much size for them to overcome.
"The girls played hard all day and never gave up," stated Bryant coach Lawrence Jefferson. "I am proud of their effort and the success they attained by placing first in pool play for the second time this season. They continue to improve each day as a result of their dedication and hard work."
In the loss to Har-Ber, the Lady Hornets managed just 12 kills as a team in the two games. Allie Anderson accounted for half of those. Britney Sahlmann and Kendall Selig had two each.
"We struggled to hit past their height," Jefferson noted. "Their front line is big and tall and blocked very well. We also struggled with their hits because of their height."
Whitney Brown had five digs to lead the team. At the service line, Anderson recorded the lone ace but the Lady Hornets were good on 37 or 41 serves. Sahlmann had six without an error. She also finished with nine assists.
Bryant defeated Beebe, 25-20, 25-16. Anderson led with 11 kills, four aces and a solo block. She was good on 14 of her 16 serves. Sahlmann had 19 assists and was 5 of 5 on her serves. Selig and Nikki Clay contributed three kills each. Mercedes Dillard had two. Brown finished with 19 digs.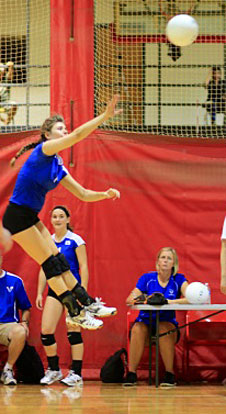 In a 2-0 win over Morrilton, Anderson had eight kills with Dillard and Selig finishing with three each. Sahlmann finished with 14 assists, was good on 14 of 15 serves with two aces. Selig and Anderson had two aces each and Dillard had one. Brown had nine digs, Anderson eight.
Sahlmann served up four aces in the 25-13, 25-16 win over Alma. Clay, who got in all 11 of her serves, had two aces as did Brown. Anderson and Dillard had an ace apiece as the Lady Hornets went 42 of 49 on their serves as a team.
Anderson produced eight of the team's 15 kills. Selig had four, Mercedes Dillard two and Alex Dillard one. Sahlmann finished with 12 assists. Brown led with 10 digs, Clay six.
The Lady Hornets split with Springdale, 25-13, 17-25. Selig had a big game at the service line with four aces out of six serves. Brown was good on all 12 of her serves. Mercedes Dillard contributed two aces and Sahlmann one.
Anderson finished with seven kills, Selig four, Clay three with both of the Dillard sisters picking up one as well as Sahlmann, who had 16 assists.
Clay came up with 12 digs, Sahlmann 10.
The Lady Hornets face another tough conference match on the road on Tuesday when they visit Conway. The Lady Wampus Cats are second in the league, trailing only unbeaten Russellville.