For more photos by Kevin Nagle, go here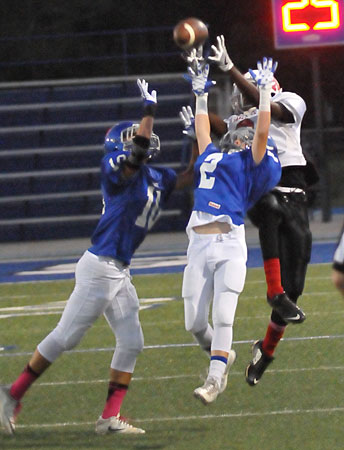 Coming off a deeply disappointing loss in the Hornet Bowl, which is the highlight of the season for the eighth grade teams in the school district, the Bryant White Hornets of Bryant Middle School didn't have much time to lick their wounds. That game was Thursday and they were back in the middle of another game on Tuesday night.
But they responded with what head coach Josh Fonville called, "our best game of the season, by far."
A 36-14 win over the Mabelvale Red Raiders was the result, evening the Hornets' record at 3-3 with two games left. They'll travel to play Cabot South on Thursday, Oct. 20.
"I told the coaches, it's going to be tough to motivate them the last three games, especially with one day of practice," Fonville said. "I am shocked and proud at the same time that they did what they did. They didn't have a hangover from the Bethel game and they came out and performed. To come off such a heartbreaking loss, a last-second kind of thing, I'm proud of them. It shows some character."
Regarding that one day of practice, Monday, the coach said, "We went full pads. We went all out. It was not a pre-game. We went live on kickoff. We went live offense, defense. I put my best on best. And I think it showed tonight. It definitely shows, not slacking off at practice just because we've had a game the last couple of days, the work was there.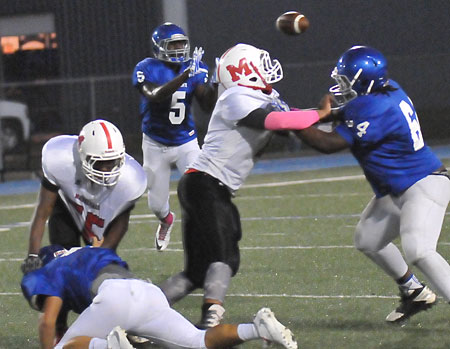 "They turned it around," he said. "And everybody got a chance to play. But the first group that was in, we finally played like I know we can play, like I've expected to see all year. And we've only seen it about two times now.
"And, honestly, we made some adjustments. We took out some folks that started last week against Bethel and have started pretty much all year. We got a few other folks in there to start because, obviously, what we were doing wasn't working. So the right personnel was in there tonight and you could tell. That's what we're going to go with from this point."
Mabelvale featured a big strong tailback, Javion Washington. But the Hornets defense held him to 44 yards on 16 carries. He pounded out a first down on three runs to start the game but struggled to find room after that.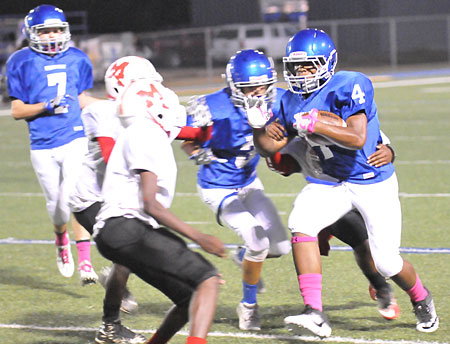 "(Washington) is real physical and I talked to him after the game," Fonville said. "I was very impressed with how physical he was. We were flying to the ball and we were tackling properly. We were getting down in our stance, breaking down, making the tackle. That makes a world of difference, rather than arm-tackling.
"We played so much more physical tonight," he continued. That's what we were lacking last week. Bethel is a great team and, up front, physically, they just whipped us. That's all there is to it."
The Hornets scored on the ground, through the air, on special teams and defensively. Myles Aldrige caught all five of Austin Ledbetter's passing attempts for 126 yards including touchdowns for 7 and 67 yards. Along with going 5 for 5 through the air, Ledbetter led the team in rushing with 38 yards on five tries. Connor Coleman scored on a 1-yard run and, to cap off the rout, Aiden Adams picked off a pass from Mabelvale quarterback Demetrius Weston and returned it 36 yards for a touchdown.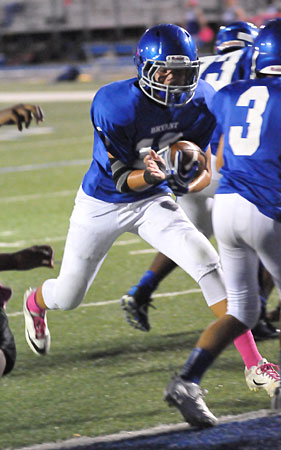 To open the game, the Red Raiders drove from their own 39 to the Bryant 33. A third-down pass fell incomplete then Washington was stopped short on fourth down by Chance Clendening, Trey Williams and Aldrige.
It took the Hornets seven plays to go 70 yards for the game's first score. Ledbetter and Aldrige hooked up for 14 yards then Ledbetter kept for 18. Another 14-yard completion off a swing pass reached the 20. Coleman crashed to the 9 and, a play later, Ledbetter's third completion to Aldrige went for a 7-yard touchdown.
Ledbetter ran in a two-point conversion to make it 8-0.
To their credit, the Raiders answered, though it took some fourth-down razzle-dazzle. They were facing a fourth-and-15 at the Hornets' 40. Weston threw a lateral to Washington who threw deep to Marcus Christopher for the TD.
A try for two was foiled by Christian Del Castillo and it was 8-6.
On the ensuing kickoff, however, Aldrige sprinted 78 yards for a touchdown. Coleman ran in the conversion and it was 16-6.
On Mabelvale's subsequent possession, two Washington runs managed 1 yard. On third down, Christopher ran the jet sweep but Bryant's Gavin Bronson separated the ball from the runner and Coleman recovered at the Raiders' 39.
Ledbetter kept to the 26 then threw down the right seam toward Aldrige who was double covered. He tipped the ball and came down with the ricochet at the 2. After Ledbetter was stopped short, Coleman scored.
Ledbetter passed to Adams for another two-point conversion and the Hornets were up 24-6 with 1:09 left in the first half.
And Bryant got the ball to start the second half. On his only rushing attempt of the night, Aldrige was stopped for a loss but, on the next snap, he hauled in a Ledbetter swing pass and took it to the house, 67 yards.
The teams traded possession as Fonville started to work in his reserves. Bryant's lone punt of the game, pinned Mabelvale back at its own 21 and, a play into the possession, Adams latched onto Weston's pass and streaked down the sideline for the touchdown.
The Raiders were able to drive for a score in the final minutes. A 24-yard pass on a fourth down set up a 19-yard TD strike from Weston to Christopher with 2:45 left. Weston ran in the conversion to set the final score.
The Hornets' Parker Prince covered the onside kick and they ran out the rest of the clock.