For more photos by Kevin Nagle, go here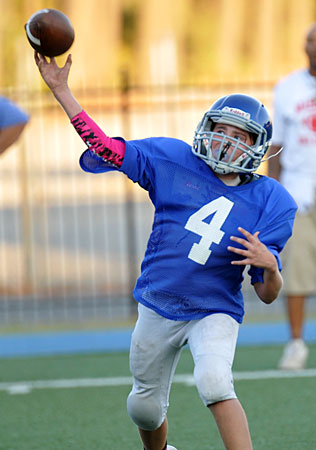 Sam Bess galloped 62 yards for a touchdown with five minutes left to play and the defense of the Bryant White Hornets seventh grade team of Bryant Middle School made it hold up for a 6-0 victory over the Mabelvale Red Raiders seventh grade team Tuesday night at Bryant Stadium.
The Hornets wound up holding the Red Raiders to a net of 0 total offense in the game, dropping them for losses on eight of their 22 snaps.
It looked, however, like the game might end in a scoreless tie. The Hornets, who lost running back Colin Craft and quarterback Connor Martin to injury during the game, got a lift from Bess along with Chris Elder at running back and Gavin Burton at quarterback.
Including his long TD run, Bess finished with 104 yards rushing on just six carries. Burton completed two passes in the game for 33 yards including a 21-yard strike to Pierce Kinley.
Mabelvale's only first down came on the opening possession of the game on a 20-yard run by Kyle McFadden. A play later, Elder dropped McFadden for a loss of 7. Kinley's tacke on a third-down play lost 14 yards.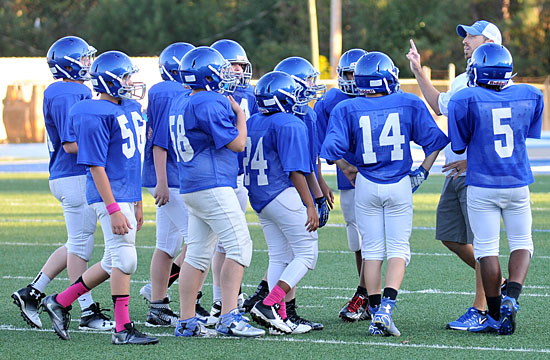 The Hornets threatened to put points on the board on their second possession. The pass from Burton to Kinley reached the Mabelvale 36. A play later, Elder slashed for 11 yards.
A fumble on a handoff cost Bryant 4 yards and that knocked the Hornets off schedule. On a fourth-and-6 at the 17, Bess was stopped a yard short.
After taking over at the 12, the Red Raiders lost yardage back to the 5 and two plays later, the half was over.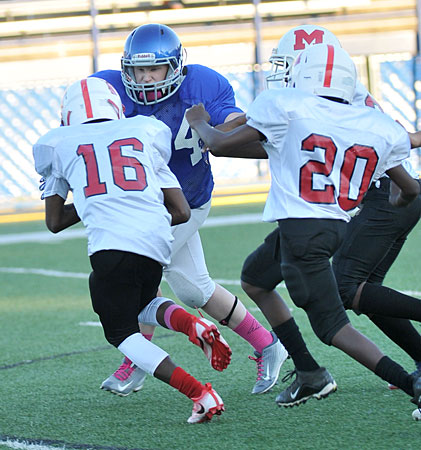 Bryant came out in the second half and, despite a loss on first down, drove into Mabelvale territory. Bess had runs of 13 and 11 then Roderick Bailey bolted for 12. Three plays later, the Hornets faced a fourth-and-1 at the Red Raiders' 34. But the drive ended there when Bailey was dropped for a loss.
In turn, the Raiders went three-and-out with Burton making a tackle for an 8-yard loss on a third-and-9.
Each team had drives that stalled in short order before the Hornets gained possession at their own 38 and Bess set sail for the touchdown.
A try for a two-point conversion was stopped short.
Mabelvale's response was undermined by a bad snap that cost them 8 yards and, on a fourth-down, a fumble that cost them 13 yards with about a minute left.
The Bryant White seventh graders wrap up the season against the Bryant Blue Hornets seventh graders from Bethel Middle School on Monday, Oct. 17.