Photos courtesy of Adam Settle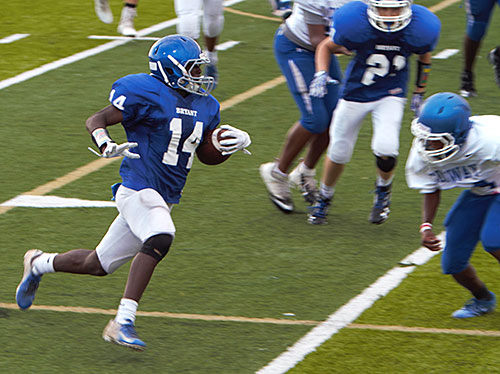 LITTLE ROCK — Quarterback Gary Rideout ran for a touchdown and threw for two more including one to James Martin, who ran for a second TD, as the Bryant White Hornets eighth grade team earned a 28-12 win over the Conway White Wampus Cats in a game played at Quigley-Cox Stadium as a prelude to the freshman game between Conway White and Little Rock Central.
"We played well," said Hornets coach Russell Wortham. "Our defense played well after a good week of preparation."
The Hornets opened the scoring after Jaeden Wilson intercepted a pass. Rideout threw to Justen Myles for 15 yards to the 1. Martin scored from there and Rideout added a two-point conversion run.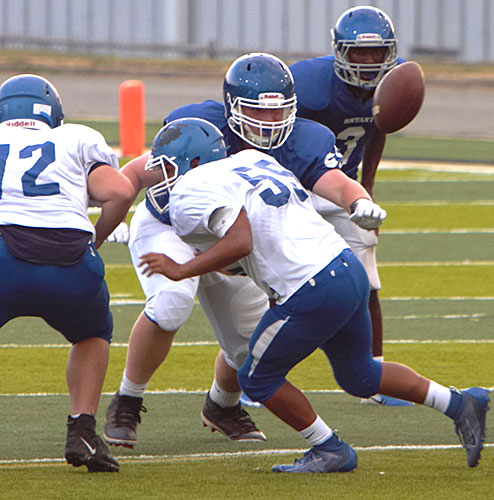 On the next possession, Rideout connected with Martin on a 76-yard touchdown pass then, right before the half, Rideout capped a drive with a 7-yard keeper for a score. Martin ran in the two-point conversion.
"In the second half, our defense stepped up after a few turnovers and gave us great field position," mentioned Wortham.
That set up a 36-yard touchdown pass from Rideout to Mytorian Singleton.
"Our coaching staff is proud of the effort the players played with and that we executed on all sides of the ball," said the coach. "We get back to work on Monday to prepare for our next game against Pine Bluff. We expect it to be a physical game and we feel our players are up for the challenge."
That game will be played on Thursday, Oct. 10, at Bryant Stadium.