Photos by Kevin Nagle
Quarterback Jaret Jacobs completed a pair of touchdown passes and a two-point conversion throw to Simeon Watson but[more] the Bryant White Hornets eighth grade football team of Bryant Middle School was edged out by Jacksonville 16-14 at Bryant Stadium Monday night.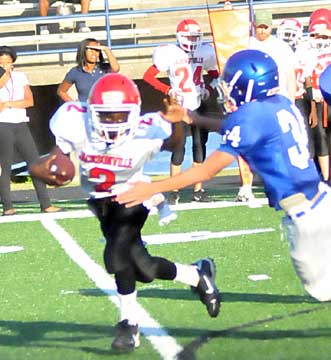 "Jaret threw the ball the best he has all year," said Bryant White head coach Brad Smotherman. "He is starting to get more confidence making the throws but there has t obe more receivers working to run better routes and making catches.
"We didn't show up ready to play," he said of the team overall. "We tried to pick it up in the second half but a team can't do that and win. We still had a chance at the end but if we play like that in the first half, we win."
Smotherman said that running back Drew Alpe was limited to defense because of a thigh bruise he suffered in last Thursday's win over Conway Blue.
"I didn't want him to run the ball and risk further injury," said the coach.
"Zack Jackson played very well on offense and defense," Smotherman added. "I felt he was the most physical player we had out there."
Now 2-2, Bryant White is set to return to action on Thursday, Oct. 13, in the Hornet Bowl against Bryant Blue.