Photos by Kevin Nagle
After a tough loss at Lake Hamilton on Thursday, Sept. 1, DeAnna Ward, head coach of the Bryant White Lady Hornets eighth grade volleyball team of Bryant Middle School, kept mixing and matching in the early stages of Tuesday's home contest against The Anthony School Lady Panthers.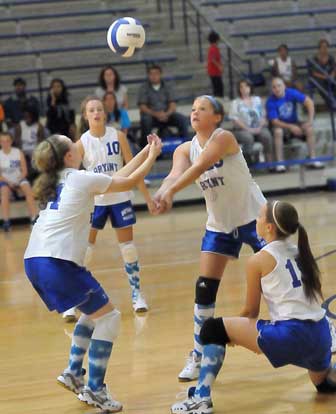 "We had a shaky start," she noted. "We still were not coming together like I had hoped. I had been switching out a lot of players and I think we just hadn't found that right combination of players."
But during the first game of Tuesday's match something clicked as the Lady Hornets forged a tough 28-26 win, going on to win the match with a 25-20 win in game two.
"I finally have a group together and it is just going to take time for them to learn and trust each other," Ward said.
"In the first set, Skylar Davis and Shayla McKissock did a good job of setting with three assists each," she added.
Faith Brown had four kills, Julianna Ward and Sierra Jones two each and Lara White one.
"We have really been focusing on Being aggressive at the net and it showed," Ward mentioned. "Lara White got on a roll serving points 19 to 23 with two aces. Miranda Mayfield came and finally put the first game away with two aces in a row for points 27 and 28."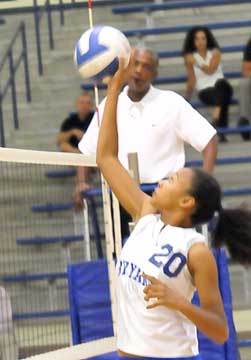 In the second game, Sam Finney got the Lady Hornets off to a fast start with three straight points in service, two on aces. Savannah Shelton served points 8 through 10.
"I felt like Anthony gave up after the close battle in the first one and they just didn't play as hard and made several mistakes," Ward commented. "Our girls took advantage of it."
At Lake Hamilton last week, the Lady Hornets split the first two games, 19-25, 25-15, then lost the tiebreaker in a tight game, 12-15.
"We battled during the third set but couldn't pull it off," Ward said. "Anytime you go to Lake Hamilton, you know they are going to be tough. They have big girls that hit hard and I was proud that our girls were not intimidated."
In the third set, White served up a pair of aces as part of the first three points. Jones had two more as she served points 5 through 7.
"But then we couldn't stop lake Hamilton's comeback," Ward mentioned. "They came from being down 7-1 to tie the game at 7.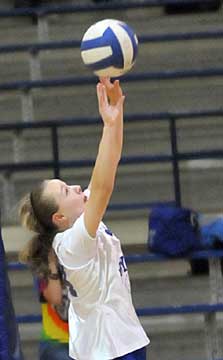 "Skylar Davis had a set to Faith Brown for our only kill in the third set," she added.
In the second game, Jones served two more aces to get the Lady Hornets started well. White then got on a roll and reeled off 10 straight points, from 13 to 22.
"We had several good rallies," Ward said. "Faight Brown looked good at the net with four kills, two of them set up by Skylar who had five assists."
In the opening game, Ward served points 10 to 12 while Shayla McKissock served for points 6 through 8. Both had aces along the way. Jones, White and Ward each had a kill. Davis had two assists and McKissock one.