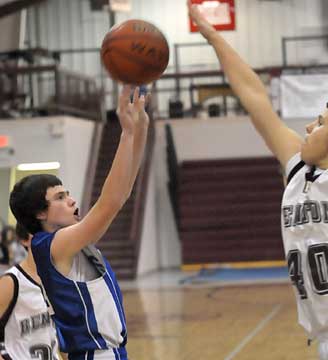 By Rob Patrick
Photos by Kevin Nagle
BENTON — It got a little tight for the Bryant White Hornets eighth grade team of Bryant Middle School before they began to find the range from the free-throw line on Thursday night.
The Benton Panthers eighth grade team took advantage of three consecutive bonus opportunities that the Hornets were unable to convert and trimmed a 30-19 lead to 30-26 and had a chance to get closer. But a missed 3-pointer gave the Hornets another chance. K.J. Hill rebounded and was fouled with 3:12 to go.
Hill, who led all scorers with 20 points, had come up empty on the three previous trips to the line but, on this[more] occasion, sank both shots. And from that point on, the Hornets converted 7 of 10 at the line to close out a 37-26 win.
The Bryant White team includes Logan Moore, Max Sullivan, Austin Montgomery, Robert Meeks, Steven Murdock, Madison Schrader, Connor Tatum, Blake Patterson, Brent Michael Barker, K.J. Hill, Kyron Smith, Bryce Bowen, Mar'kevius Nelson, Brett Fisher, Austin Masters, Hunter Oglesby, J.C. Newborn, Austin Fisher, Daniel Bradford, Blaine Hampton and Hunter Sherman.
It was the Hornets' first game since Dec. 16. They'll return to action on Saturday, Jan. 29, against Central Arkansas Christian.
"I thought that we played pretty well considering the long layoff," noted head coach Heath Long. "We did a good job of competing for lose balls and rebounds for the most part, and did not allow their full-court pressure to affect us. I was especially pleased with how we responded after they went on their run late in the game, and put the game away."
Hill scored 12 points in the first quarter to help the Hornets build an early lead. He added 2 more in the second. Nelson had 3 and Newborn 2 as the Hornets posted a 19-11 lead at the half.
The Hornets had their largest lead midway through the third quarter. Oglesby started the scoring off an inbounds pass after a Benton turnover. After the Panthers answered, Hill came through with a three-point play and Tatum drove for a layup to make it 26-13.
The Bryant lead was 28-19 going into the fourth quarter. Smith drove for a basket to make it an 11-point game then Bryant's drought at the line commenced and Benton rallied.
Down the stretch, Hill hit 3 of 4 free throws, Masters hit one and Tatum put the finishing touches on the win with 3 of 4 in the final 1:03.
Over the final 4:03, Benton was held scoreless.