By Rob Patrick
Photos by Kevin Nagle
Mar'Kevius Nelson only ran the ball three times on Thursday night for the Bryant White Hornets eighth grade team of Bryant Middle School.
On all three rushes, he scored though, on the second one, an illegal block behind the play cost one of those touchdowns (for the time being) and 31 more yards.
As it was, he piled up 119 yards on those three carries.[more]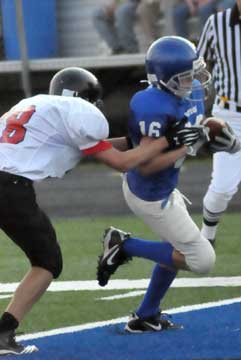 He was hardly even touched.
And the Hornets didn't need any more from Nelson as they rolled to a 50-6 romp over the Russellville East Whirlwinds at Bryant Stadium.
The Hornets also received a big game from Drew Tipton who caught a touchdown pass plus a pair of two-point conversion passes from Madison Schrader. On defense, he also scooped and scored on a Whirlwind fumble.
K.J. Hill returned an interception for a touchdown for Bryant White. Michael Martindale and Rashaan Jones added scoring runs as the team scored 50 points in a 28-minute game.
The win improved the Hornets to 1-1 and helped salve some of the pain of a last-minute loss at Lake Hamilton on Sept. 2. Bryant White returns to action on Monday, Sept. 20, at Jacksonville.
It didn't take long for the Hornets to gain the advantage. After kicker Caleb Chaffin recovered his own kickoff at the Whirlwinds' 39, Nelson swept left end and sailed into the end zone less than 15 seconds into the game.
Schrader passed to Hunter Lawhon for the two-point conversion.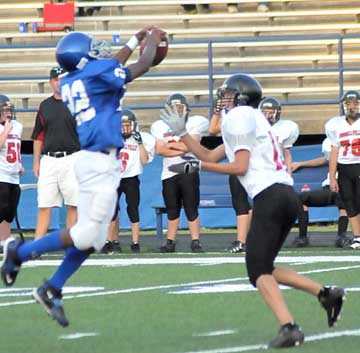 Bryant forced a Russellville punt which pinned the Hornets back at their own 12. And, on the first play from there, Schrader's pass was picked off by Russellville's Chase Bicanovsky at the 17.
Four plays later, quarterback Drake Adams scored from the 2. A two-point attempt failed but Bryant's lead was cut to 8-6.
After the ensuing kickoff, Nelson sprinted for a 65-yard touchdown only to have about half of it negated by penalty. But, on the next play, Hill broke a 24-yard run. He followed up with an 8-yard carry to set up Schrader's scoring toss to Tipton from the 9.
The Hornets used almost the same play to add the two-point conversion, taking a 16-6 lead into the second quarter.
The game started to unravel for the Whirlwinds on the second play of the second quarter. On a reverse, Peyton Duffield was hit for a loss. The ball came loose and Tipton grabbed it, stumbled a little then gained his balance and rolled into the end zone for the touchdown.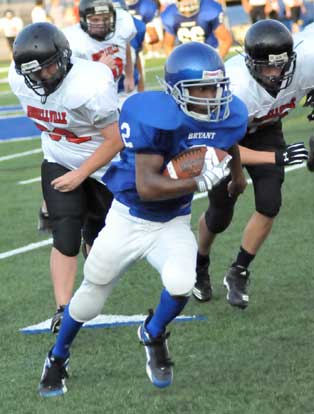 He and Schrader combined again on the conversion and it was suddenly 24-6.
In turn, Russellville turned the ball over on downs, desperately going for it on fourth down from its own 44. Bryant's first play from there was another sweep to Nelson and another touchdown. Though a run for two failed, Bryant led 30-6 with 4:30 still to play in the first half.
Reserves played the rest of the game for Bryant White but the scoring did not end.
Russellville attempted an onside kick to start the second half but it didn't go the required 10 yards and Bryant had possession 47 yards away from yet another score.
Michael Vasquez ripped off runs of 9 and 7 yards then Jones got his first try and dashed 15 more. Martindale took over at tailback and crashed 14 yards to the 1. A play later, he scored. Vasquez' run for the conversion make it 38-6 with 4:54 left in the third quarter. Not a minute later, Hill stepped in front of a Russellville pass at the 35 and, with nothing between him and the goal line but new synthetic turf, he scored to make it 44-6.
Russellville managed a couple of first downs but a third-down play was blown up by Jones and Daniel Bradford. The Whirlwinds punted but, after a long return by Jacob Gorham, a fumble was recovered by Russellville.
The Whirlwinds got to the 32 on a scramble by Adams but stalled there and punted the ball away with 3:31 left. Three plays later, Jones got loose on a 58 yard touchdown run to complete the scoring.
By then the mercy rule had been in effect (35-point lead in the second half and the clock rolls non-stop except for timeouts, injuries and touchdowns) and very little time remained. East snapped the ball just twice more before the end of the contest.
BRYANT WHITE 50, RUSSELLVILLE EAST 6
Score by quarters
Russellville East 6 0 0 0 — 6
BRYANT WHITE 16 14 14 6 — 50
Scoring summary
First quarter
BRYANT WHITE — Nelson 39 run (Lawhon pass from Schrader), 4:30
RUSSELLVILLE EAST — Adams 2 run (pass failed), 2:01
BRYANT WHITE — Tipton 9 pass from Schrader (Tipton pass from Schrader), 0:23.5
Second quarter
BRYANT WHITE — Tipton 34 fumble return (Tipton pass from Schrader), 6:42
BRYANT WHITE — Nelson 44 run (run failed), 4:30
Third quarter
BRYANT WHITE — Martindale 1 run (Vasquez run), 4:54
BRYANT WHITE — Hill 35 interception return (run failed), 3:52
Fourth quarter
BRYANT WHITE — Jones 58 run (pass failed), 1:24
Team stats
RE BW
First downs 5 11
Rushes-yds 20-42 18-284
Passing 5-15-1 2-3-1
Passing yards 32 9
Punts-avg. 3-32.3 0-00.0
Fumbles-lost 2-1 1-1
Penalties-yds 1-5 1-10
INDIVIDUAL STATS
Rushing: BRYANT, Nelson 3-119, Jones 4-81, Vasquez 7-37, Hill 2-32, Martindale 2-15; RUSSELLVILLE EAST , Robertson 11-37, Adams 5-14, Duffield 3-(-4), Gotcher 1-(-5).
Passing (C-A-I-Y): BRYANT, Schrader 1-2-1-9; Hill 0-1-0-0; RUSSELLVILLE EAST, Adams 4-12-0-21, Gotcher 1-3-1-11.
Receiving: BRYANT, Tipton 1-9; RUSSELLVILLE EAST, Duffield 2-10, Goree 1-11, Foust 1-6, Deal 1-5.