Editor's note: This is a regular feature profiling senior athletes at Bryant High School.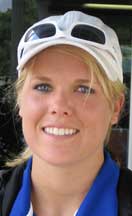 NAME: Morgan Morehead
DATE OF BIRTH: Feb. 9, 1993
PARENTS: Lisa and Mark Morehead
SIBLINGS: I have a sister named Madison Morehead. She is 13.
FAVORITE SUBJECT IN SCHOOL: Any kind of Science
FAVORITE SPARE TIME ACTIVITY: I like to wake board and play golf.
FAVORITE FOOD: Fish.
FAVORITE MUSIC ARTIST OR GROUP: I'm not really picky about my music. I like pretty much anything[more]
FAVORITE MOVIE: Probably, Glory Road
FAVORITE TV SHOW: George Lopez
FAVORITE TOY WHEN YOU WERE A LITTLE KID: My bicycle
WHAT ARE YOUR PLANS AFTER HIGH SCHOOL? Go to college. I would like to attend OBU or Tech. I would like to be a business major and a minor in youth ministries
OTHER THAN YOUR PARENTS, WHO'S HAD THE BIGGEST INFLUENCE ON YOUR LIFE? HOW? My grandparents because they're always there for me.
WHAT'S YOUR FAVORITE THING ABOUT GOLF? Just getting to meet new people and there's always something new to learn.
WHAT DO YOU THINK OF THE SEASON SO FAR? I think the season's gone pretty well. We've definitely improved since my ninth grade year. We have a lot better team this year.
WHAT'S BEEN THE HIGHLIGHT TO THE SEASON SO FAR? I won a few matches.
WHAT'S IT GOING TO TAKE FOR THE TEAM TO BE SUCCESSFUL THE REST OF THE SEASON? It's just going to take lower scores being turned in. As an individual, I just need to work on my putting.
TALK ABOUT YOUR GAME NOW; WHAT ARE YOU MOST CONFIDENT IN YOUR ABILITY TO DO? My irons.
WHAT DO YOU WORK HARDEST TO IMPROVE ON IN PRACTICE? My short game.
WHEN YOU'RE THROUGH PLAYING GOLF FOR BRYANT HIGH SCHOOL, WHAT DO YOU THINK YOU'LL LOOK BACK AND REMEMBER MOST FONDLY ABOUT THE EXPERIENCE? Probably just getting to know other people.