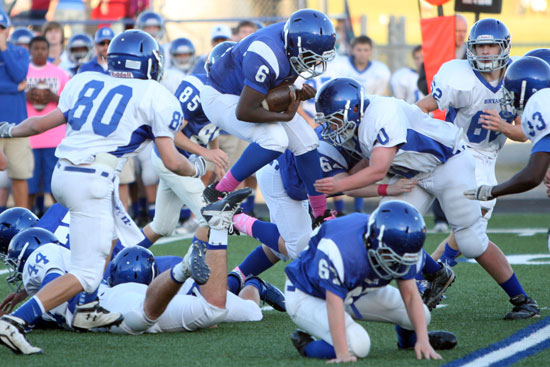 Photos by Rick Nation
By Rob Patrick
To illustrate just how tough the defenses played in the 2012 Hornet Bowl Thursday night, out of[more] 73 offensive snaps between the two teams, only six went for gains of 10 yards or more and only two went for more than 20.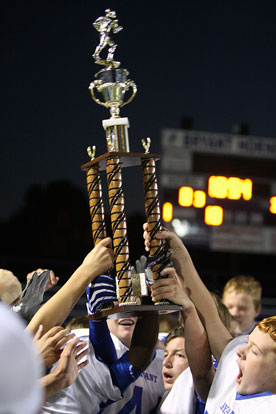 As it turned out, those two plays were both turned in by the Bryant White Hornets of Bryant Middle School, one of them a 26-yard pass from Beaux Bonvillain to Garrett Misenheimer went for a touchdown. And the other, a 41-yard completion from Bonvillain to Jake East set up a second one, which proved to be the game-winning score in a 14-7 win.
It was a heartbreaker for the Bryant Blue Hornets of Bethel Middle School. They never trailed in the game until that late score, a 3-yard run by White's De'Amonte Terry with 2:16 left in the game.
Blue tried to mount its own comeback at the end and drove to midfield only to have a double reverse pass on a fourth-down play intercepted by White's Marvin Moody.
Blue finished with just 115 yards of total offense while White netting just 86 yards with 67 of that coming on those two pass plays.
Bryant White improved to 4-3 on the season going into their season-finale at Benton on Tuesday, Oct. 30. Bryant Blue, now 4-3-1, wraps up its campaign next Thursday at home against Conway Blue.
"Tonight's game was a very tough win for us," stated White coach Brad Smothermon. "I think we came in the game a little too excited. Bethel did a good job of keeping the ball away from us in the first half. When we did have the ball we didn't execute very well. Part of that was due to Bethel's scheme and their effort. Once we got settled down in the second half, we executed the offense and tackled better on defense."
Blue head coach Dale Jones said, "It was tough, it was tough. We had a good week of practice. The kids worked hard. They were fired up about playing. We had a real good game plan. We tried to play keepaway. It was no secret. They're a lot bigger and more athletic than us. Coach Smothermon has a really good bunch.
"We just wanted to keep it as much as we could and, you know, if we could've gotten a couple more first downs . . . we made up our minds that, if we had fourth-and-short, we were going to go for it, to try to keep the ball from them," he continued. "We got a couple of them but there were two or three we didn't.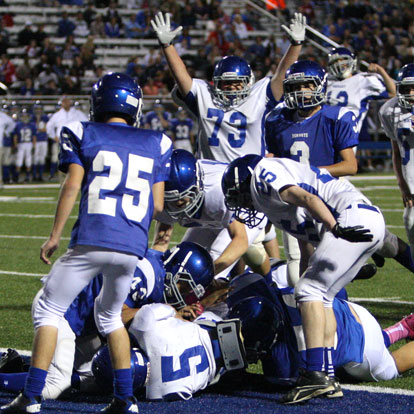 "I'm real proud of the effort," Jones added. "We played extremely hard. We put ourselves in a really good position to win. Honestly, I thought it was going to be tough to beat them. They're very physical. We played physical for a while tonight and I was glad to see that."
"All the boys played hard for Bryant and Bethel tonight," Smothermon asserted.
Next year, of course, the players on both teams will be teammates as freshmen. After Smothermon and Jones met with their respective teams at the conclusion of the game, they brought them together as a group.
White's opening possession was stymied by a penalty and the Blue defense, resulting in a punt. Chase Fox's kick rolled dead at the 29 and the Blue offense commenced to put together an 18-play drive that featured a pounding running game with Phillip Isom-Green doing much of the damage until he was shaken up on a run to the White 31 in which he was tackled at the sideline. Jones and his coaches argued for a penalty for a late hit out of bounds but none was forthcoming.
Collin Welch came in to pick up 6 yards then Caylin Allen snuck it twice to get a first down at the 23.
The drive reached the 17 when Desmond Duckworth passed for 5 yards to Jeffery Hastings but, on a fourth-down play, White's Joe Small dropped Duckworth for a loss and White took over on downs.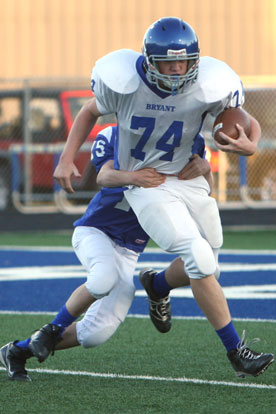 Again, however, the Blue defense forced a punt and, this time, a low snap forced Fox to scramble. He was brought down by Welch at the 4.
Given new life, Blue scratched out a touchdown, though it took four snaps to get there. Isom-Green found paydirt from a yard out with 1:34 left in the first half. Chase Kincaid kicked the extra point and it was 7-0.
White picked up its initial first down on the subsequent possession. It came on a 16-yard pass from Bonvillain to Jesse Smith. A pass interference penalty kept the drive alive moments later, getting White to the Blue 27 with just under a minute left in the half.
A swing pass from Bonvillain to Terry was sniffed out by Blue's Dillon Medlock for a loss of 8. On third down from the 35, White tried to go deep with Bonvillain looking for Misenheimer but Welch broke up the pass in the end zone.
On fourth down, Medlock sacked Bonvillain and it remained 7-0 at the half.
Blue started the second half with a drive from their own 18 to the 41. Duckworth's swing pass to Isom-Green was the key play, picking up 12 yards on a third-down. On the next play, a fourth-and-1, Isom-Green crashed for 5 yards.
But once Blue got to the 41, Isom-Green was denied on third down by Nathan Mays and Moody, and on fourth down by Hayden Knowles.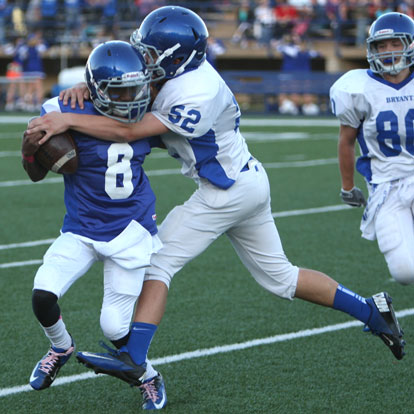 Fired up after the stop, White drove of its first touchdown on three plays. The first was a 14-yard run by Terry then, after he picked up 1, Bonvillain launched a deep pass to the right pylon that Misenheimer latched onto for the 6.
"After dropping a TD pass in the first half, Garrett came back with a great catch in for that touchdown on a great throw by Beaux," Smothermon noted.
But White's attempt to take the lead with a 2-point conversion was foiled when East took a swing pass from Bonvillain and was dropped by Blue's Zach Lewis with help from Sam Harrison.
So Blue retained a 7-6 edge with 1:14 left in the third quarter.
Sparked by a 9-yard pass from Duckworth to Allen, the Blue offense put together another couple of first downs driving into White territory. With Isom-Green picking up 3 of 4 yards a pop and Duckworth finding Boston Heil for 7 yards, they reached the White 45. But a third-and-3 run was stopped by Mays then, on fourth-and-2, the Blue running back was stopped short by Noah Easterling and White took over on downs with 4:05 left in the game.
"Our defense stepped up in the second half," Smothermon noted. "Those two big stops on fourth down plays gave us a chance."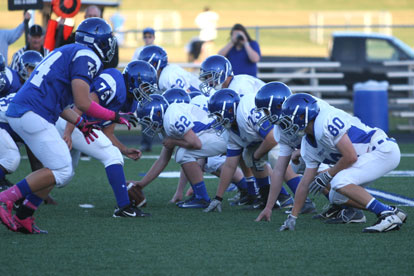 Two pass plays fell incomplete for White to start the series. The second was nearly picked off by Lewis but the intended receiver, Jesse Smith, came back to knock the ball down and prevent it.
"That was one of the best plays of the game," declared Smothermon.
On the very next play, Bonvillain found East who made the catch and tightroped up the left sideline and appeared to get into the end zone. But it was ruled he stepped out of bounds at the 16.
"Jake East came up with a huge catch," Smothermon commented. "I still say he scored. But it worked out for the best though because we were able to run more time off of the clock by running with De'Amonte."
Terry was stopped for no gain on first down by Allen but then slashed for 8 yards to the 8 with Harrison saving a touchdown. His 5-yard run picked up a first down at the 3 and he scored from there a play later.
On the 2-point try, Cameron Coleman powered in to make it 14-7.
Blue's final possession started at its 30. Duckworth found Allen for a pair of 6-yard completions to reach the 42. On second down there, however, he was dropped for a loss by Misenheimer, crashing in from the end.
Facing a third-and-12, Duckworth found Allen again for 7 yards. On fourth down, Blue went for broke with the double reverse pass that Moody intercepted to seal the victory.

BRYANT WHITE 14, BRYANT BLUE 7
Score by quarters
WHITE 0 0 6 8 — 14
BLUE 0 7 0 0 — 7
SCORING SUMMARY
Second quarter
BLUE — Isom-Green 1 run (Kincaid kick), 1:34
Third quarter
WHITE — Misenheimer 26 pass from Bonvillain (run failed), 1:14
Fourth quarter
WHITE — Terry 3 run (Coleman run), 2:16
Team stats
White Blue
First downs 4 8
Rushes-yds 14-11 35-63
Passing 4-10-0 7-13-1
Passing yds 75 52
Punts-avg. 1-40.0 0-00.0
Fumbles-lost 2-2 2-0
Penalties-yds 6-37 2-20
INDIVIDUAL STATS
Rushing: BLUE, Isom-Green 24-63, Welch 1-6, Allen 4-1, Duckworth 6-(-7); WHITE, Terry 10-41, Bonvillain 3-(-9), Fox 1-(-21).
Passing (C-A-I-Y): BLUE, Duckworth 7-12-0-52, Allen 0-1-1-0; WHITE, Bonvillain 4-10-0-75.
Receiving: BLUE, Allen 3-22, Heil 2-13, Isom-Green 1-12, Hastings 1-5; WHITE, East 1-41, Misenheimer 1-26, Smith 1-16, Terry 1-(-8).