Editor's note: This is a regular feature profiling senior athletes at Bryant High School.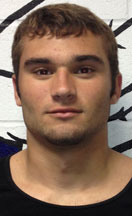 NAME: Tim Kelly
PARENT: Steve and Ava Kelly
SIBLINGS: I have one brother. His name's Jessie. He's 25.
FAVORITE SUBJECT IN SCHOOL: History
WHAT DO YOU LIKE TO DO IN YOUR SPARE TIME? Hang out with friends mostly.
FAVORITE FOOD: I love spaghetti.
FAVORITE MUSIC ARTIST OR GROUP: Atreyu
FAVORITE MOVIE: Warrior[more]
FAVORITE TV SHOW: I don't have one.
WHAT WAS YOUR FAVORITE TOY AS A KID? Legos
WHAT ARE YOUR PLANS AFTER HIGH SCHOOL? To play college football, hopefully at OBU, and I plan on majoring in physical therapy.
OTHER THAN YOUR PARENTS, WHO HAS HAD THE BIGGEST INFLUENCE ON YOUR LIFE? Definitely Coach Griff (Steve Griffith). He's taught me a lot about football and life, really. I'll always look up to him.
WHAT'S YOUR FAVORITE THING ABOUT FOOTBALL: Everything.
POSITION: Defensive end
WHAT DO YOU FEEL LIKE IS YOUR PRIMARY RESPONSIBILITY ON THE FIELD? Contain the quarterback and put pressure on him, make him feel fear.
WHAT DO YOU THINK OF THE SEASON SO FAR? It's going pretty good. There's obviously some things we could've done better but as far as our team goes, we've been doing all right.

WHEN THE TEAM'S PLAYING WELL, WHAT'S THE KEY TO THAT? Just momentum, really. If we get just a little bit of momentum, we just keep building on it and building on it. And usually that's been pretty successful for us.
WHAT'S BEEN THE HIGHLIGHT TO THE SEASON SO FAR? It would have to have been playing in the Salt Bowl.

WHAT'S IT GOING TO TAKE FOR THE TEAM TO BE SUCCESSFUL THE REST OF THE SEASON? More hard work, a lot more intensity and just a lot more focus.
INDIVIDUALLY, WHAT ABOUT YOUR GAME ARE YOU MOST CONFIDENT ABOUT? Definitely putting pressure on the quarterback.
WHAT DO YOU WORK HARDEST TO IMPROVE? My pass rushing.
AFTER YOU'RE THROUGH PLAYING FOOTBALL AT BHS, WHAT DO YOU THINK YOU'LL REMEMBER MOST FONDLY ABOUT IT? How much fun I had with my team, just the brotherhood we had.