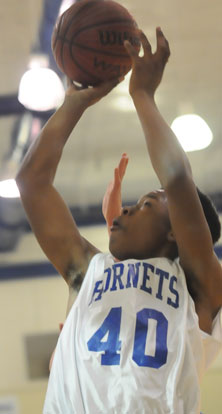 Photos by Kevin Nagle
The Bryant White Hornets seventh grade basketball team of Bryant Middle School fell behind 9-3 in the first quarter and never quite caught up to their counterparts from Sheridan in their season debut on Tuesday. Sheridan's Stingers went on to a 33-22 win.
The Hornets trailed 17-9 at the half, 30-16 going into the fourth quarter.
O.J. Newburn led Bryant White with 6 points. Ahmad Adams added 4.
"We struggled with their zone defense and just didn't move the ball like we should have," commented Hornets coach Heath Long. "On the defensive end, we are still learning our man-to-man defense. We fouled a lot and they did a good job converting their free throws.
"Fortunately, the mistakes that we made are correctible," he noted. "It's just a matter of us working hard and learning each day in practice."
The seventh grade team is set to play again on Thursday, Nov. 13, at home against a team from North Little Rock.