For more photos from this event by Kevin Nagle, go here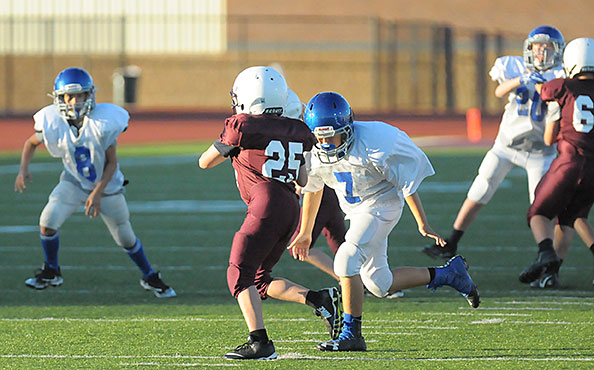 BENTON — Seven interceptions including pick-sixes by Gabriel Allen, Jordan Knoxk and Jaylon Brown highlighted a doubleheader sweep of the Benton Maroon and Gray seventh grade teams by the Bryant White Hornets seventh grade of Bryant Middle School on Monday night at Panther Stadium.
Alternating A and B squads, the Hornets earned a 54-0 win in the first game and a 14-8 victory in the nightcap.
Allen wound up with two picks. Along with Brown and Knox, Ethan Primus, Tanner Newell and Zylin Hildreth had interceptions, all in the first game. Allen started the scoring with an 11-yard return for a TD. Cory Nichols ran in a two-point conversion. Knox returned his oskie 50 yards for points. Martavian Earl added a run for the conversion to make it 16-0.
Brown added the third touchdown with his 20-yard return of his pick. A try for two failed.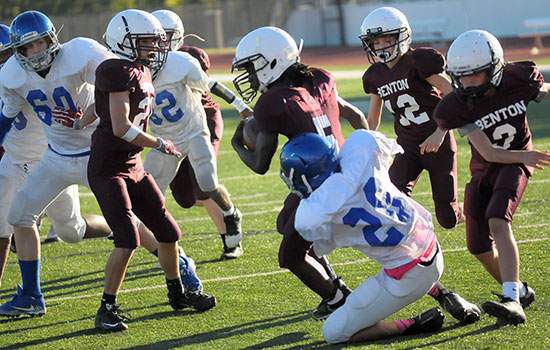 Earl added two touchdowns as he piled up 175 yards rushing on just five carries in the first game. He scored from 30 yards out then from 64 yards. Nichols ran in the conversions to make it 38-0 at the half.
In the second half, Newell had an 11-yard touchdown run. Sam Herring ran in the two-point conversion. Later, Christopher Gannaway scored on a 17-yard run. MJ Ferguson ran for the conversion to set the final score.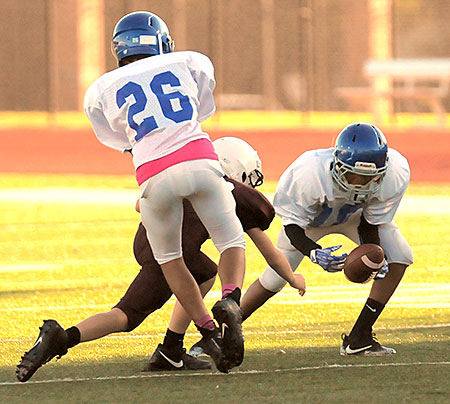 "Our offense has played really well all year and I think our defense was tired of seeing the offensive guys have all the fun in scoring, so they wanted some of that too," stated Hornets' coach Josh Fonville.
In the second game, Benton scored in the first half but, in the second half, Earl got loose for touchdown runs of 45 and 40 yards as he added 104 yards on five carries, which gave him 1,134 yards on 35 carries and 19 touchdowns in seven games this season.
Knox ran for a two-point conversion on the second TD.
"Benton was a very physical team in the second game," Fonville noted. "Once they combine to one team next year as eighth-graders Benton will be solid.
"Our group of kids fought hard all the way through," he added. "Not just our starters but our 2's and 3's held strong in the second half of both games."
The team will wrap up its 2017 schedule on Monday, Oct. 23, at North Little Rock.