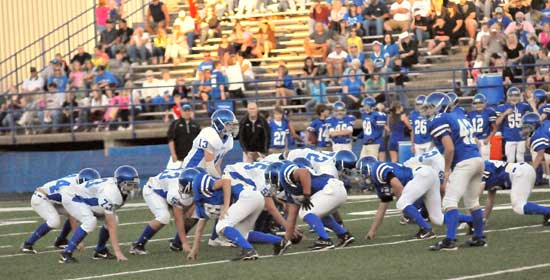 By Rob Patrick
Photos by Kevin Nagle
Trailing 8-0, the Bryant Blue Hornets eighth grade team of Bethel Middle School was on the[more] march early in the third quarter. They'd reached the red zone in a bid to draw closer or perhaps tie their crosstown rivals, the Bryant White Hornets of Bryant Middle School.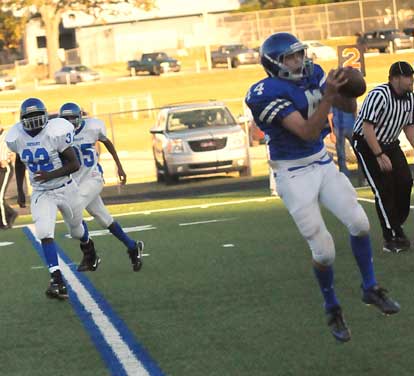 On a first down at the White 15, however, Blue running back Jordan Gentry was stopped for no gain by White's Demaja Price, Drew Alpe and Nick Gatlin. On second down, quarterback Evan Lee, who had completed a 13-yard pass to Nick Hardin to highlight the drive, rolled out to try to throw again. With receivers covered, Lee found himself in the shadow of big White defensive lineman Cameron Murray, who caught him and slung him around. Lee hoping to just get rid of the ball to avoid a loss, cocked to throw just as Murray starting to swing him back.
The football popped out and there was no whistle so the officials didn't feel Lee's arm had started forward in a passing motion. Even so, Price nearly plucked the ball out of midair. It hit the ground, however, and was ruled a fumble as the play continued. Price scooped it up and raced the other way for a touchdown.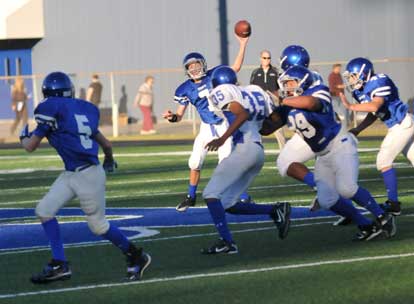 Suddenly, what looked to be a game that was fixing to tighten up, unwound. Alpe ran in the two-point conversion and it was 16-0.
And to add to the Blue team's frustrations, a fumble on the ensuing kickoff was recovered by White's Taylor Helm 31 yards away from another score.
Price broke a 27-yard run that set up Devin Alpe's 3-yard TD burst and it was 22-0 with 2:26 left in the third quarter when, just 1:30 before, it was 8-0.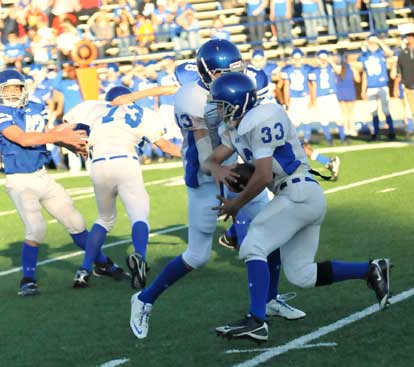 The score held for the final as Bryant White collected the Hornet Bowl trophy from athletic director Mike Lee.
Drew Alpe, who has been unable to play a full game since early in the season due to injury, wound up rushing for 114 yards and a touchdown in a game in which Bryant White compiled 167 yards of total offense, all on the ground.
Both teams moved the ball on offense — neither punted all night. Despite extended drives, however, neither could get into the end zone until right before the end of the half.
Given a short field after stopping a fourth-down run by Gentry at the Blue 40, the White team faced a third-and-7 at the 36 with just a little more than a minute left in the half. But Alpe powered his way for 21 yards to the 15 for a first down. On the next play, he blasted through tacklers on into the end zone with :53 showing on the clock.
He also ran in the two-point conversion to make it 8-0.
Blue's opening drive of the second half started with a 5-yard burst by Gentry then, on a fourth-and-10 at the White 44, Lee found Hardin for 13 yards.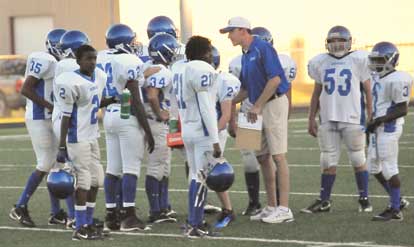 A play later, a pass interference penalty moved Bryant Blue to the 15.
After Bryant White's sudden burst to take command, Lee completed consecutive passes to Hardin to get to the Blue 43. Needing 4 yards on fourth down, however, Blue got just 3 when Miller took Lee's short pass but was stopped immediately, a yard short of a first.
Bryant White used its ground game to drive to the Blue 15. After Drew Alpe was hit for a loss by Peyton Robertson, he broke through on third down only to be separated from the ball by Devin Howard. Miller recoverd for Blue with 2:54 left to play.
Despite a 9-yard run by Gentry and a 22-yard completion from Lee to Miller, Bryant Blue couldn't snap the shutout. At their 41, Lee was sacked by Drew Alpe and time ran out leaving both teams 3-2 on the season.
Bryant Blue returns to action on Tuesday, Oct. 18, against Lakewood of North Little Rock.
Bryant White returns to action on Thursday, Oct. 20, against Cabot North prior to the freshman game.
BRYANT WHITE 22, BRYANT BLUE 0
Score by quarters
BRYANT BLUE 0 0 0 0 — 0
BRYANT WHITE 0 8 14 0 — 22
Scoring summary
Second quarter
BRYANT WHITE — Dr.Alpe 15 run (Dr.Alpe run), 0:53
Third quarter
BRYANT WHITE — Price 74 fumble return (Dr.Alpe run), 3:32
BRYANT WHITE — De.Alp 3 run (run failed), 2:26
Team stats
Blue White
First downs 9 11
Rushes-yds 21-39 27-167
Passing yds 80 0
Passing 8-19-0 0-2-0
Punts-avg. 0-00.0 0-00.0
Fumbles-lost 2-2 3-1
Penalties-yds 4-17 1-15
INDIVIDUAL STATS
Rushing: BRYANT WHITE, Dr.Alpe 15-114, Price 5-39, De.Alpe 5-16, Jacobs 2-(-2); BRYANT BLUE, Gentry 10-25, Howard 3-8, Miller 1-5, Lee 7-1.
Passing (C-A-I-Y): BRYANT WHITE, Jacobs 0-2-0-0; BRYANT BLUE, Lee 8-19-0-80.
Receiving: BRYANT BLUE, Miller 3-32, Hardin 3-31, Howard 2-17.