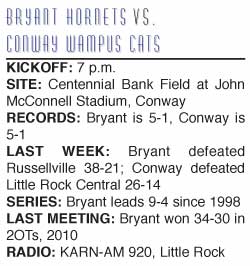 By Rob Patrick
Going into week 6 of the high school football season, the contenders in the 7A/6A-Central Conference have started to separate. Conway and Bryant lead the league at 3-0 with Catholic, Central and North Little Rock at 2-1.
With all due respect to Van Buren, Russellville and, particularly, Cabot, which could mount a late-season run, one of those contenders figures to earn one of the league's first-round byes in the State playoffs. (The other, no doubt, will go to West Memphis which is cleaning up once again this year in the mostly 6A East conference but will be seeded among the 7A teams in the Central for the playoffs.) Two others will gain first-round[more] home games in the post-season.
So every game between contenders is crucial including tonight's battle between the two leaders, Bryant and Conway.
It figures to be an emotional contest, particularly for the home-standing Wampus Cats.
"Our seniors this year, they're aware that in the last two years they haven't beaten (Bryant)," acknowledged Conway head coach Clint Ashcraft.
"I don't think you can prepare for it," Bryant head coach Paul Calley said. "You just have to warn the kids that's what we're up against.
"(Conway) has a lot more motivation than we do, just for the revenge factor," he continued. "We're trying to stay on top in the conference and they're trying to, I feel like, get the Bryant monkey off their back and clinch a home playoff game or maybe even a first-round bye. That's probably one of their goals to start the season and they have a chance to accomplish it tonight because they've already beaten two of the top contenders in the conference."
Conway has already gotten past North Little Rock and Little Rock Central (as well as Cabot). After Bryant, the only first division foe they have left is Catholic the last week of the season.
The Hornets, on the other hand, have defeated Catholic but still have Central, North Little Rock and Cabot to face.
"A lot of TV stations are billing this as the game of the week and a possible conference championship game and it is for (Conway)," Calley said. "For us, it's more just a prelude to things to come. We've still got two or three tough games after them. It's by no means a conference championship game for us."
The two teams battled to double overtime last season. Conway came in undefeated overall (both teams are 5-1 this year) and wound up absorbing a 34-30 setback. It's become a rivalry game for Bryant since the series began in 1998 and, according to Ashcraft, has recently gained that kind of status to an extent for the Cats.
"I think last year's game kind of has brought it to that," he commented. "That was such a close game being a double overtime and a fumble in the end zone (for a game-winning touchdown), just the way it all went down. I think everybody looks forward to this game because it's usually a good game. Even two years ago when we weren't very good, it was still a good football game. It wasn't a blowout. So I think everybody gets excited just knowing this is going to be a tight, tough ballgame."
Calley said Conway's another level of competition for his team.
"The physicality of the game is what's going to be new to us," he stated. "We've played some good teams but nothing like Conway. They are, by far, the most physical team we've seen.
"It's going to take a period of adjustment for us," Calley emphasized. "I hope we're not intimidated and we don't back down but it's going to be different. We're trying to get (the Hornets' players) to understand that.
"They are very good in the defensive front," he continued. "We can't match up with them physically. We've seen them on film manhandle some really good offensive lines.
"On defense, we can hopefully slow them down enough to let us stay close," said Calley. "Their offensive line is not what they had last year but they've still been able to protect the passer and move the ball. Like us, they have some skill people that can make plays. "
Also like Bryant, the Wampus Cats have few returning players on offense but they are key. Quarterback Tyler Langley is drawing major college attention. The o-line is all new except for three-year starter Brannon Kotch at left guard.
"We're playing a lot of new guys," Ashcraft said. "Our deal is just to try to get a little bit better every week individually and hopefully that leads to team improvement. Our kids are working. I think they all know what they've got to get better at and they try to focus on making themselves a better football player.
"We've had some good breaks," he allowed. "We've played some good teams. The second half of the North Little Rock game, things went our way. We've had some breaks. We've had a little help."
Of the Hornets, the Conway coach said, "Coach Calley and those guys, they do a good job. They're not going to beat themselves. They're not going to be a team that you can sit there and watch on film and say they're going to put it on the ground or throw it to you or get penalties on defense to keep your drives alive. They're going to do a good job of staying in control and not shooting themselves in the foot. That's the thing that pops out the most. They're just well coached, well schooled and well disciplined."
In last year's thriller, Bryant's Dillon Winfrey returned a kickoff for a touchdown to spark the Hornets who trailed at that point. Calley figures special teams will once again be a key for his team.
"That's the aspect I think that we have to win," he stated. "Of course, they're not going to kick deep to us I don't think. They use the short kickoff and they do it well.
"The punting game is going to be big, flipping field position," he added. "We have to punt well and the ability we have to put pressure on their punter can be big for us — if we can cause him to shank a couple, maybe even block one."
Bryant's punter is offensive tackle Ian Shuttleworth, all 6-3, 280-pounds of him. Conway's punter is its quarterback.
"Then, there's our field goal kicker," Calley mentioned. "They're going to be really tough when we get in the red zone. I want us to score touchdowns but we can always rely on Jace (Denker)."
The Bryant coach added that, playing at Conway will be a factor.
"We haven't played well on the road yet," he said. "We've got a plan on both sides of the ball. We hope it works."