Photos by Kevin Nagle
The Bryant White Hornets seventh grade team of Bryant Middle School outscored[more] their counterparts from Greenbrier 8-3 in the second quarter on Thursday night and it proved to be the difference maker in a 35-29 victory at the BMS gym.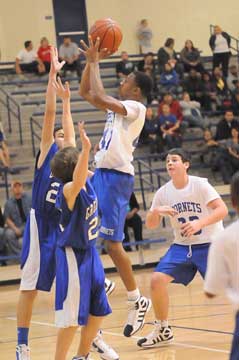 In a B game, Greenbrier prevailed 20-15. De'Amonte Terry led the Hornets with 6 points.
Bryant White managed an 9-8 lead by the end of the first quarter in the A game. The second-quarter surge made it 17-11 at the half. The Hornets were up 26-19 going into the fourth quarter.
Romen Martin led Bryant White with 10 points. Kyle Sahr added 6. Quintin Nimmer and Beaux Bonvillain had 4 each.
"Overall, our effort was good, but there are times where we needed to make better decisions with the basketball," commented Hornets coach Heath Long. "There were a couple of times that we let them back in the game when we had a chance to basically put it out of reach, but we were able to hang on to the lead in spite of those swings in momentum."
The seventh grade team returns to action on Jan. 10 against Conway White.