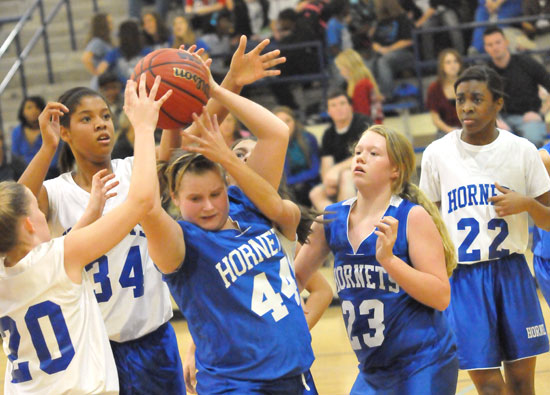 Photos by Kevin Nagle
By Rob Patrick
In a battle of unbeaten teams, the Bryant White Lady Hornets seventh grade squad of Bryant[more] Middle School put together an 8-2 run to start the fourth quarter to break open a 2-point game on the way to a 34-23 win over the Bryant Blue Lady Hornets of Bethel Middle School Monday night.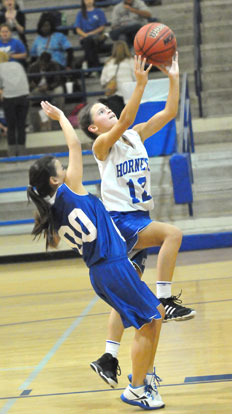 Bryant Blue, behind guard Raija Todd's 17 points got within 28-23 with 1:53 left in the game but could get no closer as Bryant White closed out the win by scoring the last 6 points of the contest.
Bryant White improved to 6-0 on the season going into the Christmas break. Its next game will be Jan. 8, 2013 at home against Cabot South. Bryant Blue, now 6-1, returns to action on Jan. 10, at home against Hot Springs Lakeside.
"I was proud of the effort of our team," said Bryant White coach Kenny Hays. "Our players kept their composure down the stretch and finished strong in the fourth quarter. Bethel has a great team and they are well coached, but we were able to get to the free throw line several times in the 4th quarter and make enough of them to seal the victory."
White was led by 13 points each from Maddie Stephens and Raven Loveless. Breleigh Simmons added 6 points and Jaylen Sparks 2. Loveless collected 11 rebounds.
To go with Todd's 17, Bryant Blue got 4 from Daniele Singleton and 2 from Baylee Rowton, who led her team with four rebounds.
"Our girls play hard every night," said Bryant Blue coach Rhonda Hall, "and I look forward to seeing them improve as the season progresses."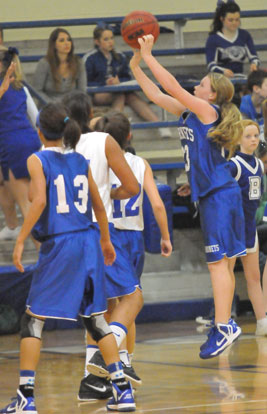 The first half of the game was a defensive struggle. Blue held a 4-2 lead at the end of the first quarter. Todd and Loveless had traded baskets then, in the final minute of the period, Singleton scored to put her team ahead.
But White scored the first 6 points of the second quarter. Simmons hit a jumper in the lane and, later, added a pair of free throws. Loveless drove for a layup to make it 8-4.
Todd hit the offensive boards to score for Blue following Stephanie Cullen's steal.
Cullen made a steal early in the third quarter as well and it led to a layup by Todd that tied the game 8-8. Rowton swiped a pass and was fouled but couldn't get her free throws to drop.
Blue got on track with a pair from the line by Stephens, sparking an 8-2 run. She added a basket and, after Singleton countered, Simmons hit a layup and Loveless scored to make it 16-10.
A basket by Rowdon off a feed from Todd who followed with a pair hoops after Loveless scored again, pulled Bryant Blue within 18-16 going into the fourth quarter.
It was 20-18 when Stephens scored. After a timeout, Sparks made a steal and drove for a layup. Though she was unable to complete a three-point play, Loveless grabbed the rebound and scored to make it 26-18 with 3:40 to go.
Missed opportunities at the line hampered Blue a bit over the next 1:30 with one make out of four attempts. Still, Todd canned a 15-footer and drove for a layup to cut the margin to 28-23 with 1:53 to go but that was the last of Blue's scoring.
The tale-tell blow came with 1:08 left when Stephens hit a free throw for White and, again, Loveless got to the rebound off her missed second shot and scored to extend that 5-point lead to 8 again.