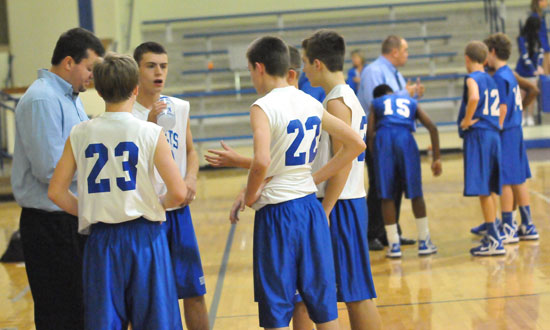 Photos by Kevin Nagle
By Rob Patrick
Tristan Calhoun's driving jumper off the glass with :08 left provided the Bryant White Hornets[more] seventh grade team of Bryant Middle School the winning edge in a 30-29 win over the Bryant Blue Hornets of Bethel Middle School Monday night.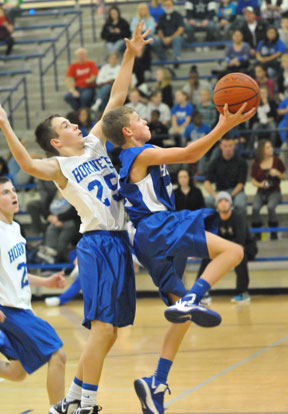 Blue got a look at an answering hook as Sam Chumley drove deep into the White defense, but his 8-foot jumper in a crowd failed to fall as White held on.
It was a comeback effort for Bryant White, which trailed 28-21 with 3:26 left in the game.
Calhoun, who led all scorers with 11 points, sparked the rally with a three-point play at the 3:06 mark. Bryant Blue's Diante Woodson hit a free throw with 2:39 left to make it 29-26 but, despite another opportunity at the line, Blue was unable to score the rest of the game.
A pull-up jumper in the lane by Brandon Hill closed the gap again. Both teams missed opportunities over the next minute before Brooks Ellis got free inside for a basket for White that made it a 1-point game.
Blue had a chance to add to the margin at the free-throw line with :15.1 to go but the front end refused to drop leading to Calhoun's dash to the other end for what turned out to be the winning bucket.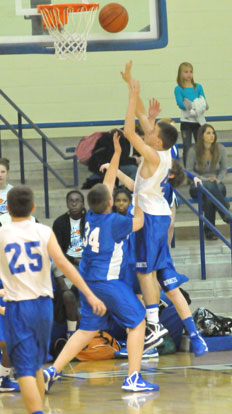 "I thought we played our best game of the year thus far," said Bryant Blue coach Derek McGrew. "We tied our season high in points, led the whole game and feel we should have won. We turned ball over with a 3-point lead with a minute left, missed the 1-and-1 opportunity, gave up three easy baskets late in the game, then we had a last-second shot for the win.
"This team is improving and I am proud of their effort, attitude, and willingness to learn," he asserted. "We look forward to playing them again in January."
The two teams will play again Jan. 22, 2013 at Bethel.
"We did not get off to a very good start, making some mistakes guarding inbounds plays that hurt us," said Bryant White coach Heath Long. "We got off to a good start in the second half, cutting into their lead early and gaining some momentum. We did a better job offensively in the second half of getting the ball inside as well.
"I'm proud of my guys for fighting through adversity and finding a way to win the game at the end," he added.
Along with Calhoun's 11, White got 5 points from Ellis, 4 from Hill, 3 each by Jake Forst and Grayson Prince and 2 apiece from Jon Luke Sprout and Scott Schmidt. Calhoun also had a game-high eight rebounds.
For Blue, Chumley led the way with 9 points. Woodson added 8 with Matthew Sandidge, Preston Kyzer and Brandon Shirlee each pitching in with 4. Sandidge led the team with seven boards.
It was all Blue early in the game. Bethel held White to just a free throw by Prince in the opening quarter, building an 8-1 lead. Chumley fed Kyzer for the first hoop of the game then Shirlee scored off an inbounds play. Chumley then made consecutive steals the resulted in layups forcing White coach Heath Long to call a timeout with :54 left in the opening period.
Bryant White finally got its first field goal 49 seconds into the second quarter when Schmidt scored inside. But Kyzer countered for Blue and, with free throws by Sandidge and a driving layup by Woodson, the lead grew to 14-3.
The lead was still 16-6 going into the final minute of the half. An offensive-rebound basket by Sprout cut into the margin and, after Woodson and Ellis traded free throws, the teams when to the locker room with Blue leading 17-9.
Calhoun, who hadn't scored in the first half, started White's rally with the first basket of the third quarter. A three-point play by Forst cut the margin to 3. Woodson drove for a basket then Sandidge made a steal that he eventually cashed in after grabbing the carom off a teammate's miss.
White, trailing 21-14, dashed off 5 points on baskets by Hill and Calhoun around a free throw from Prince, making it a 2-point game but when Chumley tossed in a 3-pointer from beyond midcourt at the buzzer, it figured to assuage the momentum.
And when Chumley added the first basket of the fourth quarter, the lead was up to 26-19.
Calhoun and Shirlee traded baskets to make it 28-21 and that's when White started the final push to victory.
Bryant White will return to action on Jan. 8, 2013, against Cabot South. Bryant Blue returns to competition on Jan. 10, at home against Hot Springs Lakeside.