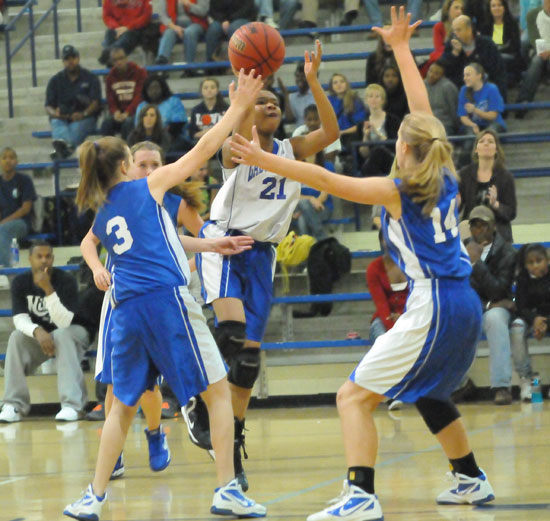 Photos by Kevin Nagle
By Rob Patrick
Over the first 22:49 of the 24 minutes of Monday night's eighth grade battle of Bryant between[more] the Bryant Blue Lady Hornets of Bethel Middle School and the Bryant White Lady Hornets of Bryant Middle School, Blue only led briefly It was 5-4 late in the first half and, in the opening minute, it was 7-6.
Bryant White led by as much a 7 late in the third quarter but fell victim to a closing 12-2 rally by Blue, which extracted a 25-20 win.
Bryant Blue took the lead on a jumper in the lane by Sarah Kennedy with 1:21 left to play and, with free throws by Riley Hill and Kendal Rogers, closed out the victory.
"I was really proud of my girls," said Blue coach Rhonda Hall. "They were able to persevere through a poor offensive game and continue to work hard to find a way to win."
It was a defensive battle. Blue wound up 8 of 37 (22 percent) from the field and White 6 of 28 (21 percent). Blue produced more opportunities by forcing 22 turnovers while committing 16.
Two free throws by Lauren Lessenberry with 3:27 left in the game had Bryant White ahead 18-13. But White didn't score again until Deja Rayford drove for a bucket with :18 left.
Hill started Blue's rally with a baseline jumper. A turnover led to a basket by Rogers and, after a White miss, Reagan McCormick hit a free throw to tie the game at 18 with 2:02 to go.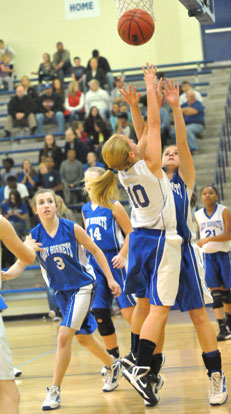 White missed two chances to regain the lead before Kennedy's basket did it for Blue. Both teams had opportunities at the free-throw line over the next 30 seconds and came up empty. After Destiny Martin's attempts refused to go for Bryant White with :44.8 left, teammate Lania Ratliff scrambled after the rebound but couldn't get a follow shot to go.
Hill rebounded and was fouled with :41.6 showing. She knocked down both shots to make it a two-possession game.
Much to their frustration the White Lady Hornets had three tries at cutting into the lead with no luck. Rogers converted once at the line with :25.2 left to make it a 23-18 before Rayford cut it back to 3 with her basket.
White team coach Caleb Harper called a timeout to set up his team's press but Blue was able to get it in and Hill was fouled with :10.9 to go. Her two free throws sealed the win.
Rogers wound up with a game-high 13 points. Hill had 8 with Kennedy and McCormick completing the Blue team scoring with 2 each.
Martin paced Bryant White with 12 points. Her six rebounds matched teammate Jadyn Lewis and Blue's Kasey Ward and Rogers for game-high honors. Rayford finished with 6 points and Lessenberry 2 for White.
Bryant Blue did not score in the first quarter. In fact, the first point came on a free throw by McCormick nearly halfway through the second stanza. Rogers followed with the first basket on a layup with 2:37 left in the half.
Bryant White established the lead but struggled as well, posting 4 points in the first quarter on free throws by Martin and a basket by Rayford at the 2:04 mark. The White Lady Hornets then went until the final minute of the half before scoring again. Rayford hit the offensive glass for a basket which produced a 6-5 halftime lead for White.
Things picked up in the second half. Rogers hit two free throws to put her team up 7-6 but then Martin got on a roll. Attacking the basket, she was fouled and drained two free throws. Moments later, she attacked for a three-point play that moved Hall to call a timeout.
But when play resumed, a Blue turnover led to a 3-pointer from the top of the key by Martin and a 14-7 lead, White's largest of the game with 4:04 left in the third quarter.
Rogers got Blue's first field goal of the second half with 2:57 left in the third but Martin hit the offensive boards for a stickback with 1:20 left to make it 16-9. Hill closed out the scoring in the quarter with a 15-footer to make it a 5-point game and when Rogers drove for a bucket to start the fourth quarter, the lead was 16-13.
That led to Lessenberry's free throws and Blue's closing rally.
Now 9-3 on the season, Bryant Blue is off until hosting Hot Springs Lakeside on Jan. 10, 2013. Bryant White is 3-3 with its next game on Jan. 8 at home against Cabot South.