By Rob Patrick
Photos by Kevin Nagle
After four lead changes late in the third quarter and early in the fourth, the Bryant White Hornets of[more] Bryant Middle School did just enough to cling to a lead over the final two minutes to nip the Bryant Blue Hornets of Bethel Middle School in an eighth-grade showdown Monday night.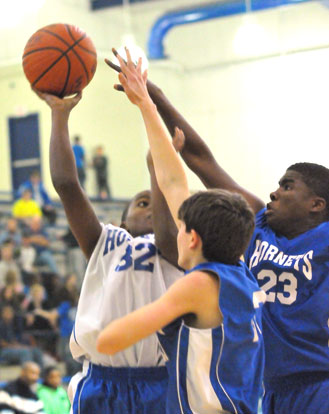 It was the second time this season, the two teams, destined to be teammates next year as freshmen, battled to the wire and it will no doubt be a similar story when they meet again on Jan. 22 at Bethel.
Free throws in the final minute by Romen Martin and Brandon Harris proved crucial to the win for Bryant White, which improved to 7-0 on the season. In between those free throws, Desmond Duckworth, with his uncanny knack for getting penetration into the teeth of the defense, drove for a layup so when Harris made his with :31.9 to go, it made it a 40-38 game.
Duckworth's ensuing drive produced a floating one-hander that refused to go down, coming off the iron. The ball rimmed out, ricocheted off several hands then out deep as both teams' players scrambled after it. It went out of bounds to Blue near the time line. Blue head coach Derek McGrew called a timeout with :09.6 to try to set up a play in hopes of a tying or winning hoop.
But White played tough on defense and Duckworth had to fire up a 3 as time was running out. In the scramble for the rebound, Caylin Allen came out with the ball and was fouled on the follow shot.
Bryant White coach Heath Long argued that time had run out before the foul but Allen was sent to the line with no time on the clock and the lane clear. His first shot looked true but it came off the iron. His second shot set the final score.
"This was really the best game we've played in a while," said Long. "We got off to a good start and, overall, defended them pretty well. We executed better on offense than we have for some time as well. I am happy that we were able to win, but give credit to Bethel, they definitely made us earn it."
"It was a back and forth game, great atmosphere," McGrew noted. "It could have gone either way. We could not buy an outside shot. We did not hit a 3 pointer. We had several wide-open looks. And we missed 10 free throws."
Blue, now 7-3 on the season, was 15 of 25 at the line including 2 of 6 in the fourth quarter. White finish 12 of 23 but hit 8 of 12 in the second half.
"It was another great game between these two teams. We have played each other five times over the last two years and they lead 3-2. We look to win the last game with them in January. It would be only fitting to end 3-3."
Martin led all scorers with 17 points. John Winston added 6 for White with Kyle Sahr and Jonathan Allen getting 5 apiece. Harris finished with 4 and Jake East 3.
For Blue, Calvin Allen scored 14 and Duckworth 12. Phillip Isom-Green finished with 6, Caylin Allen 5 and Josh Bonner 2.
The bigger White team out-boarded their rivals 37-21 with 17 rebounds on the offensive end. Sahr led with eight all together. Winston and Martin gathered seven each. Isom-Green led Blue with seven.
As McGrew mentioned, it was nip-and-tuck all the way. Bryant White established the early lead off a pair of offensive rebounds by Winston, who hit a free throw after being fouled on the follow, and Sahr.
After Duckworth got fouled attacking the rim, East canned a 3 to make it 6-2. Calvin Allen drove for a basket and added a free throw to cut the lead to 1 but Martin went on a rampage, feeding Winston for a hoop and, after a free throw by Isom-Green for Blue, hitting a pair of baskets and a free throw in about 40 seconds.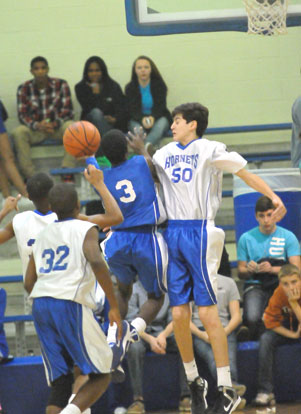 Bryant White led 15-9 at the end of the quarter but a basket by Isom-Green and free throws by Calvin Allen and Duckworth trimmed it back to 2 early in the second.
Blue wound up pulling even 17-17 on free throws by Calvin Allen. Sahr scored off an offensive rebound but Calvin Allen's drive tied it again.
Blue jumped into a press and forced a five-second call on an inbounds play and, moments later, Calvin Allen, on his own rampage, knocked down a pair of free throws to give his team a 21-19 lead with 1:30 left in the half.
But Jonathan Allen countered for White with a pair from the line with 1:25 left and, after a Blue miss, he drove the baseline for a layup that gave Bryant White a 23-21 edge at the half.
It was 26-23 early in the third quarter when Caylin Allen drained a jumper and Duckworth drove for a reverse layup. When Caylin Allen hit a layup with 2:31 left in the period, Blue had forged ahead 29-26.
Both Calvin Allen and Duckworth drove for baskets as Martin countered with free throws. With :43 left, Blue had its largest lead at 33-29. Martin made it a 2-point game going into the fourth quarter, however, with his own slashing move to the rack.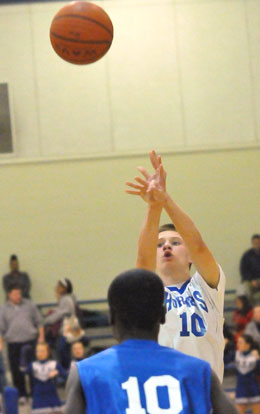 It was a war for the first 2:19 of the fourth quarter with neither team able to find the bottom of the net. Finally, with 3:41 left, Harris broke free at the top of the key and banged home a 3-pointer to put White up by a point.
After a timeout, Duckworth drove and dished to Isom-Green for a bucket to put Blue back up. And, after Martin missed a 3, Blue had a shot to extend that margin. But Martin came back with a steal and got to the line where he converted twice.
Those free throws wound up putting Bryant White ahead to stay but it was never comfortable even after time ran out.
After Martin put White in the lead, Blue came close to regaining the lead in a big way when Chase Kincaid got a pass inside, went up and was fouled. His shot hung on the rim for tantalizing seconds before rolling off. His free throws were similarly teasing but neither fell.
With 1:40 left, Winston extended White's lead with a jumper in the lane. At the other end, he rebounded a Blue miss and was fouled. In the bonus, he went to the line but his first shot wouldn't fall.
Isom-Green and Martin traded free throws as the game went to the final :50 with White up by 3.
Both teams are now off for the holidays. Bryant White returns to action on Jan. 8, 2013, at home against Cabot South. Blue takes on Malvern on Jan. 7.