Bryant's 48-point blitz overwhelms quick-start Panthers in 13th Salt Bowl
EDITOR'S NOTE: Because the look back at each day in Bryant athletic history has been so favorably received during the time when there was no sports during the COVID-19 shutdown, BryantDaily.com will continueposting past stories of Bryant athletics either posted on BryantDaily.com (from 2009 to the present) or published in the Bryant Times (from 1998 to 2008).

By Rob Patrick
Photos by Kevin Nagle and Rick Nation
LITTLE ROCK — "Momentum is the most powerful thing in high school athletics," declared Bryant Hornets'[more] head football coach Paul Calley. "It's hard to overcome when it's not on your side."
But in the 13th annual Salt Bowl battle at War Memorial Stadium Friday night in front of 22,649 Saline County football fans, the Bryant Hornets were able to overcome. The Benton Panthers were not.
For the first 4:23 of the game, it was all Panthers as they dashed to a 14-0 lead. All the momentum was on Benton's side but Bryant turned the tide and reeled off 48 unanswered points, a blitz the Panthers just could not turn aside.
Ultimately, the Hornets captured the Salt Bowl trophy for the seventh consecutive time, winning going away, 55-21.
The 55 points was the most scored by one of the two combatants in the 40-game history of the rivalry dating back to 1974. The highest previous total was 48 scored by the Panthers in 1993. And the combined total of 76 points is far and away the most scored in a Bryant-Benton game, topping the 68 the two teams split evenly in the only tie of the series in 2003.
In fact, Bryant's total was just shy of the most points scored by a Hornets team ever. In 1965, Bryant hung 59 on Perryville.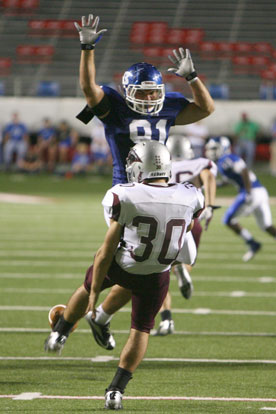 Senior quarterback Hayden Lessenberry completed 17 of 31 passes for 269 yards and four touchdowns. Add in a TD pass by sophomore Brandan Warner late in the game and it tied the school record for touchdown passes in a game held by Jeremie Wooten, who had five in the first Salt Bowl in 2000.
The win was also highlighted by Tim Kelly's blocked punt. The deflection rolled into the end zone where Stoney Stevens covered it for a touchdown, part of the Hornets' 28-point third quarter eruption.
Jalen Bell ran for a score and turned a screen pass into a 46-yard touchdown play. K.J. Hill caught two TD throws, Brushawn Hunter and Daniel Richards grabbed one apiece.
Senior linebacker Tyree Reese got in on the scoring with a 3-yard run from the Wildcat formation.
Friday's game was the 7A/6A-South Conference opener for both teams. Bryant improved to 3-1 overall with a trip to play 3-1 Pine Bluff next Friday. Benton fell to 1-3 and hosts winless J.A. Fair of Little Rock.
"(Benton) had us by the throat," stated Calley of the early deficit. "They always play harder against us. That's not the same team I saw on film. We knew we were going to get that and it's my fault we came out and started slow."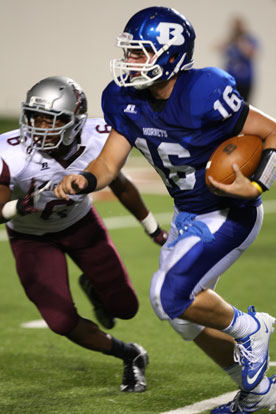 The previous week, the Hornets fell behind Little Rock Catholic right off the bat and had to battle back.
"We went through pre-game in just jerseys and we didn't come out ready to play," Calley continued. "We're going to eliminate that next week. We will be ready to play."
"They came out in a little set a little different than we had worked on," explained Hornets defensive coordinator Steve Griffith. "We kind of anticipated they would come out in something a little bit different. We did make a couple of adjustments on the sideline, how we wanted to play it. The option they were running, they just ran out of a different set. With just a little bit of a slide on the alignment to get our guys in place, then just make sure we were playing assignment football.
"The big thing was just an attitude adjustment," he said. "I felt like we came out and played a whole lot harder after that. We've got to mentally be prepared at the beginning of the ballgame. That's something we're going to have to work real hard on."
"We just needed to keep the ball offensively and get something going and get the momentum swung in our favor," Calley asserted.
The Panthers had dashed down the field, 63-yards in just three plays to open the game. Senior Wallace Foote followed up a 31-yard run with an 8-yard touchdown jaunt to break the ice less than a minute into the game.
Foote would wind up with 196 yards on 27 carries, more than half of the Panthers' 312 yards of total offense.
The Panthers defense forced a three-and-out and, after the punt, Benton roared 56 yards in just five snaps, capped by a 16-yard pass from Terek Beaugard to Boone Cox, who just got a toe down in the back of the end zone for the score.
With 7:36 still to play in the first quarter, Benton had a 14-0 lead.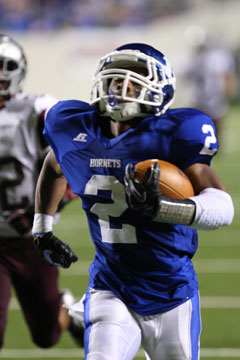 The Hornets responded to the second score with a scoring drive of their own. It was an eight-play march that covered 64 yards. Lessenberry completed three passes along the way and broke a 14-yard run on a scramble. Hill caught Lessenberry's 7-yard touchdown pass and Josh Lowery kicked it to 14-7.
After a strong return of the ensuing kickoff by Ryan Rodriguez, the Panthers, though progressing more slowly, picked up a first down. But a procedure penalty on third-and-2 at the 48, broke their stride. On the next play, Bryant's Kordell Boykins knifed through to drop Foote for a loss and Benton had to punt.
Bryant punted back moments later and the Panthers, aided by a personal foul penalty for a late hit, drove to the 45. On first down there, Boykins and Jared Koon hauled down Foote for a loss and, two snaps later, Benton was punting again.
This time, a short kick gave the Hornets possession at their own 34.
Lessenberry threw to Hunter for 16 yards and Hill for 17. A pass interference penalty cost the Panthers. Jalen Bell covered the final 18 yards on a pair of runs, the scoring plunge came from the 5. Lowery booted the PAT and the game was tied.
"When we put the second touchdown in, I knew we were going to be okay," Calley related.
Stellar defensive plays by Stevens and Davis Nossaman — the latter on a splendid open-field tackle on Foote — resulted in another punt.
Jake Johnson led the Hornets with 11 tackles. Nossaman was in on 10, Reese nine, Stevens and Kelly each eight.
With 3:00 left, the Hornets grabbed the lead, covering most of the ground on Lessenberry's passes including the 29-yard TD toss to Hill, who had gotten lost in the Panthers' secondary and would up 20 yards behind the defense, scoring easily with 1:35 left in the half.
"He's starting to grasp everything a little bit better," Calley said of his senior quarterback. "He's feeling comfortable now. He's learned to protect himself. We had a couple of times the protection broke down but most of the time it was solid."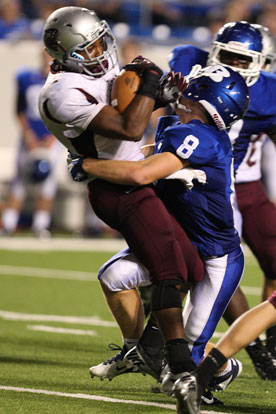 Benton had decided from the outset to put the clamps on Bryant's running game but in true take-what-they-give-you fashion, the Hornets made hay in the air.
"Certain personnel packages, they were determined to stop the run," acknowledged Calley. "In the past, we've been able to run even though people knew we were going to run. We're not at that point right now. J.Bell is more of a spread back. He's not an I back. We've done some different things. We ran some misdirection plays and they still strung us out. They've got a very good middle linebacker and we knew we had to get him blocked."
Credit offensive linemen Ian Shuttleworth, Blake Hobby, Blain Jackson, Brandon Caple, Jordan Jones along with tight end Nate Rutherford and H back Wesley Akers.
The Hornets got the ball back to start the second half and put together a blitz in which they scored 21 points in about the same time as Benton's initial outburst.
The first drive took three plays, capped by a screen pass to Bell, who turnd it into a 46-yard touchdown play.
Lowery kicked it to 27-14 then the defense forced a three-and-out. Punter Shaun Carey dropped back to punt but Kelly broke through up the middle and blocked the kick and Stevens chased down the deflection in the end zone.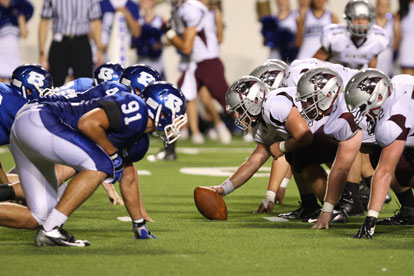 The beat went on. Kelly made a stop for a loss as Benton was forced into another three-and-out. Carey kicked Bryant back to its own 29 but, on a third-down there, Lessenberry launched a deep throw down the middle to Hunter who turned on the jets after the catch and sprinted into the end zone to make it 41-14.
With 7:29 still to play in the third quarter, the Hornets had turned it into a rout.
The Panthers got a lift when Jesse Benton stepped in front of Hill for an interception but three subsequent plays netted 1 yard.
Aaron Bell nearly broke the punt return. The kick covered 21 yards and Bell brought it back 29. But the Hornets too were forced to kick. Denker's punt was returned by Foote who had the ball knocked from his grasp. Rutherford scooped and scored but, in high school, that kind of fumble can't be advanced so the Hornets had it 6 yards away from more points. Lessenberry kept for half of what was needed then Reese got his shot and barreled into the end zone to make it 48-14 going into the fourth quarter.
The Panthers, frustrated through the air, banked on Foote and Beaugard's running to reach the Bryant 8. On third down, Hornets' defensive end Austin May stopped Beaugard at the 7 and, when a fourth-down pass fell incomplete, Bryant took over.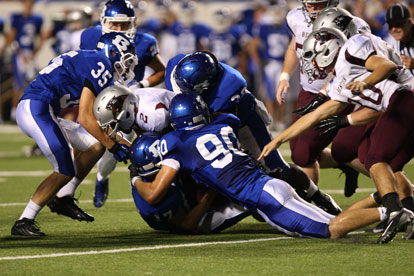 The next Benton possession was aided by a major penalty and, despite Kelly and Reese sacking Beaugard, a pair of runs by Foote got the Panthers to the end zone for the first time since that opening salvo.
In turn, Bryant's Drew Tipton, with the team expecting an onside kick, nearly went the distance on the ensuing kickoff. The 59-yard return marked the entrance of the Hornets' reserves.
Warner's pass to Greyson Giles turned into a 22-yard play setting up a final scoring march. A screen from Warner to Jacob Irby broke for 19 yards to the 3 and, moments later, Richards hauled in Warner's third-down throw for the 6.
Sparked by senior Johnny Austin's play, the Hornets forced the Panthers to turn the ball over on downs. And when Irby slashed for 11 yards on a second-down play, it was time for celebrating.

BRYANT 55, BENTON 21

Score by quarter

Benton 14 0 0 7 — 21
BRYANT 7 13 28 7 — 55
Scoring summary
First quarter
BENTON — Foote 8 run (Westpheling kick), 11:13
BENTON — Cox 16 pass from Beaugard (Westpheling kick), 7:36
BRYANT — Hill 7 pass from Lessenberry (Lowery kick), 3:51
Second quarter

BRYANT — J.Bell 5 run (Lowery kick), 4:47
BRYANT — Hill 29 pass from Lessenberry (run failed), 1:35
Third quarter

BRYANT — J.Bell 46 pass from Lessenberry (Lowery kick), 11:28
BRYANT — Stevens recovers blocked kick in end zone (Lowery kick), 9:58
BRYANT — Hunter 71 pass from Lessenberry (Lowery kick), 7:29
BRYANT — Reese 3 run (Lowery kick), 0:25.7
Fourth quarter

BENTON — Foote 14 run (Westpheling kick), 6:28
BRYANT — Richards 3 pass from Warner (Lowery kick), 3:17
Team stats
Benton Bryant
First downs 15 18
Rushes-yds 39-231 19-69
Passing 8-20-0 20-37-1
Passing yds 81 313
Punts-avg 7-23.9 4-37.2
Fumbles-lost 2-1 1-0
Penalties-yds 8-50 7-57
INDIVIDUAL STATS
Rushing: BRYANT, J.Bell 10-37, Irby 4-14, Lessenberry 3-13, Reese 1-3, Hill 1-5; BENTON, Foote 27-196, Beaugard 10-35, Chilton 1-0, Wallace 1-6.
Passing (C-A-I-Y): BRYANT, Lessenberry 17-31-1-269, Warner 3-6-0-44; BENTON, Beaugard 8-17-0-81, Chilton 0-3-0-0.
Receiving: BRYANT, Hunter 6-108, Hill 4-67, J.Bell 4-50, Howard 3-41, Giles 1-22, Irby 1-19, Daniels 1-3; BENTON, Carrey 5-56, Cox 1-16, Foote 1-5, Wright 1-4.