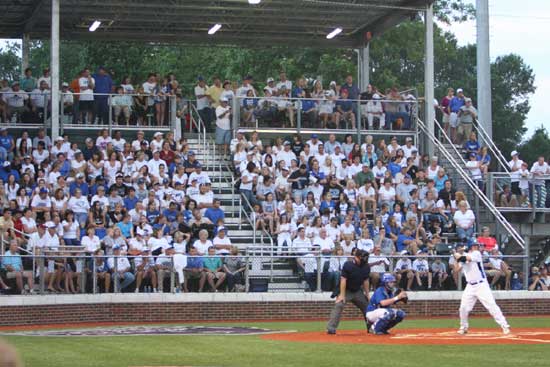 By Rob Patrick
Photos by Rick Nation; for more, go here.
CONWAY — Circumstances seemed to conspire against the Bryant Hornets in their bid to[more] repeat as Class 7A State baseball champions on Sunday night.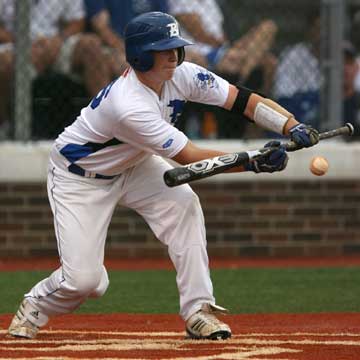 Besides the fact that the final was moved this year from Baum Stadium at the University of Arkansas (because the Hogs had games this weekend) to Bear Stadium at the University of Central Arkansas (where they did a fine job of hosting); and not to mention the fact that the game was supposed to be played on Saturday night but rain moved things back a day, in just the final game alone, things occurred that don't usually happen where the Hornets are concerned. In fact, there were times, particularly in retrospect, that it just seemed meant to be for the Conway Wampus Cats.
And you've got to admit the Cats were due. After winning a State title in 1989, they'd made it to the finals four times only to come up short.
Before this year.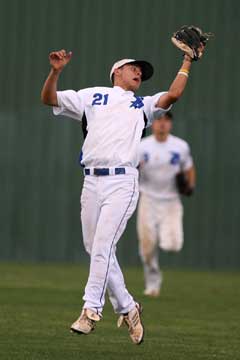 Conway scored five unearned runs as part of a seven-inning second and the Hornets never could quite recover. The Cats, behind strong pitching from right-hander Connor McClain, the tournament MVP, and errorless defense denied the Hornets a second consecutive championship trophy, with a 12-3 win before an overflow crowd of supporters of the 7A-Central Conference rivals. The estimated attendance was 2,000.
"It was kind of Murphy's Law, whatever could go wrong went wrong for us today," allowed Hornets coach Kirk Bock.
The trouble began early in the second. Tyler Langley and J.T. Blackwell had singled and Collin Fluesmeier was up to sacrifice. He got the bunt down on the right side. Both Jordan Taylor, the Bryant pitcher, and first baseman Landon Pickett charged aggressively. Taylor got their first but it just so happened that Pickett wound up in his line of sight.
"He was trying to throw it around him just to get the out," Bock recounted. "He was trying to make a good play right there but it just didn't work out right."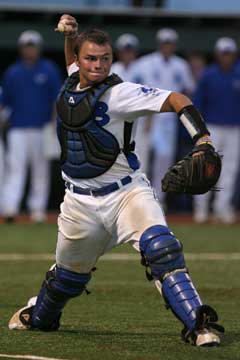 Taylor's throw sailed over the head of Ozzie Hurt, the second baseman coming over to cover first. Langley scored the game's first run and runners would up at second and third.
Taylor regrouped and struck out Cody Rhodes but Cole Anderson shot a single up the middle, driving in two.
Ryan Lazo bounced into a force at second, which would've been the third out but, as it was, the inning continued. Lazo stole second and took third on an error before Aaron Boucher slapped a fly to right just inside the foul line for an RBI double.
Wesley Hoover followed with a bouncer up the middle that shortstop Tyler Nelson got to with a dive. His play saved a run for the moment though he was unable to get a throw to first in time to retire Hoover.
An RBI single by McClain led to a pitching change. Dylan Cross relieved for Bryant and was greeting by Langley's two-run single, making it 7-0.
"Sometimes when that stuff gets rolling against a good team, it's hard to stop them," Bock acknowledged. "It's hard to put the brakes on. Conway did a great job. We knew they could swing it and they're streaky like that. Once they get rolling, you've got to do some things to stop them.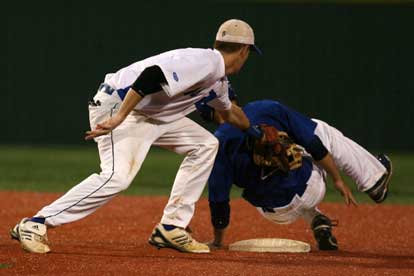 "I felt like if we would've made that play, it'd been different," he added. "We may have given up a run or two. It's certainly not J.T.'s fault. It just happened, the way things linked up right there. He was trying to make a play."
McClain, who had worked around a lead-off single by Nelson in the first and a two-out knock by Josh Pultro in the second, retired the first batter of the third. But Nelson walked and Tyler Brown rifled the first of his two hits up the middle. Taylor drew a walk to load the bases for Landon Pickett, Bryant's leader in home runs, RBIs and average, Pickett put the ball in play, rolling one to Lazo at second. He got the force but the relay failed to retire Pickett as first baseman Reid Blaylock couldn't dig out the throw.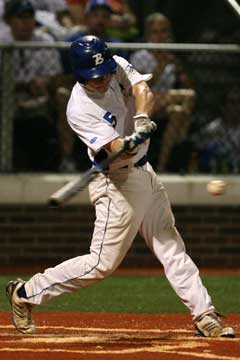 Nelson scored on the play. Moments later, Cross was hit by a pitch to load the bases again for Chris Joiner, one of just three starters from the 2010 championship. Joiner lashed a 1-2 pitch over the leaping Lazo at second, bringing in Brown.
Pickett started for follow and made it about halfway home when he started back. By then, however, Hayden Daniel, running for Cross, was sliding into third. When Pickett started back, Daniel scrambled to his feet and headed back. At first, Daniel was caught in the pickle but then Pickett broke for the plate only to be thrown out to end the inning with the Hornets still trailing 7-2.
"He (third-base coach Elliott Jacobs) was trying to stop him (Pickett) at third but he got a little bit too far out," Bock related. 'Petey' (Daniel) was reading the runner. We were very aggressive, we just didn't use good judgment right there. That's what we teach them, be very aggressive but use good judgment. We just got caught in the middle right there.
"That was big as far as momentum," he said. "If that would've worked out right, we had the momentum going and we kind of had McClain on the ropes right there a little bit. It may have made him make an early exit.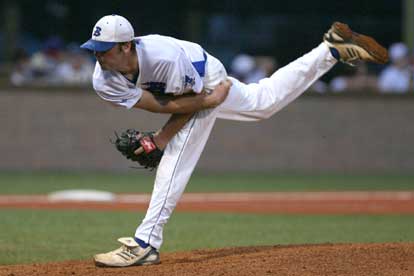 "We had some opportunities to get to him we just didn't," the coach continued. "We couldn't get those first guys on base. Getting men on base without any outs is huge. Conway was able to do that a lot tonight where we just weren't."
Cross and McClain dueled to keep it 7-2 until the fifth. In the top of the inning, Fluesmeier drew a walk and, an out later, Anderson singled up the middle. But, on the first pitch from Cross to Lazo, the hurler was cited for a balk, sending the runners to second and third. Lazo wound up tapping back to the mound for the second out of the inning. But, on the very next pitch, Boucher singled up the middle to drive in two.
He stole second and Hoover lofted a towering fly to center that Pultro lost in the twilight of all things. The ball fell for an RBI double that made it 10-2.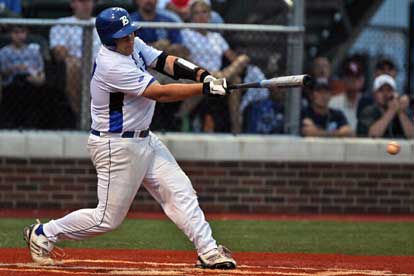 In the bottom of the inning, Brown singled with one out but the Cats turned the first of their two doubleplays to end the thread.
Conway scored two more in the top of the sixth. With one out, Blackwell walked and the Hornets made a pitching change. Caleb Milam came on and was greeted by Fluesmeier with a double and Rhodes who lined a two-run single to give the Cats a chance at a run-rule win, up 12-2.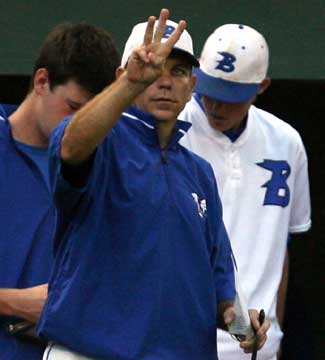 The Hornets, however, stayed alive for another inning with a run in the bottom of the sixth. Pickett singled and Daniel, in as a pinch-runner, took second on a wild pitch and third on a passed ball. With one out, Joiner singled to drive him in but, after Pultro was hit by a pitch, the Wampus Cats turned their second doubleplay to kept it 12-3.
Nelson pitched a scoreless top of the seventh but the Hornets were retired in order in the seventh as McClain ran his pitch-count to 126.
Bock commended his team, which made it back to the finals despite having only three players back that started the 2010 finale.
"It is (quite an accomplishment) and that's what I told the kids," he related. "I'm just going to be truthful. They had some kids and some of their teammates check out on them because they didn't think we had a chance. But these kids right here, their mindset is telling them that they've got a chance. Every time we step on the field, we're going to have a chance."
The seniors on the team, Brown, Lucas Castleberry, Blake Davidson, Evan Jobe, Joiner, Milam and Pickett, have been a part of teams that went 70-24 with three 7A-Central Conference championships over the last three seasons.
"We want to thank the seniors for all of their hard work and dedication," Bock concluded. "We have not been more proud of a group of seniors than this group. They have battled through a lot of adversity and brought the younger players along with them. We would also like to thank the fans for all of their support tonight and throughout the year."
CONWAY 12, BRYANT 3
Class 7A State Tournament championship
Wampus Cats ab r h bi Hornets ab r h bi
Lazo, 2b 5 1 1 0 Nelson, ss-2b-p 3 1 1 0
Boucher, ss 5 2 2 3 Brown, 3b 3 1 2 0
Hoover, rf 4 1 2 1 Taylor, p-ss 2 0 0 0
McClain, p 5 0 2 1 Pickett, 1b 3 0 1 1
Cagle, cr 0 1 0 0 Daniel, pr 0 1 0 0
Langley, lf 5 1 3 2 Cross, dh-p 1 0 0 0
Blackwell, dh 4 1 1 0 Daniel, cr 0 0 0 0
Powell, pr 0 1 0 0 Milam, p 0 0 0 0
Fluesmeier, 3b 1 3 1 0 Castleberry, ph 1 0 0 0
Rhodes, c 3 0 1 2 Joiner, 3b 3 0 2 2
Smith, cr 0 0 0 0 Pultro, cf 2 0 1 0
Anderson, cf 2 1 2 2 Jobe, rf 3 0 0 0
Blaylock, 1b 0 0 0 0 Lessenberry, c 3 0 0 0
Hurt, 2b 0 0 0 0
Totals 34 12 15 11 Totals 24 3 7 3
Conway 070 032 0 — 12
BRYANT 002 001 x — 3
E—Taylor, Lessenberry. DP—Conway 2. LOB—Conway 9, Bryant 5. 2B—Boucher, Hoover, Fluesmeier. SB—Lazo, Boucher. S—Brown, Rhodes.
Pitching ip r er h bb so
Conway
McClain (W) 7 3 3 7 2 7
Bryant
Taylor (L) 1.2 7 2 6 1 1
Cross 4 4 4 5 4 1
Milam 0.2 1 1 3 1 1
Nelson 1 0 0 1 0 0
Balk—Cross. HBP—Cross, Pultro (by McClain). WP—McClain. PB—Rhodes.