By Rob Patrick
For years now, the North Little Rock Lady Charging Wildcats freshman basketball team has set the standard in the South Division of the Central Arkansas Conference. Granted, every season in freshman ball brings a new set of players but the Lady Cats have consistently reloaded with one talent-laden, deep group of players after another.
And this year appears to be no different in that regard.
But, on Thursday night in the championship game of the Bryant Invitational Tournament, the Lady Wildcats ran into the latest version of the Bryant Lady Hornets freshman team and absorbed a rare loss.[more]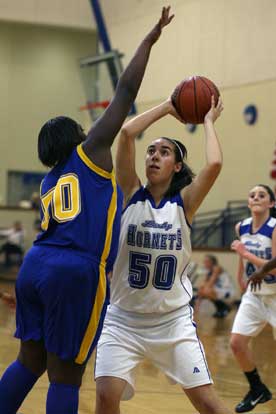 The Lady Hornets captured the championship with a closer-than-that 36-21 win over North Little Rock.
"When you beat a team of that caliber, with such tradition — you know we've been finishing real high (in the conference standings) the last couple of years but they've been right there on top of us," acknowledged Lady Hornets head coach Eric Andrews. "So, of course, it feels real good to overcome that. And it meant a lot to the girls. We know, year in and year out, that North Little Rock is one of the teams you have to beat to finish up there on top. Our girls did a great job."
It got pretty nerve-wracking for Andrews, the Lady Hornet and their fans for a while, though. With three starters, post Lauren Buck and guards Kiara Moore and McKenzie Adams, on the bench with four fouls midway through the third quarter, the Lady Hornets found a way to hold off a North Little Rock surge. Whitney Myer, McKenzie Rice and Hayley Murphy came in off the bench and, though they didn't score, hit the boards and played some tough defense.
The Bryant lead, which was as much as 15 late in the second quarter, dwindled to 9 but the Lady Wildcats could get no closer.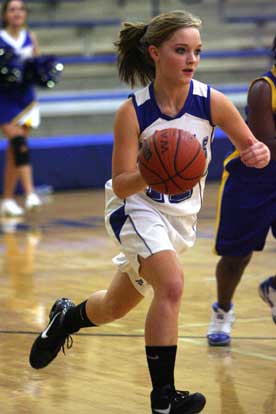 "Those girls came off the bench and did a great job of buying us four or five minutes, getting us through that," noted Andrews, "maintaining the lead, until those girls could get back in there at the end to finish things off. They really came up big off the bench."
Starter Courtney Davidson also stepped up with some clutch baskets during that stretch, scoring 6 of her 8 points.
It helped too that the Lady Wildcats struggled all night from the free-throw line, going 7 of 20. They didn't shoot that well from the field either (7 of 32) though they hit the boards hard and collected 14 offensive rebounds.
"They're big, they're physical and they really tried to take it to us inside in the second half," Andrews stated. "Our girls were having trouble matching that. They were just a little bit stronger and more physical than us. We were lucky enough to be able to overcome that with our guard play and kind of slowing the game down toward the end."
Serenity Stewart led North Little Rock with 7 pints off the bench. Amber Daniels added 5.
Adams led Bryant with 18 points, Moore had 8.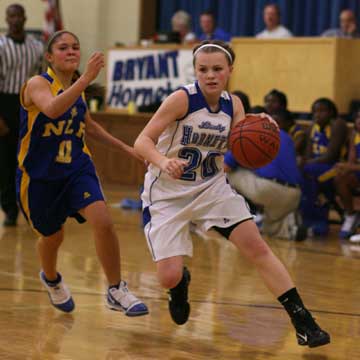 North Little Rock led only briefly in the game. It was 3-1 when Adams hit a driving jumper to tie the game, then made a steal and a layup to put the Lady Hornets up to stay. Another turnover and a three-point play by Moore forced a North Little Rock timeout.
When play resumed, Adams and Logan Davis combined to force a turnover that led to a free throw by Adams and a 9-3 advantage.
The Lady Cats, who had just two field goals in the first half, cut a couple of points off the lead with free throws (though they were just 3 of 10 in the quarter). It was 9-5 before Moore came through with another three-point play. Adams followed suit on a drive to the basket to make it 15-5 then added another free throw after being fouled at the buzzer to make it an 11-point game at the first break.
The lead grew to 22-7 before Stewart beat the buzzer with the Lady Cats' first field goal since the opening minute of the game.
North Little Rock went right inside to start the second half and post Keandra Tillman scored.
The game went back and forth for a while but it was during the next few minutes that Adams quickly picked up her second and third fouls as Buck got her fourth.
With 2:57 left in the period, Darian Banks hit a free throw to trim the lead to 10.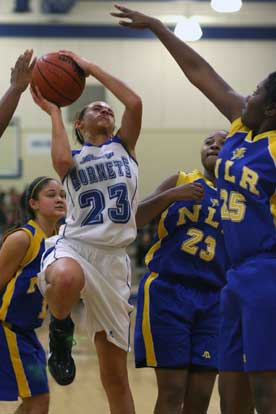 Bryant finally got its first points of the second half when Davidson grabbed an offensive rebound and scored with 1:57 left. After a North Little Rock miss, she followed with a drive to the bucket for a layup that pushed the lead back out to 26-12.
But in rapid succession, Adams picked up her fourth foul, Stewart completed a three-point play and Moore picked up her fourth.
But the Lady Hornets still held a 26-15 lead going into the final six minutes.
Amber Daniels' stickback started the fourth-quarter scoring for North Little Rock and the lead was down to 9. The Lady Cats forced a Bryant turnover and it started to become a scramble. But the Lady Cats couldn't hit the shot that would've trimmed the lead to 7 and, at the other end, Davidson knocked down a 12-foot jumper.
Daniels scored again inside to make it 28-19 then North Little Rock had three chances to get closer. Twice, the Lady Cats forced turnovers only to have Bryant return the favor.
Finally, with 3:34 left, North Little Rock point guard Lillie Murphy was fouled. But she missed both shots as Adams, Buck and Moore returned for Bryant.
The Lady Hornets closed it out with an 8-2 run, holding North Little Rock scoreless over the final 2:52.
The win improved Bryant to 5-0 on the season going into a trip to Greenbrier on Monday, Nov. 23.
LADY HORNETS 36, LADY CHARGING WILDCATS 21
Score by quarters
NLR 5 4 6 6 — 21
BRYANT 16 6 4 10 — 36
NORTH LITTLE ROCK 21
L.Murphy 0-4 1-4 1, Bridwell 1-5 1-2 3, Daniels 2-6 1-2 5, Banks 0-4 2-6 2, Mays 0-2 1-2 1, Tillman 1-2 0-0 2, Giles 0-4 0-1 0, Jarrett 0-0 0-2 0, Stewart 3-4 1-1 7, Harris 0-0 0-0 0, Wayne 0-1 0-0 0. Totals 7-32 7-20 21.
BRYANT 36
Moore 3-5 4-6 10, Adams 5-10 8-9 18, Davis 0-5 0-0 0, Buck 0-2 0-0 0, Davidson 3-5 2-2 8, Myer 0-2 0-0 0, Rice 0-0 0-0 0, H.Murphy 0-0 0-2 0, Yazza 0-0 0-0 0. Totals 11-29 14-19 36
Three-point field goals: Bryant 0-3 (Davis 0-2, Moore 0-1), North Little Rock 0-11 (Bridwell 0-4, L.Murphy 0-2, Mays 0-2, Banks 0-1, Giles 0-1, Stewart 0-1). Rebounds: Bryant 24 (Davis 5, Adams 4), North Little Rock 25 (Banks 7). Turnovers: Bryant 14, North Little Rock 17. Team fouls: Bryant 17, North Little Rock 18.