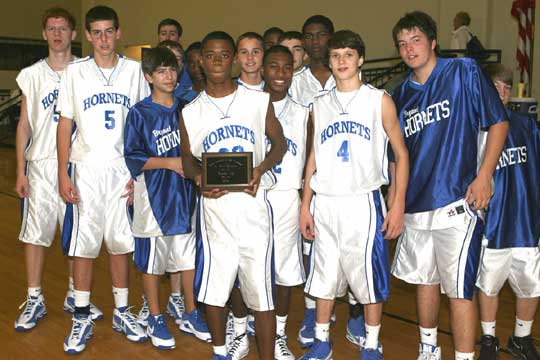 By Rob Patrick
Both the Bryant Hornets and the North Little Rock Charging Wildcats freshman basketball teams had been scoring in the 40's and 50's so far this season while posting unbeaten records. But when they met each other in the championship round of the annual Bryant Invitational Tournament on Thursday, such was not the case.
Neither team fared well offensively when it got down to a halfcourt game, but North Little Rock managed just a few more layups off the running game and grind out a 30-22 win.[more]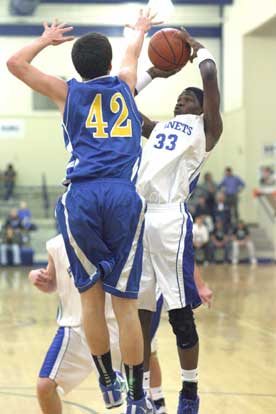 Most teams with quickness and size, it figures, would run an aggressive man-to-man defense but the Charging Wildcats, as quick and tall (and talented) as any freshman team you're likely to see, deployed in a 1-3-1 zone that was so active, the Hornets struggled to find open looks.
"They did a good job of getting out in the passing lanes and keeping us from reversing the ball and also keeping us from getting any free looks," acknowledged Hornets coach Steve Wilson. "And we didn't do a very good job of creating anything. But it's still early. We only had a couple of days to prepare for the 1-3-1. We're probably weren't as ready for it as we needed to be but we're going to keep working on that."
The Hornets and the Wildcats, rivals in the South Division of the Central Arkansas Junior High Conference, will meet at least twice more this season. And if Thursday was any indication, they will be wars.
"The first half, I thought we looked a little scared, maybe a little intimidated," Wilson allowed. "We weren't as aggressive on offense or defense. The second half I thought we came out and played hard and determined. We were a little more aggressive especially on defense, but there were times I thought we got frustrated. We just couldn't ever get into a rhythm.
"There were a few times that we didn't set up in the press when we were calling it and there were a few times when we didn't get into the defense we were wanting to," he added. "Sometimes the communication wasn't there but, again, this is still a young season and those are some things we need to work on. It comes with experience too."
North Little Rock struggled just as much against Bryant's mix of defenses. But every time it looked like the Hornets were making a move on them, they came up with a big play or a big stop.
Bryant led only briefly in the game when Riley Hall knocked down a baseline jumper to start the game.
North Little Rock built a 6-2 lead and never trailed again, though the Hornets, behind a free throw from Zach Cambron and a three-point play by Aaron Bell, were within a point going into the second period.
Bryant had a couple of chances to take the lead, one on either side of the break, but a missed 3 and a turnover prevented it. The turnover came on a steal by the Wildcats' T.J. Francis. He drove for a layup to make it 8-5.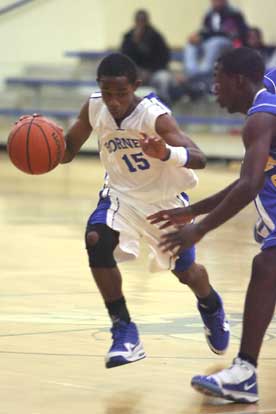 And the Hornets managed just 1 point in the quarter, a free throw by Bell. Still, they kept North Little Rock from running away and hiding. The lead was just 14-6 at the half.
Bell, who finished with a team-high 7 points for the Hornets, scored on a driving jumper to start the second in the second half.
That marked the first of four points in the second half when the Hornets were able to trim the lead to 6. But they were never able to get closer.
After North Little Rock's Rodney Bryson answered, Bryant's Scott Workman grabbed an offensive rebound and scored to make it 16-10 with 2:51 left in the third quarter.
Though the Wildcats struggled at the free-throw line (8 of 19 in the game), they made 3 of 6 the rest of the quarter while holding the Hornets. The lead grew to 19-10 before Bell hit two free throws with :28.6 showing. He followed up with a steal but the Wildcats stole it back. Bell stole the ball again and this time got a shot only to miss. Joshua Davis rebounded but couldn't get a shot to fall so the quarter ended in frustrating fashion for the Hornets.
The lead was 22-14 early in the fourth quarter when Bryant's Marcus Wilson canned an 18-foot jumper to cut it to 6 again. An illegal pick at the other end cost the Wildcats possession and gave the Hornets a chance to trim it to 4 or 3, but Gary Vines made a steal and a layup for North Little Rock.
At the other end, Hall's lob into the post to Workman resulted in a basket that had the Hornets within 24-18 with 3:07 left. But Vines, who led all scorers with 14 points, drove for a bucket and, after Wilson couldn't get a 3 to go in, Francis hit a free throw.
Vines hit 3-of-4 over two trips to the line over the next minute and North Little Rock had it's largest lead at 30-18 going into the final two minutes.
Cambron hit a free throw then Wilson made a steal as the Hornets made a bid to make a run but on that and the next two possessions, turnovers cost them.
Fortunately, they were forcing North Little Rock into some miscues as well as the two teams scrambled. The intensity heated up but neither team could gain an advantage as time dwindled down.
With :23.6 showing Hall canned a 3-pointer. Wilson called a timeout but neither team could score after that.
Now 3-1 on the season, the Hornets return to action on Monday, Nov. 23, at Greenbrier.
NORTH LITTLE ROCK 30, BRYANT 22
Score by quarters
NLR 6 8 5 11 — 30
BRYANT 5 1 6 10 — 22
NORTH LITTLE ROCK 30
Vines 5-6 4-9 14, Bryson 1-4 0-2 2, Terry 0-1 1-2 1, Francis 3-6 2-4 8, Williams 1-3 1-2 3, Bradford 0-1 0-0 0, Alexander 1-4 0-0 2. Totals 11-25 8-19 30
BRYANT 22
Rayburn 0-2 0-0 0, Bell 2-10 3-5 7, Hall 2-7 0-0 5, Neale 0-1 0-0 0, Workman 2-3 0-1 4, Wilson 1-6 0-0 2, Cambron 1-2 2-4 4, S.Davis 0-2 0-0 0, J.Davis 0-1 0-0 0. Totals 8-34 5-10 22.
Three-point field goals: Bryant 1-8 (Hall 1-6, Wilson 0-4, Rayburn 0-2, Bell 0-2), North Little Rock 0-4 (Bryson 0-2, Alexander 0-2). Rebounds: Bryant 22 (Hall, Neale 4), North Little Rock 25 (Francis 8). Turnovers: Bryant 18, North Little Rock 14. Team fouls: Bryant 17, North Little Rock 13. Fouled out: Bryant, Bell.