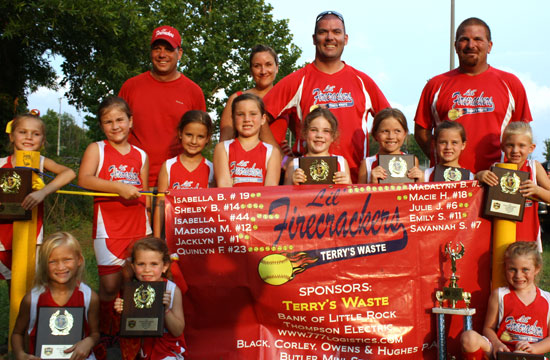 Photos courtesy of Kristie Bermingham
The Li'l' Firecrackers 6 and under softball team from Bryant has captured the State championship[more] at the tournament held in Cabot Friday and Saturday, June 22-23.
The team includes Shelby Blaylock, Madelyn Bermingham, Quinlyn Farmer, Macie Harrell, Isabella Bergstrom, Madison Moody, Jacklyn Price, Izabella Lockhart, Kaci West, Chloe Ashmead and Meeah Camferdam. Players who were unavailable for the tournament but contributed to the team during the season include Julie Johnson, Emily Shephard and Savannah Spradlin.
The team is coached by Cory Bergstrom with assistance from Jeremy Blaylock, John Harrell and Jamie Bergstrom.
On Friday night, the Li'l' Firecrackets beat the Sand Lizards, 15-12. On Saturday morning, they knocked off the Maumelle Eagles to set up a rematch in the championship game that afternoon.
With their 14-8 win over Sand Lizards, the Li'l' Firecrackers had captured the championship.