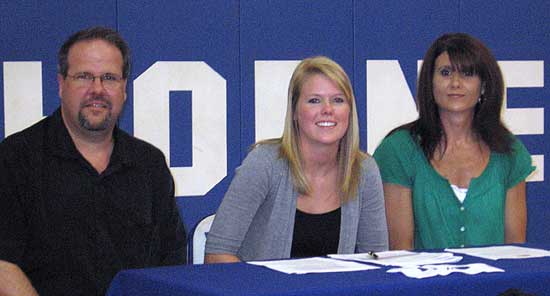 By Rob Patrick
If, one day, the golf program at Ouachita Baptist University competes on a[more] national level, Bryant's Morgan Morehead will be able to look back in pride and say, 'I was there when that started.'
On Friday, May 6, Morehead signed a letter of intent to become a member of the fledgling OBU golf program under scholarship next fall.
Last fall, Morehead qualified for the Class 7A State tournament and made the cut after the first round by carding a 97 over the 18-hole course at Greystone Country Club in Cabot.
"OBU's getting a girl with unlimited potential," stated Bryant golf coach Jim Pennington. "I think she's just begun to tap into her ability."
For Morgan, the daughter of Lisa and Mark Morehead, getting a scholarship to go to OBU fulfills a longtime desire.
"I've wanted to go to Ouachita since I was in the seventh grade," she mentioned. "I was hoping they'd get a golf team and, a year and a half ago, they started their first golf program."
"She's on the ground floor and she's got every opportunity," Pennington said. "Probably all of them that they're bringing in are going to be freshmen so she'll be right there with them. I think she'll compete well with them. She'll do a good job there."
"They started playing this last fall and this spring," Morehead explained. "They did pretty good but their team was weak this year because the way they made their team was the coach went to an auditorium and said, 'Who wants $3,000? Raise your hand.' Of course, everybody's going to raise their hand.
"They finished pretty well," she added. "But, with golf, you have to be invited to tournaments. They weren't invited to too many tournaments just because their name wasn't out there yet."
Once she learned that OBU had a women's golf program, Morehead was pro-active.
"I emailed the coach (Eli Fuentez) and we went and met with him," she related. "He reviewed my scores and he really liked me so he gave me a scholarship. It was the only school I even applied to. I did talk to Arkansas Tech a little bit."
Morehead admitted she hasn't been a serious golfer for long.
"I was actually a late starter because I played basketball for a while," she said. "I started playing golf when I was about 12 but I didn't really stick with it, didn't really stay strong with it or anything. I didn't really pick it up until my 11th grade year.
"I've been on the team for four years and it was just kind of a game that I enjoyed playing," she continued. "It wasn't really anything serious that I would ever thought I would do on a college scholarship or anything. So I really took it up my 11th grade year and started working hard."Even then, she had some adversity to overcome.
"Last year, she had a leg injury that really held her back, that really affected her swing," Pennington mentioned. "This year, she really came on and, as the year went on, she just got better and better. She's a very good athlete and I think that's going to serve her well. When she gets there and gets some good instruction, I think she's going to make a good college golfer."
Asked about her game, Morehead said, "Probably my long game is what I'm most comfortable with. My short game is my weakness right now."Of her academic plans, she added, "I want to go into the business field. I want to major in business administration. My dream job is to own some kind of kids camp."
And, who knows? Maybe she'll be introducing the game of golf to future Lady Hornets and Lady Tigers.