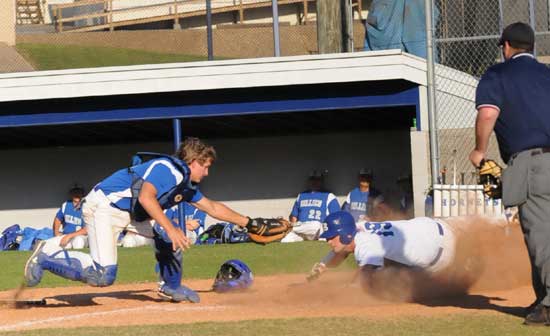 By Rob Patrick
Photos by Kevin Nagle
In a game in which the teams turned two a whopping six times, the Bryant Hornets nearly turned[more] three. And they got two shots at it on the same play.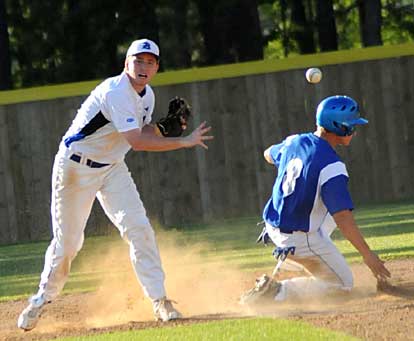 It was in the fifth inning of the Hornets' 9-2 win over the Monticello Billies Friday night at Bryant High School Field. With Nathan Pesaresi on second and Cole Connelley at first and no one out, Will Naron hit a sharp two-hopper to Bryant's third baseman Tyler Brown.
Going to his left and in to field the ball, Brown reached out and tagged Pesaresi who was on his way to third, then whipped a throw to second where Lucas Castleberry was covering and got a force on Connelley. Trying to avoid Connelley's hard slide, Castleberry relayed towards first baseman Jordan Taylor.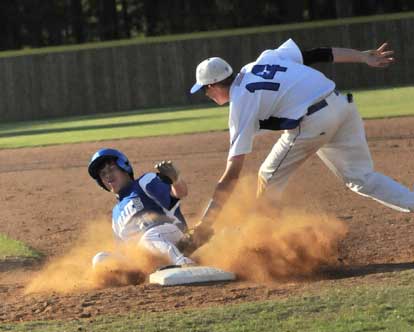 The relay skipped past Taylor but it would've been there in time. Taylor scrambled after the ball as pitcher Landon Pickett raced over to cover the bag. Naron started towards second but, in the confusion, Connelley was headed back there, uncertain if he'd been called out or not on the close play there seconds before. Naron had to hold up and retreat.
Meanwhile, Taylor had tracked down the ball and hummed a throw to Pickett who made a lunging tag attempt that Naron just barely evaded getting back to first.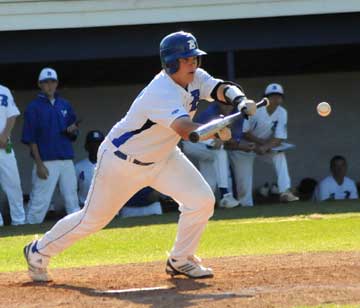 Hornets head coach Kirk Bock lobbied for a change in the call at first. Did the runner going to second interfere? Did the homeplate umpire have a better view of the tag play at first?
As it turned out, it was the most unusual of the Hornets' three doubleplays in the game, which, appropriately enough, ended with a twin-killing, a line drive to Tyler Nelson at second off Connelley's bat. Nelson fired to first to double off Pesaresi, who had singled with one out off Bryant reliever Wesley Akers.
Akers pitched the seventh after Pickett scattered five hits over the first six frames against the Billies, who usually field a very good hitting team and, last year, lost to Beebe in the Class 5A State championship game.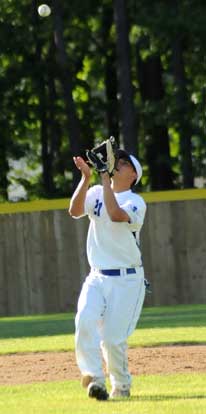 Bryant, fresh from clinching its third consecutive 7A-Central Conference championship on Thursday night, racked up 12 hits in the game, two each by Taylor, Castleberry, Josh Pultro and Evan Jobe. All nine of the Bryant starters had a hit except Nelson, the lead-off man, who still reached base twice, scored a run and drove one in.
Connelley, the Monticello starter, struggled in the bottom of the first. He hit Nelson, walked Brown, hit Taylor and walked Pickett to force in a run. Dylan Cross made it 2-0 with a sacrifice fly.
Pickett retired the first five batters of the game before surrendering a double to Zach Crossett. He walked Troy Bunson but then picked him off first as Taylor snuck in behind him after setting up defensively off the bag.
The Hornets, who wound up scoring in each of the first five frames, got one in the second. Pultro just missed a home run as he smacked a drive high off the left-field fence for a double. Jobe singled him to third and Nelson got the RBI with a sacrifice fly.
Jobe tried to steal second but was thrown out, one of three would-be base-stealers that were thrown out by Monticello's impressive catcher Kameron Smith.
The Billies broke through with a run in the top of the third. Beau Rush singled and, after moving up to second on a swinging bunt that Pickett fielded nicely off the bat of Pesaresi, scored on a two-out single by Naron.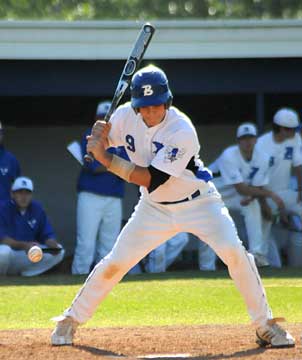 Bryant's third began with Brown reached on a wild throw to first on a grounder to short. Taylor ripped a single to left to chase him in, making it 4-1. Pickett followed with a sacrifice bunt and drew a poor throw to first by Connelley, allowing him to reach base. A wild pitch allowed them to move up to second and third so when Castleberry yanked a single to left an out later, it drove both home to make it 6-1.
On a perfectly executed hit and run, Chris Joiner bounced a single through the vacant area left by Rush, the second sacker, as he moved to cover the bag. Castleberry sprinted to third but, when Joiner tried to swipe second, Smith made another splendid throw to nab him.
Pesaresi came on to pitch for the Billies in the fourth and was greeted by Jobe, who lined a single to center. Nelson drew his team-high 27th walk of the season but then Monticello executed its own unusual doubleplay. Brown, trying to sacrifice, popped up his bunt. Pesaresi made a diving catch on the ball between the mound and the third-base line, leaped up and fired to first to catch Nelson as Castleberry scrambled back to second.
That too might've been a triple play if the Billies had had someone covering second base.
Taylor turned the momentum back to Bryant, however, with a drive to the base of the fence in dead center for an RBI double. Pickett singled him in to make it 8-1.
Marcus Wilson entered as a courtesy runner for Pickett but he too was caught trying to steal by Smith to end the inning.
Before Bryant's narrowly-missed triple play in the top of the fifth, the Billies added a run. Rush walked, Pesaresi was hit by a pitch and Connelley pulled an RBI single to left.
The Hornets got that run back in the bottom of the fifth. Cross singled, Castleberry beat out an infield hit on a soft chopper to short and, with one out, Pultro yanked a sharp bouncer to third that hit the lip of the infield grass, came up on third baseman Kameron Griffin, ricocheted off his chin and into shallow left field. Naron, the Monticello shortstop, was hustling on the play and got the ball and made a play on Cross at the plate but the Hornet baserunner slid in safely for the final run of the game.
And, by the way, Jobe lined into an inning-ending doubleplay.
The sixth had a doubleplay in both half-innings. In the top, Crossett had waited out a one-out walk but, when the Billies tried to the hit-and-run, Brunson's grounder that might've gotten through ordinarily, went right to Nelson who was covering the bag with the runner going. He stepped on second and made the relay in time to end the inning.
Brown smacked a one-out single for the Hornets in the bottom of the inning but when Taylor hit a sharp grounder to Brunson, the Billies turned a nifty 3-6-3 doubleplay.
Akers struck out Rush to start the seventh then gave up the single to Pesaresi that set the stage for the final two-ball.
The win improved the Hornets to 21-6 on the season. They'll play a final tuneup before beginning play at the State tourney on Monday against defending Class 6A champion Lake Hamilton. It'll be Senior Night for the Hornets who open State play in Fort Smith on Saturday, May 14, at noon.
BRYANT 9, MONTICELLO 2
Billies ab r h bi Hornets ab r h bi
Connelley, p-2b 4 0 1 1 Nelson, ss-2b 1 1 0 1
Naron, ss 3 0 1 1 Brown, 3b 3 2 1 0
Smith, c 3 0 1 0 Taylor, 1b-ss 3 2 2 2
Griffin, 3b 3 0 0 0 Pickett, p-1b 1 0 1 2
Hashem, dh 3 0 0 0 Wilson, cr 0 1 0 0
Crossett, lf 1 0 1 0 Cross, dh 2 1 1 1
Brunson, 1b 2 0 0 0 Castleberry, 2b 3 0 2 2
Rush, 2b-cf 2 2 1 0 Akers, p 0 0 0 0
Pesaresi, cf-p 2 0 1 0 Joiner, lf 3 0 1 0
Shirey, rf 0 0 0 0 Pultro, cf 3 1 2 1
Jobe, rf 3 1 2 0
Lessenberry, c 0 0 0 0
Totals 23 2 6 2 Totals 22 9 12 9
Monticello 001 010 0 — 2
BRYANT 213 210 x — 9
E—Naron, Connelley. DP—Monticello 3, Bryant 3. LOB—Monticello 6, Bryant 3. 2B—Crossett, Pultro, Taylor. S—Pickett. SF—Cross, Nelson.
Pitching ip r er h bb so
Monticello
Connelley (L) 3 6 3 5 2 1
Pesaresi 3 3 3 7 1 0
Bryant
Pickett (W, 3-0) 6 2 2 5 4 3
Akers 1 0 0 1 0 1
HBP—Nelson, Taylor (by Connelley), Pesaresi (by Pickett). WP—Connelley.