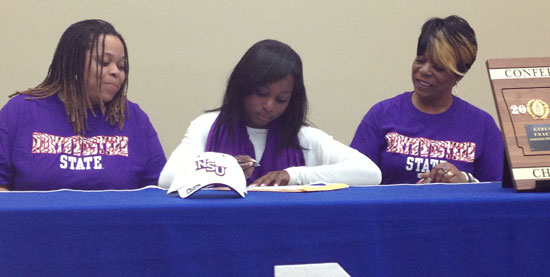 By Rob Patrick
If you get a chance to peruse the record book for the Bryant Lady Hornets track team, you'll[more] see the name "Alexis Royal" sprinkled throughout. Her BHS records include the triple jump (38'1), the 60-meter hurdles (9.10, which is also a State mark) and the 300-meter hurdles (46.2). She also provided a leg on the school record 4×100-meter relay (50.1).
Here's the thing: She's not done yet.
Royal and the rest of the Bryant track team open the 2013 season on Thursday, March 14, with the annual Bryant Invitational meet at Bryant Stadium.
With that on the horizon, Royal added to her accomplishments on Friday, March 8 when, accompanied by her mother Felicia Butler and grandmother Mary Butler, she signed an NCAA Division I Letter of Intent to continue her academic and athletic career under scholarship at Northwestern State University in Natchitoches, La.
"Alexis Royal loves to jump," quipped Bryant track coach Danny Westbrook at the reception held Friday. "She can also run fast. She's so talented that, come to find out, she can run fast and jump over things at the same time. She's a pretty exceptional athlete."
Westbrook added, "Without a doubt, Alexis is one the most decorated sprint athletes to ever compete for the Lady Hornets. Her accomplishments in several track and field events speak for themselves. She is very dedicated and works extremely hard. Her leadership skills are unparalleled. She will definitely be missed here at Bryant, but we wish her well in her future college career."
Westbrook listed her accomplishments, with the caveat that, last season, Royal suffered an injury during the conference meet last year and was unable to compete at State or in the Meet of Champs.
"I think," he said, "if she'd been healthy she would've added to these highlights. Also, she's got her senior season left. Hopefully, she'll add to these before it's over."
As it is, she's been named all-State six times and all-conference eight times in various track events including back-to-back State championship efforts in the 60-meter hurdles and a conference championship in the long jump four times and the triple jump three times. In the 2011 Meet of Champs, which brings together the State champion athletes in all seven classifications, she was captured the triple jump title.
A four-year letterman, she helped lead the Lady Hornets to the 2011 7A-Central Conference championship and, this spring, was a member of the Indoor State champion 4×400 meter relay team.
Westbrook added, "I think probably, to me, the most incredible highlight is that she's been awarded the High-point Athlete Award 10 times at various meets. And some of those times, it was like 40-plus points that she scored. That's pretty amazing."
"I don't run for myself," Royal asserted. "It's about my team."
She acknowledged that her favorite event is the triple jump but she added that she's starting to grow fonder of the hurdles.
"I started running in seventh grade," Royal stated. "My middle school coach at Cloverdale got me into running. Even after I came here, I didn't think I would take it as far as I have. I actually considered not going out for track when I came here in ninth grade. But these wonderful coaches here kept me in it. They made me feel welcome and I loved it. It turned out great."
Running track in high school and AAU has given her a chance to make a lot of friends, Royal noted, and one of those friendships, Madi Morton of Bentonville, proved to be key to her decision to go to Northwestern State.
"She went there and she was telling me about it, telling me how good the program was and how she liked the school," Royal related. "So I started looking into it. The coach (Mike Heimerman) contacted me a few days before school started. He's a really nice coach. He has been keeping up with me and calling me every two weeks. He called me before Indoor with encouragement, giving me all this good motivation. Then he came to Indoor to watch me.
"I went to look at the college a few weeks ago," she continued. "It's a really nice campus. I met the team and the team was really nice. They made me feel welcome. They pretty much act like our team here. I was really comfortable with them. The coach kept us company pretty much the whole time we were there. I was exhausted but I had a pretty good time."
She had other options.
"I looked at UCA a couple of times and I talked to Coach (Richard) Martin. After he heard about my decision, he was kind of upset because they're in the same conference.
"I looked into Alabama, and LSU sent me letters," she continued. "I talked to the coach at George Mason quite a bit but, after a while, I decided that's something I really couldn't do. It's so far away from home. My AAU coach later talked about Arkansas but it was kind of late."
In college, Royal will probably continue to compete in the long jump and triple jump, the 4×100 relay and the 100 hurdles. The latter event fills a void for Coach Heimerman.
"They don't have a 100 hurdler at all," Royal related.
She plans to get her college degree in physical education and pursue a career as a track and field coach. When that comes to pass, Coach Royal will be fortunate indeed to have an athlete on her team as talented and accomplished as she is.