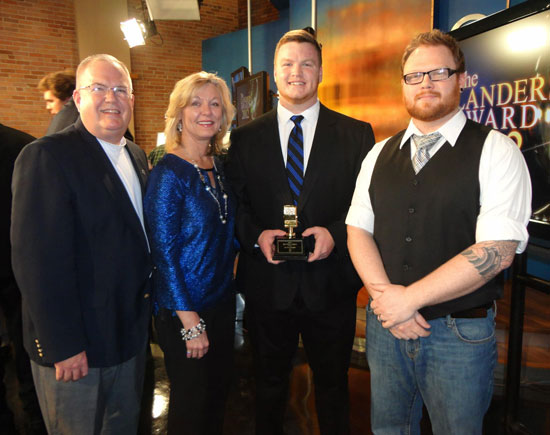 LITTLE ROCK — It goes without saying that beating cancer is its own reward but when you're[more] a teenager with hopes and dreams of a long healthy life, an athlete with collegiate ability and great potential, it's goes beyond that ultimate victory.
The stunning diagnosis of Hodgkin's Lymphoma was greeted by Ian Shuttleworth and his family — parents Ken and Janet, brothers Aaron and Sean — with faith and hope and determination.
He not only overcame the disease, he has thrived. On the football field for the Bryant Hornets, the 6-3, 280-pounder became one of the best offensive linemen in the state, earniing all-State honors in 2012. He has made an oral commitment to continue his gridiron career on scholarship at Henderson State University.
And on Wednesday night, his prowess on the field and his courage off of it were rewarded at KATV's annual Landers Award presentation. Shuttleworth received this year's Paul Eels Award, given in memory of the late sportscaster, the longtime voice of the Arkansas Razorbacks.
According to a report on the KATV website, "When asked about the honor of winning an award like this, Shuttleworth gave credit to those around him. 'I know it's more than just an award for me,' said Shuttleworth. 'If it was just me that had to go through it, I wouldn't have made it through it. It's a testament to my parents, to all my friends, to everyone that was behind me the whole entire time. It's kind of like a thank you to them, because of them I wouldn't have been able to get this.'
For more on Ian's story, go here.