By Rob Patrick
Photos by Rick Nation
The thing about playing from behind so much of the time is, it's downright exhausting. Unless you[more] have a deep bench, it's really difficult to comeback completely and successfully.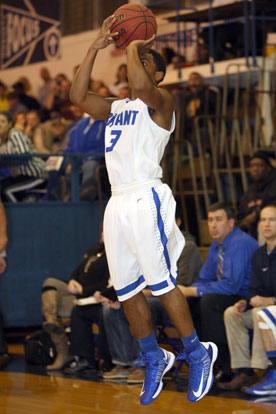 Though they battle all the way, it's been a problem that has dogged the Bryant Hornets basketball team in recent weeks, particularly in 7A/6A-South Conference play.
In their league opener against Benton, they led 3-2 for :44 then fell behind and, though they kept it close for most of the first half — tying the game twice midway through the second quarter — they wound up absorbing a 62-44 loss.
At Pine Bluff, they fell behind 7-0 at the outset, rallied to take a 17-16 lead in the second quarter — alas, a lead they held for just :07 — then never led again. Though they trimmed a 16-point lead to 7, that was as close as they could get in the second half of a 64-51 setback.
On Friday against Little Rock J.A. Fair, the Hornets were down 8-2 early and trailed until, with 1:38 left in the half, they gained an advantage that they held until the break and, beyond that, for the first 2:07 of the third quarter. They traded the lead with the War Eagles a couple of times in that period but fell behind for good with 1:22 left in the third. Fair never pulled away much, the Hornets just couldn't get back in front in a gut-wrenching 55-50 loss.
So, through the first three conference games, Bryant, which had won nine of its first 10 games this season, had led for a total of 6:36 of the 96 minutes played in conference.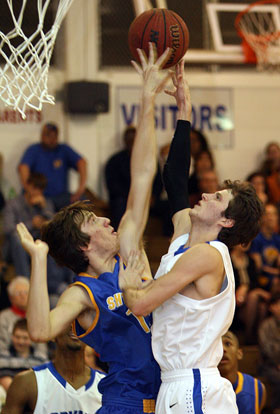 Fast-forward to Wednesday night with the Sheridan Yellowjackets visiting the Hornets Nest. Unfortunately for the struggling Hornets, it was more of the same.
Specifically, the start of both halves proved decisive. Sheridan jumped out to a 10-2 lead to start the game. Bryant rallied to take a lead late in the first half and held it for the final 2:35 and then for the first 1:50 of the third quarter before the Jackets regained the lead during a 12-2 blitz that started the second half.
Gamely, the Hornets rallied again and got within 49-47 with 3:42 to go but couldn't get over the hump. Sheridan pushed back and wound up with a 61-56 win.
Sheridan, 13-5 overall, evened its conference slate at 2-2 with a home game against Fair set for Friday. The Hornets, 11-7 overall, hope to get their first conference victory at Texarkana Friday.
Though faced with a much taller, more experienced Sheridan team, the Hornets matched the Jackets' on the boards. Both teams had 28 with Bryant getting 14 on the offensive end. The Hornets forced 13 turnovers and committed 11.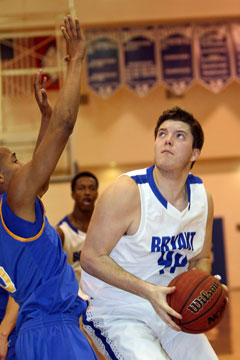 The difference was Sheridan's hot shooting. The Yellowjackets hit 55 percent of their shots from the field (25-of-45) including 5 of 9 3's, while the Hornets converted just 40 percent of their shots (20-of-50), often struggling with the Jackets' length which forced shots to be altered just to get them away.
Dylan Morris led Sheridan with 15 points. Chris Whitman added 13 and Austen Theiss had 10. The Jackets got a lift off the bench from Damon Padgett's 8 points.
K.J. Hill led Bryant with 19 points but needed 22 shots to get those. C.J. Rainey added 14, Zach Cambron 7, Tyler Simmons and Brian Reed 5 with Greyson Giles and Luke Rayburn pitching in with 3 each.
Reed matched the 6-7 Theiss with seven rebounds.
Theiss had 4 points and both Morris and Griffin Smith hit 3's during the opening surge. Hill hit a 3 for Bryant and a driving scoop by Giles cut the lead to 10-7.
But before the first quarter was done, Morris and Caleb Hollinger connected on 3-pointers as the lead grew to 17-9. And when Theiss hit a jumper in the lane to start the second quarter, Sheridan had a double-digit lead, the largest of the game.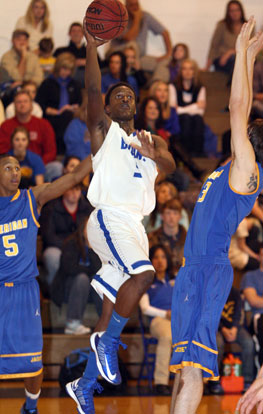 A three-point play by Cambron got the Hornets going again. They would start their own surge midway through the second period. Trailing 21-13, they produced a 16-2 run to gain the lead.
Hill started the run with a steal and a pull-up jumper in the lane. Reed swiped a pass and Hill cashed in moving Sheridan coach Joe Scott to call a timeout.
The break failed to slow the Hornets down. Hill fed Rayburn for a layup and, off another Sheridan turnover against the Bryant press, Rainey laid one in to tie the game.
The Hornets gained the lead when Theiss, clearing room in the post area, decked Hill with a high elbow. Though he went down, the blow was a glancing one and the sophomore guard continued, going to the line to convert both free throws.
Awarded possession after the free throws for the flagrant foul, Bryant increased its edge. Rayburn drove and kicked out to Simmons, who drained a 3.
Padgett hit a baseline jumper to interrupt but Hill flushed another 3 and Bryant had its largest lead of 29-23. And when Padgett scored inside and Rainey converted a pair from the free-throw line, the half ended with the Hornets holding a 31-25 lead, their largest of the game.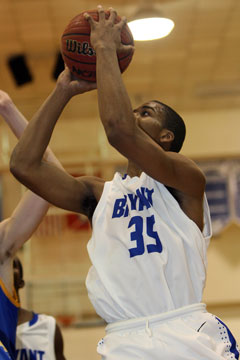 But it took them nearly three minutes of the third quarter to score again and by that time, Sheridan had pulled ahead, spurred by another 3 from Morris and sparked by the play of Whitman, the team's point guard.
Hill's drought-breaking jumper in the lane tied the game at 33 but when Whitman hit two free throws, the Yellowjackets were ahead to stay.
The teams traded points much of the rest of the game. Sheridan led 41-37 going into the fourth quarter, thanks to fall-away jumper from 15 feet by Jessie Feathers at the buzzer.
Three times down the stretch, the Hornets pulled within 2. The last time came after Sheridan had pushed the lead back out to 49-43. Reed hit a free throw then made a steal that led to a 3-pointer by Rainey to make it 49-47 with 3:42 to go.
An 8-2 run by Sheridan, punctuated by a dunk from Theiss, put the Hornets in a bind with less than a minute to play. Rainey responded with a 3 but Bryant could get no closer.
SHERIDAN 61, BRYANT 56
Score by quarters
Sheridan 17 8 16 20 — 61
BRYANT 9 22 6 19 — 56
YELLOWJACKETS (13-5, 2-2) 61
Player fg-fga ft-fta reb fls pts
o-d-t
Whitman 5-10 3-4 3-3 6 2 13
Smith 1-3 0-0 0-1 1 2 3
Theiss 5-7 0-0 0-3 3 4 10
Morris 5-10 2-2 2-5 7 1 15
Bowlin 3-8 1-2 1-4 5 2 7
Hollinger 1-1 0-0 0-0 0 0 3
Padgett 4-5 0-0 0-2 2 1 8
Feathers 1-1 0-3 0-0 0 1 2
Hedden 0-0 0-0 0-2 2 0 0
Stone 0-0 0-0 0-0 0 0 0
Team 1-1 2
Totals 25-45 6-11 7-21 28 13 61
HORNETS (11-7, 0-4) 56
Player fg-fga ft-fta reb fls pts
o-d-t
Hill 7-22 3-4 2-4 6 1 19
Rainey 5-11 2-2 2-2 4 3 14
Simmons 2-6 0-0 1-0 1 1 5
Giles 1-2 1-2 1-2 3 2 3
Reed 2-4 1-4 5-2 7 2 5
Cambron 2-2 3-5 1-1 2 2 7
McKissock 0-0 0-0 0-0 0 0 0
Rayburn 1-3 1-2 1-1 2 1 3
Team 1-2 3
Totals 20-50 11-19 14-14 28 12 56
Three-point field goals: Sheridan 5-9 (Morris 3-4, Smith 1-3, Hollinger 1-1, Whitman 0-1), Bryant 5-20 (Rainey 2-7, Hill 2-6, Simmons 1-5, Giles 0-1, Reed 0-1). Turnovers: Sheridan 13, Bryant 11.