By Rob Patrick
Photos by Rick Nation
A week ago, it was a shot that banked in. On Wednesday night, it was a shot that[more] rimmed out.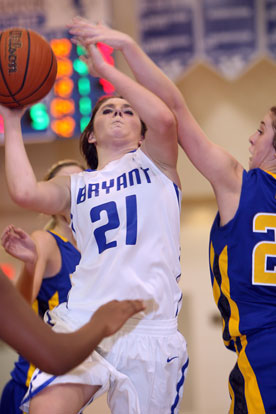 The former was a game-winner (despite an overlooked traveling violation just prior to the shot) for the Pine Bluff Fillies against the Bryant Lady Hornets. The latter would've been a game-winner for the Lady Hornets against the Sheridan Lady Yellowjackets.
Bryant is that close to being 3-1 in the 7A/6A-South Conference. Instead, the Lady Hornets fell to 1-3 with a 42-41 loss to Sheridan in a game that was moved from Tuesday to Wednesday because of icy road conditions.
Junior Dezerea Duckworth got a pretty good look at the potential game-winner from about 12 feet out on the left side. It was contested and had to be rushed after Bryant had inbounded the ball from beyond midcourt following a timeout with :04.5 on the clock.
The Lady Hornets did a good job of setting up a series of screens to get Duckworth free not only to receive the inbounds pass but to do so with her momentum heading up the court.
Just moments before, the Lady Hornets had cut the lead to 42-41 when Duckworth drove, drew the defense and dished to Courtney Davidson who scored and was fouled. She completed the three-point play to give her a game-high 15 points to go with a game-high 16 rebounds.
Adding to Bryant's hopes, Sheridan's senior point guard Josey Love fouled out on the play. So the Lady Jackets were going to have to handle Bryant pressure defense without their best ball-handler.
Pressing on the inbounds, the Lady Hornets were unable to prevent the Lady Jackets from getting the ball in. And Sheridan worked the ball quickly to move it up the court as Bryant chased and time elapsed.
With :06.3 left, the Lady Jackets' Lauren Mitchell was fouled. Unfortunately, it was Davidson's fifth and she had to come out.
But when Mitchell couldn't get either of her free throws to fall, the Lady Hornets had a chance, only to be denied.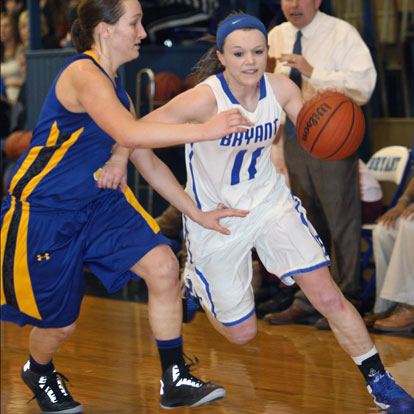 "I thought we played hard and competed," said Bryant head coach Brad Matthews. "We were a play here or there from success. We'll go back to work tomorrow."
That'll be in advance of traveling to Texarkana on Friday.
Duckworth finished with 14 points, nine rebounds and three assists on Wednesday. Logan Davis added 8 points, Peyton Weaver and Jayla Anderson 2 each.
Sophomore Kadesha Cooper paced Sheridan with 13 points and seven rebounds off the bench. Ashton Hill, another sophomore, added 9 points, Hannah Schultz 8 and Bryanna Moltz 7.
The game was tied 4-4 early but then Sheridan put together a 12-2 run to gain the upper hand. Duckworth provided the lone basket for Bryant during that stretch. Kristin Scarlett followed up with a steal but Love made a steal to give her team the chance at the last shot of the quarter. Cooper cashed in with a turnaround jumper from 10 feet out with :02 left, making it 14-6.
Moltz dropped in a jumper in the lane to start the second quarter, completing the Sheridan run.
The Lady Hornets, sparked by Duckworth, rallied. After she drove for a basket, she added a free throw with 5:14 left in the half.
Anderson's offensive-rebound bucket kept the rally going and Davidson added a pair of free throws to trim it to 16-13.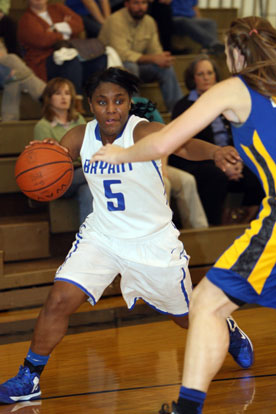 Hill stemmed the tide by knocking down a 3-pointer. Duckworth converted a free throw with 2:50 left in the half then neither team could add on for the rest of the half.
Davis jump-started the Lady Hornets in the second half with a 3 and the Lady Hornets surged into the lead. Duckworth traded baskets with Hill and Schultz then, after a flurry of action, Davidson drove for a tying bucket.
Hill missed twice at the free-throw line so when Duckworth found Weaver for a layup, the Lady Hornets had their first lead 25-23.
Sheridan countered with baskets by Moltz and Cooper to regain the edge but Davis knocked down another 3 and Bryant was up 28-27.
But that was the Lady Hornets' last lead. A 15-footer and a stickback by Schultz on consecutive possessions helped Sheridan take a 33-30 lead into the final period.
Helped along by the fact that the Lady Jackets were just 9 of 22 from the free-throw line in the game, the Lady Hornets kept finding a way to hang around. They trailed 39-34 with 4:34 to go. Sheridan missed a chance to add to the margin and, at the other end, Davis pump-faked at the 3-point line to draw the defense, stepped inside and drove the baseline for a nifty 10-foot pull-up pop.
Hill missed the front end of a one-and-one with 3:28 left and Weaver scrambled after the carom, going to the floor in a scramble for the ball. Just before Sheridan would've forced a held ball, Matthews got a timeout to save the possession.
And the Lady Hornets took advantage when Davidson tenaciously followed her own miss amid a crowd of Sheridan defenders and scored, cutting the margin to 39-38.
But Bryant just couldn't gain the lead. Hill was fouled again only, this time, she converted one of her shots to make it a 2-point game with 2:37 to go.
A frustrating sequence followed in which both teams missed chances. Bryant turned the ball over but then, after a Sheridan timeout, the Lady Hornets forced a five-second call to gain another opportunity to tie or take the lead.
Another turnover came with :55.4 to go but they forced one in return with :40.4 to go. Bryant got three looks at a tying bucket but none of those shots found cord.
Love was sent to the line with :25.1 showing and knocked down both free throws in the clutch to make it a 4-point game before Davidson's three-point play.
LADY YELLOWJACKETS 42, LADY HORNETS 41
Score by quarters
Sheridan 14 5 14 9 — 42
BRYANT 6 8 16 11 — 41
LADY YELLOWJACKETS (9-5, 2-2) 42
Player fg-fga ft-fta reb fls pts
o-d-t
Love 1-6 2-2 0-1 1 5 4
Mitchell 0-0 0-2 0-2 1 0
Moltz 3-5 1-2 1-1 2 1 7
Schultz 4-8 0-1 1-5 6 2 8
Hill 3-5 2-9 0-4 4 0 9
Johnson 0-1 0-0 0-0 0 1 0
Cooper 5-10 3-4 2-5 7 2 13
Wilkins 0-0 0-0 0-0 0 1 0
Reed 0-0 1-2 0-0 0 0 1
Team 0-2 2
Totals 16-35 9-22 4-20 24 13 42
LADY HORNETS (7-11, 1-3) 41
Player fg-fga ft-fta reb fls pts
o-d-t
Davis 3-11 0-0 0-2 2 1 8
Duckworth 5-14 4-6 3-6 9 4 14
Weaver 1-3 0-0 0-1 1 3 2
Davidson 4-13 7-9 6-10 16 5 15
Meyer 0-1 0-0 1-1 2 0 0
Scarlett 0-2 0-0 0-0 0 3 0
Anderson 1-1 0-0 2-1 3 3 2
Smith 0-2 0-0 1-0 1 0 0
Team 0-1 1
Totals 14-47 11-15 13-22 35 19 41
Three-point field goals: Sheridan 1-7 (Hill 1-1, Moltz 0-2, Cooper 0-2, Love 0-1, Schultz 0-1), Bryant 2-8 (Davis 2-5, Weaver 0-2, Scarlett 0-1). Turnovers: Sheridan 15, Bryant 17.