By Rob Patrick
Photo by Rick Nation
HOUSTON, Texas — Dillon Winfrey, who starred on both sides of the ball and in the kicking game as a junior for the Bryant Hornets last fall, recorded the[more] third highest rating at the 2011 Nike SPARQ Football Combine for high school players held at Woodforest Stadium on Saturday, March 5.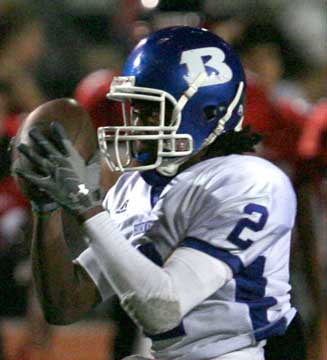 On April 9, at a second camp in Dallas featuring athletes from a broader area of the country, Winfrey was 10th.
Because of his showing, he has been invited to the National Underclassmen Combine Ultimate 100 camp in Little Rock this Thursday, March 19.
"I had a 104 SPARQ rating in Houston and in Dallas I had a 109 overall SPARQ rating," Winfrey related. "I improved but there was a lot more competition in Dallas."
SPARQ is an acronym for speed, power, agility, reaction and quickness. The rating is a scoring system designed to measure sport-specific athleticism.
"The same day I was in Dallas, I went and caught balls for TCU quarterbacks," Winfrey added. "And they invited me to the Nike Training Camp which I attended last week. I'm still waiting to see if I made the all-Nike team."
If so, Winfrey would be among those at a weeklong Nike camp in Beaverton, Ore.
"It's been a good experience," he said. "They had me do a lot of drills like one-on-one, seven-on-seven, working out to see what your endurance is.
"After that, you talk to NFL players and they tell you about stuff on life, how to get better and improve. A couple of them gave me their cards and told me whenever I'm in Texas to call them and they'd get with me and train me for free because they liked who I am, my demeanor and stuff."
Winfrey was also given a rating as a prospect for Division I colleges."If you do good they put your information on D-I recruiting websites and the coaches of Division I teams, they contacted me and told me they wanted me to come to their prospect camps."
Winfrey said he found information about the combines on-line.
"I was looking at free combines," Winfrey recalled. "And I was like, 'Oh, snap. This is Nike.' Everything's free for Nike."
At Houston, his 40 time of 4.51 was fourth best and he tied for the best showing in the 20-yard shuttle at four seconds flat.
At Dallas, Winfrey was named to the all-Combine team with a 4.55 clocking in the 40, a shuttle time of 4.05. His power ball throw of 38 feet and vertical jump of 35.5.
"I surprised myself in Houston because I knew I'd been working hard," he said. "But that was my first combine ever so I didn't know. It was cold and I really didn't know what to expect. At Dallas, I ran a 4.5 in the 40 but I did great in everything else. I improved in everything except my 40."
Last fall, Winfrey caught 21 passes for 287 yards and three touchdowns. He also had a pair of interceptions. His 94-yard kickoff return for a touchdown against top-ranked Conway was a game-changer, sparking the Hornets to a 34-30 victory in double overtime.
He has also been a key member of the BHS track team and, this Saturday, will be running a leg of the Hornets' 4×100 relay at the Meet of Champs.