By Rob Patrick
Photos by Kevin Nagle
At their best, Cabot football teams pound and pound you with their power running game and, just when[more] you think you're about to get a handle on them, they bust a long run.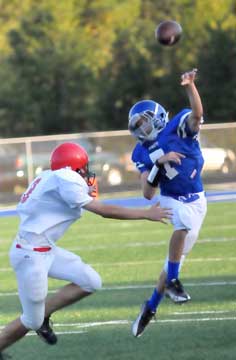 The eighth graders for the Bryant Blue Hornets of Bethel Middle School found out about that Thursday night.
The Cabot South Panthers eighth grade team broke touchdown runs of 50, 38 and 34 yards and their big, fast defense limited the Hornets to 79 yards of total offense for an 18-0 win at Bryant Stadium.
The Hornets, now 2-1, return to action on Thursday, Oct. 6, at home against Conway White.
Bryant Blue started the game with a good drive from their own 24 to the Cabot South 47 but, as would prove to be the case all too often, they then had a lost-yardage play on second down there. So when a third-down pass fell incomplete, they were forced to punt.
Cabot started its first drive at the 31. Picking up 3 and 4 yards on the ground, the Panthers pushed to midfield before Dillon Buchanan broke loose on a 50-yard touchdown run.
Trailing 6-0, the Hornets started driving again. Quarterback Evan Lee completed a 13-yard pass to Liam Miller and, a play later, a pass interference penalty allowed them to reach Cabot South territory again. From the 40, running back Jordan Gentry picked up 3 yards and Lee and Miller combined for a 3-yard completion.
When fourth down came up, the Hornets needed 3 yards for a first. From the 34, Lee dropped back to pass but Cabot South's Mark Odom and Brandon Jones sacked him and the Panthers took over on downs.
The Hornets defense stuffed the first two running plays with Devin Howard and Gunnar Burks dropping Holden Barnes for a loss of a yard on second down. On a third-and-9 from their 44, however, the Panthers found a way to complete a pass, their only one of the night. Lake Boyett's throw was hauled in by Ethan Holland for 13 yards.
After an offsides penalty moved the ball up 5 yards, Odom broke a trap play for a 38-yard touchdown run.
Odom only carried the ball twice in the game. He scored on both runs.
Bryant Blue's Austin Blacklaw, Austin Fason and Howard stopped the run for the two-point conversion but the Panthers had a 12-0 lead with 2:28 left in the half.
The Hornets went to the air to make a bid for a late score. Lee completed consecutive passes to Nick Hardin to get to near midfield. An 11-yard toss to Howard reached the Cabot South 43. But, on first down there, Lee was sacked by Steven Powell and, with time running out in the half, Lee's long pass was intercepted by Jordan Green.
The Bryant defense held to create one more late opportunity. On a fourth-down play, Barnes was dropped for a loss by Justin Karp and Peyton Robertson.
The Hornets took over at the 41 and, after a dropped pass, Lee tried again to go deep with time running out. This time, Buchanan intercepted.
Trailing 12-0, Bryant Blue got the ball back to start the second half when Howard recovered an onside kick at the Panthers' 48. Gentry broke a 13-yard run on first down but he was stopped for a yard loss on each of the next two plays and, after an incompete pass, Lee was sacked on fourth down.
Cabot South put together another methodical drive punctuated by Odom's second burst for a touchdown from 34 yards out to set the final score.
Bryant Blue made one last bid to score on a drive led by Burks who completed a 6-yard pass to Hardin and an 8-yarder to Howard. On a third-and-8 from the Cabot 49, Burks scrambled for 13 yards to the 36 but that's where the drive stalled and, with 2:51 left, Cabot South took over and ran out the rest of the clock.
CABOT SOUTH 18, BRYANT BLUE 0
Score by quarters
Cabot South 0 12 6 0 — 18
BRYANT BLUE 0 0 0 0 — 0
Scoring summary
Second quarter
CABOT SOUTH — Buchanan 50 run (run failed), 6:49
CABOT SOUTH — Odom 38 run (run failed), 2:28
Third quarter
CABOT SOUTH — Odom 34 run (run failed), 2:28
Team stats
Cabot South Bryant Blue
First downs 9 10
Rushes-yds 27-205 21-21
Passing yds 13 58
Passing 1-1-0 9-17-2
Punts-avg. 0-00.0 1-19.0
Fumbles-lost 0-0 1-0
Penalties-yds 3-25 1-5
INDIVIDUAL STATS
Rushing: BRYANT, Gentry 8-18, Hardin 1-14, Burks 2-12, Howard 1-3, Finney 6-2, Lee 3-(-27); CABOT SOUTH, Buchanan 11-98, Odom 2-72, Boyett 2-8, Crockom 2-7, Sanders 1-7, Reed 2-6, Holland 1-3, Smith 1-2, Barnes 5-2.
Passing (C-A-I-Y): BRYANT, Lee 7-14-2-44, Burks 2-3-0-14; CABOT SOUTH, Boyett 1-1-0-13.
Receiving: BRYANT, Hardin 3-21, Miller 3-18, Howard 2-19, Gentry 1-0; CABOT SOUTH, Holland 1-13.