By Rob Patrick
Photos by Kevin Nagle
The Bryant Lady Hornets freshman basketball team scored a season-high 27 points but it[more] wasn't enough to offset the strong inside game of the Cabot South Lady Panthers. With four post players combining for 34 points, the Lady Panthers prevailed 40-27 at the Bryant Middle School gym Monday night.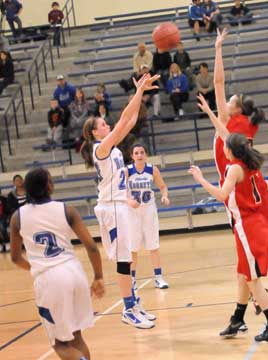 Taylor Lindberg scored 10 points for the Lady Hornets. Nikki Clay added 9 and Mallory Curry 6.
Lindberg and Curry hit shots early in the game to give the Lady Hornets a 4-2 lead. But Cabot South reeled off a 10-0 run to gain the upper hand and never trailed again. The Lady Panthers led 20-9 at the half.
Bryant got off to a strong start in the second half, starting with a 12-foot jumper by Curry. Katie Davidson earned a trip to the free throw line after coming down with an offensive rebound. Though she missed both shots, Lindberg rebounded and missed, Curry rebounded and got the ball back to Davidson in the middle of the lane. Davidson knocked down the jumper and the Lady Hornets had trimmed the lead to 20-13.
Cabot's Alyssa Hamilton, who led all scorers with 11 points, scored inside for her team's first points of the second half at the 4:19 mark. But Davidson fed Lindberg for a basket, Jayla Anderson made a steal and, again off an assist from Davidson, Lindberg scored.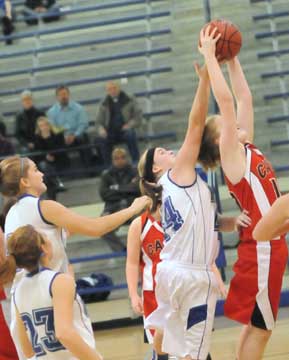 Suddenly, the Lady Hornets were within 22-17 and on an 8-0 run.
But they couldn't maintain the momentum. Cabot's Riley Patterson posted up for a bucket and, after a pair of Bryant misses, she hit a short jumper. The Lady Hornets suffered a turnover and a basket by Kirston Jones gave the Lady Panthers a double-digit lead again with 1:34 left in the third period.
It was 30-17 going into the fourth quarter. Curry connected on another outside shot to trim the margin to 11 but an offensive rebound basket by Hamiltion kept Bryant from getting it under 10. Clay hit two free throws but then so did Patterson.
The Lady Hornets had two chances to pull within 11 again but a turnover and a miss frustrated those efforts. Maddie Willhite scored inside for Cabot South with 3:05 to go and the Lady Hornets were never closer than 13 after that.
Jones and Patterson each finished with 8 points for the Lady Panthers. Willhite had 7.
Bryant travels to North Little Rock this Thursday.