By Rob Patrick
Photos by Kevin Nagle
After a rough start in which they fell behind 8-2, the Bryant White Hornets eighth grade team of[more] Bryant Middle School rallied within 10-8 late in the second quarter. But the Cabot South Panthers finished the half with a 7-0 run that they extended to 13-0 early in the third quarter and the Hornets could never quite recover.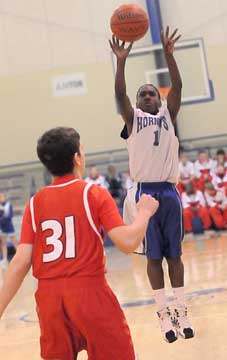 The Panthers went on to a 37-17 win over the Hornets.
Bryant, playing without one of its top scorers Jake Scoggins, only got a basket by Simeon Watson in the opening quarter. His 15-foot jumper actually tied the game 2-2 at the time. Turnovers against Cabot South's pressure defense and struggles to get shots to fall left the Hornets in an 8-2 hole going into the second quarter.
Bryant got on track in the second period starting with a basket inside by Cameron Murray. Moments later, Dagin Carden hit a free throw to make it 8-5.
Cabot interrupted with a steal and layup but, moments later, Dylan Hurt drained a 3-pointer that had the Hornets within two, 10-8.
An answering 3 started Cabot South's run and, before the Hornets could score again on a drive by Watson, the Panthers' lead grew to 23-8.
A three-point play by Murray trimmed the lead to 10 but the Hornets only managed baskets at the end of the third quarter (by Watson) and near the end of the game (by Trey Harris) as Cabot South gradually pulled away.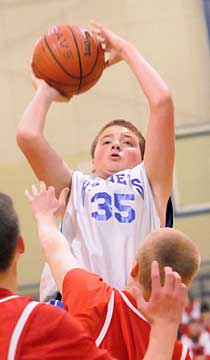 Watson finished with a team-high 6 points. Murray had 5, Hurt 3, Harris 2 and Carden 1.
The Hornets are scheduled to visit Conway White tonight.