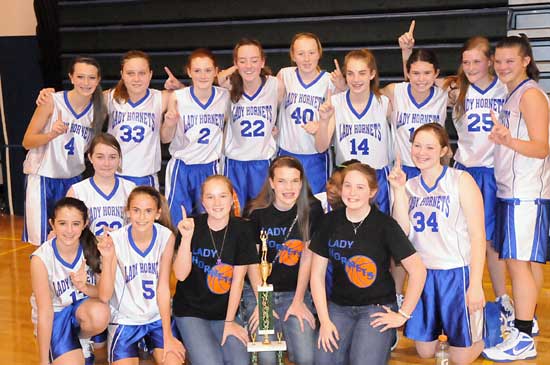 Photos by Kevin Nagle
LITTLE ROCK — Trailing 16-7 at the half, the Bryant Blue Lady Hornets eighth grade team of Bethel[more] Middle School went on a 12-2 blitz in the third quarter and rallied past E-Stem's Lady Mets, 30-25, to capture the championship of the Wildcat Shootout Saturday.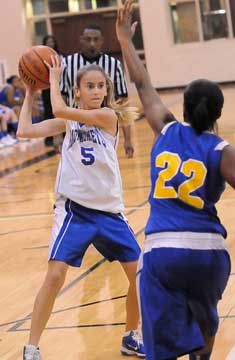 Earlier in the tournament, hosted by Episcopal Collegiate Academy of Little Rock, the Lady Hornets had suffered a 29-21 loss to the Lady Mets. They bounced back with a 27-15 win over Lighthouse Charter Academy on Friday to earn the rematch in the final.
"Our eighth grade girls played hard the entire game and played an exceptional second half on defense," stated Lady Hornets coach Rhonda Hall, regarding the championship contest. "We shot well in the second half, hit the boards hard and played with the intensity you need to win a close game. I was very proud of them and the discipline that they showed in the game. E Stem outplayed us in the game earlier in the week when we were never even contenders so to win the (championship) game was just a great team effort."
Ashlyn Taylor led the Lady Hornets with 14 points, four steals and three rebounds. Britney Sahlmann and Jordan McKnight had 7 points each with Anna Lowery adding 2. Sahlmann pulled down seven rebounds, dished out eight assists and made three steals while Lowery contributed three boards, two assists and three thefts. Peyton Ramsey finished with five rebounds and four steals.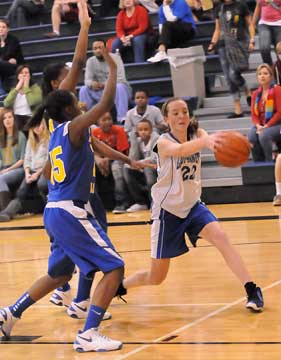 On Friday, Bryant Blue built a 10-4 lead in the first quarter and held a 15-5 edge at the half. It was 23-11 going into the fourth quarter.
Taylor finished with 9 points and six rebounds. Turpin pitched in with 6 points while Lowery and Patton had 4 each, McKnight and Sahlmann 2 apiece. Lowery led the defensive effort with eight steals. McKnight contributed three assists and three steals while Sahlmann finished with seven rebounds, four steals and three assists.
The wins improved the Bethel team to 4-3 on the season going into a trip to Cabot North on Tuesday, Dec. 6.