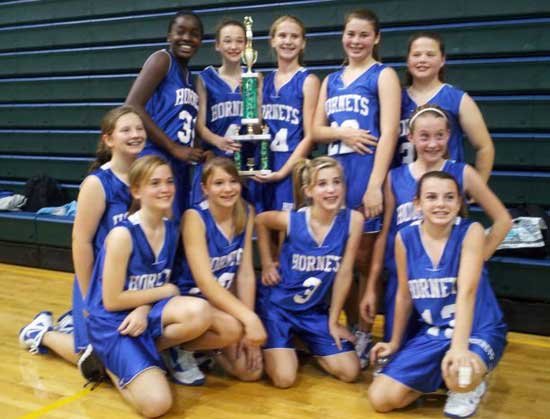 LITTLE ROCK — Payback was sweet for the Bryant Blue Lady Hornets seventh grade team on[more] Saturday. After losing to the Little Rock Episcopal Lady Wildcats in pool play earlier in the week, the Lady Hornets got a rematch in the championship game of the Wildcat Shootout at Episcopal.
By outscoring the Lady Wildcats 7-4 in the fourth quarter, the Lady Hornets earned the tourney crown with a thrilling 24-22 victory.
The win came after the Lady Hornets finished up pool play on Friday with a 28-0 win over Lighthouse Charter Academy.
"I was really proud of how hard our seventh grade team played on Saturday," declared Bryant Blue coach Rhonda Hall. "They played their best game of the season up to this point with a great victory over a good Episcopal team.
"We had a really good defensive performance by Chloe Cline and the entire team allowing their best player only two field goals after she scored 20 in the previous game," she added, referring to Episcopal's 26-18 loss on Tuesday, Nov. 29.
Bethel led 6-4 after a quarter and held a 10-8 edge at the half. Episcopal managed an 18-17 lead at the end of the third quarter.
Riley Hill led the Lady Hornets with 10 points. Cline and Penny Smith finished with 4 each while Alex Dillard and Kendal Rogers contributed 3 apiece.
In the Friday win, Hill finished with 8 points. Cline, Rogers and Smith had 4 each. Dillard, Kasey Ward, Reagan McCormick and Morgan Walters finished with 2 apiece.
Bethel built a 10-0 lead in the first quarter and that was the halftime score as well. It was 22-0 going into the fourth quarter.
The team returns to action on Tuesday at Cabot North with action starting at 4 p.m.