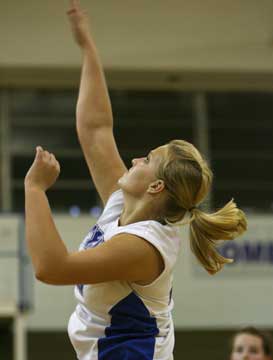 CABOT — In their nine previous 7A-Central Conference matches, the Bryant Lady Hornets volleyball team lost the first game six times including two during the three-match win streak they took into Tuesday's trip to Cabot.
Make it seven of 10.
And this time, they were unable to rally to keep their steak alive as Cabot forged a victory, 25-22, 23-25, 25-22, 25-23, in another tight contest.
Bryant's junior varsity managed a victory, 25-14, 25-23.
The varsity loss dropped the Lady Hornets to 5-5 in league play and continued their struggles on the road where they're now 1-3. They get a final conference match at home against Russellville on Thursday before finishing the league slate at Conway, at Van Buren and at North Little Rock. They finish the regular season at home in a non-conference match against Sheridan on Thursday, Oct. 22.[more]
"I am happy that the JV won," said Lady Hornets head coach Beth Solomon. "However, the effort and the want to win was not there in JV or in varsity. The girls have yet to play a game where they do not start off down, or dig a hole, that they have to pull themselves out of. (Cabot) was no different. We try to come from behind every game and we can't do that."
And doing it on the road is even tougher than at home.
"We'll hopefully get it fixed before Russellville (Thursday)," added the coach.
"Our stats are nowhere near where they were last Thursday night after we played Mount," she noted.
Indeed, after an eye-popping 22-kill night against the Belles, Kayla Davidson finished with 15. Amber Cope had 11. Brianna White contributed six blocks. Heather Light served up five aces and Jordan Armstrong had 36 assists. Brianna Hays led with 20 digs.
For the JV, Peyton Thacker paced the offense with five kills. Jenifer Hubbard had seven assists while serving up two aces. Lana Naumann also had two aces.
Defensively, Maggie Hart contributed two blocks and eight digs.
Thursday, the Lady Hornets will try to avenge a 3-1 loss at Russellville on Sept. 15.