By Rob Patrick
Photos by Kevin Nagle
CABOT — Shoulders and hips, elbows and forearms, butts and thighs — those are the instruments of defense in the[more] 7A-Central Conference. (Offense too a lot of times.)
It's not something the Bryant Lady Hornets experienced much during their 14 wins to start the 2010-11 season but they've been given a rude introduction over the last three games in which they've taken on three of the best teams in the classification, a trio of teams that has a combined record of 42-8 through Friday night's games, including a win apiece over the Lady Hornets.
The problem is, Bryant faces the best of the bunch, defending 7A State champion North Little Rock coming up next (Tuesday, Jan. Jan. 15, at home).
The Lady Hornets will be looking to snap a three-game losing streak after the Cabot Lady Panthers held them to a season-low point total in a 48-34 victory Friday.
Cabot improved to12-5 overall and 3-1 in conference play as Bryant fell to 14-3 and 1-3.
The game was more than six minutes old before Bryant managed a field goal Friday. And Breanna Blundell's hoop off a drive down the base line proved to be the only one for the Lady Hornets in the opening quarter as Cabot rolled out to a 16-6 lead.
Sophomore Logan Davis hit a 3-pointer to open the second in the second quarter, bringing the Lady Hornets within 7 but they could never get any closer.
"I didn't think we were ready to execute," commented Lady Hornets head coach Blake Condley. "I think we got out-hustled to lots of balls. I thought we didn't help each other on defense. I thought we weren't patient on offense. We took quick shots. We blocked out at times but then we didn't go get the rebound when it came off — just little things that we've been talking a lot about. I've got to do some things to get our attention come practice time on Monday."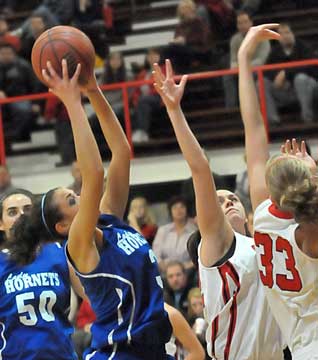 Cabot put three players in double figures led by guard Kaki Thomas with 16 including four 3-pointers. Elliot Taylor added 12 and Melissa Wolff 10.McKenzie Adams led Bryant with 11 points. Kiara Moore had 10 and Davis 5.
Asked what he told his team in the locker room after the game, Condley related, "I just told them that we're at a spell right here where there's one of two things that can happen. 'The easy thing for you to do is start pointing fingers and start saying it's this girl's fault, it's that girl's fault, or it's coach's fault or somebody.'
"I told them, 'What a true competitor's going to do — and this is what I'm going to do as a coach — I'm going to evaluate this weekend. Where are we at? What do I need to be doing better? What have I not done this last week or two to get us ready to be able to play?' And when we come back to practice Monday, I'm going to be ready to try to fix that.
"'And you, as a player, need to evaluate: Where are you at? What are you not doing? What can you do to help us be a better team?' the coach related. "We're facing some adversity and teams do one of two things when they face adversity. They either come out of it stronger and better on the other side or the wheels fall off and they just totally crumble. I said I don't feel like that's going to happen to us. 'I feel like you girls will come back, we'll go to work, we'll get this thing fixed and then we'll be ready to make a run here these next four or five weeks of conference.' That's fully what I expect to happen."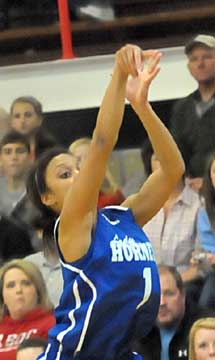 Bryant's first three points came on free throws by senior Abbi Stearns. But, in the meantime, Cabot put up 14 points including Thomas' first 3 and a pair of layups by Wolff off back-door screens. The second of those moved a frustrated Condley to call timeout.
Blundell and Taylor traded baskets then Adams, following her own miss, was fouled with less than a second left in the period. She converted once to make it 16-6.
Davis' 3-pointer to cut it to 7 was followed by a basket inside by Wolff off a feed from Taylor who had claimed an offensive rebound.
A pair of driving jumpers by Adams around a hoop by Taylor had the Lady Hornets wihin 20-13 with 3:03 left in the half. But Thomas rained a 3 to spark the Lady Panthers to a 27-15 halftime lead.
Baskets by Moore and Adams around a bucket inside from Sydney Wacker for Cabot had Bryant within 29-19. And they forced a Cabot turnover to get a chance to get closer. But the Lady Hornets returned the favor. Wolff hit a layup then Thomas knocked down consecutive 3's and the Lady Panthers had their largest lead of the game, 37-19, with 3:14 left in the third.
London Abernathy, still struggled with the after-effects of stomach virus (something that also afflicted Blundell and kept her out of the starting lineup as sophomore Whitney Meyer got her first varsity start), provided Bryant with a spark by flushing a triple. She then made a steal that led to two free throws by Moore. And when Adams hit two free throws after another Cabot turnover, the Lady Hornets were within 11 again.
They almost forced another turnover but Cabot got a timeout before the ball was lost.
Cabot led 39-28 going into the fourth quarter and the final period was more than halfway through before Bryant could score again on two free throws by Davis.
The Lady Hornets trimmed the lead to 10 when Moore hit a troika with 1:34 left but they would get no closer as Cabot closed out the victory.
LADY PANTHERS 48, LADY HORNETS 34
Score by quarters
BRYANT 6 9 13 6 — 34
Cabot 16 11 12 9 — 48
LADY HORNETS (14-3, 1-3) 34
Player fg-fga ft-fta reb fls pts
o-d-t
Moore 3-6 3-4 1-2 3 4 10
Adams 3-11 5-7 3-2 5 3 11
Abernathy 1-4 0-0 1-3 4 1 3
Stearns 0-5 3-4 2-3 5 2 3
Meyer 0-2 0-0 0-0 0 2 0
Blundell 1-3 0-2 2-1 3 0 2
Davis 1-3 2-2 0-3 3 0 5
Team 1-0 1
Totals 9-34 13-19 10-14 24 12 34
LADY PANTHERS (12-5, 3-1) 48
Player fg-fga ft-fga reb fls pts
o-d-t
Bridges 1-4 0-0 0-2 2 2 2
Thomas 6-9 0-0 0-1 1 2 16
Wolff 5-12 0-0 1-6 7 3 10
Taylor 4-8 4-6 4-5 9 3 12
Wacker 3-4 2-2 0-4 4 3 8
Russell 0-0 0-0 0-0 0 0 0
Boyett 0-2 0-0 0-0 0 1 0
Fowler 0-1 0-0 0-0 0 0 0
Team 1-3 4
Totals 19-40 6-8 6-21 27 14 48
Three-point field goals: Bryant 3-8 (Abernathy 1-3, Moore 1-2, Davis 1-2, Stearns 0-1), Cabot 4-10 (Thomas 4-6, Bridges 0-3, Wolff 0-1). Turnovers: Bryant 19, Cabot 15.