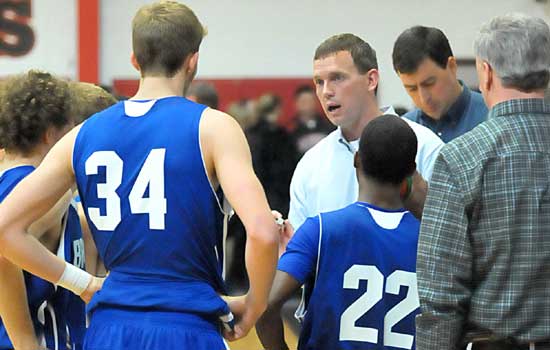 By Rob Patrick
Photos by Kevin Nagle
CABOT — If effort was all it took to win basketball games, the Bryant Hornets would have a lot more wins.
These guys[more] play hard.
Now, the toughest thing to develop, especially for an inexperienced team, is consistency but effort is one area in which the Hornets have accomplished that illusive goal.
Once again on Friday night, they played with urgency and hustle but, alas, effort won't do it alone. Still working to develop into a consistent team in more particular facets of the game, the Hornets absorbed a tough 58-49 loss to the Cabot Panthers.
A scoring drought allowed the Panthers to turn a 26-25 deficit into a 43-29 lead that, despite a frenzied comeback by Bryant, which whittled the lead to 4 midway through the fourth quarter, provided the impetus that propelled them to the win.
"It's the same story after every game," stated Hornets coach Mike Abrahamson. "I say the same thing in the locker room after every game because the same things keep happening. Again, I've got a great group of kids. They're playing hard. We are getting better but we still need to get better so we can get over the hump and pull some of these games out.
"We're still struggling to put four quarters of good basketball together," he emphasized. "I thought at times again tonight we looked really good. And, at times, we didn't look good. We have little stretches where we turn the ball over two, three, four times in a row or we give up two, three, four layups in a row on the other end."
That stretch this time came at the end of the first half and extended to midway through the third quarter. It became an 18-3 blitz.
Both teams came out hot, connecting on four 3-pointers each in the first quarter. Bryant's Brantley Cozart drained three on his way to scoring 13 points in the period before picking up a pair of fouls in the late stages and having to come out. He would wind up scoring a game-high 24 points.
But the Panthers not only rained down the quartet to triples, they hit 8 of their 10 shots in the quarter to build a 22-16 lead.
It was 19-16 after Cozart's 3 with 1:46 left in the period and it stayed that way until J.D. Brunett beat the buzzer with a 3.
Brunett erupted for 18 points in the game to pace the Panthers. Kai Davis added 17 and Darin Jones 12. For Bryant, Jordan Griffin added 13 and Houston Garner came off the bench for 7.
"I was disappointed really in the first quarter, giving up 22 points," Abrahamson mentioned. "That's unlike us. We pride ourselves on our defense and our rebounding and we really got off to a sluggish start defensively. We were scoring but we look up and they have 22 points. That hurts us because we don't have a lot of room for error."
A three-point play by Quinton Motto started the scoring in the second quarter and pulled the Hornets within 3. After a Cabot turnover, Motto fed Zach Cambron inside for a layup. And when the Hornets got possession again on a held ball, a short jumper by Griffin gave them a 23-22 lead with 6:24 left in the half.
The game was tied at 23 and 25 before Garner converted a free throw to put Bryant up but, moments later, Brunett sank a pair of free throws to give his team a tenuous 27-26 lead at the half.
But those free throws started Cabot's surge. Only a driving jumper by Cozart at the 6:59 mark of the third quarter and a free throw with 5:28 left in the period interrupted.
The free throw had the Hornets within 10 but a driving basket by Logan Spry and, after a Bryant turnover, a bucket inside by Davis completed the run.
But the Hornets wouldn't go away. Griffin converted a pair of free throws then Cozart made a steal that led to two more free throws for Griffin. And when Griffin hit a 3 late in the period, the Hornets were within 43-35 going into the final eight minutes.
A banker off a drive by Cozart kept the Hornets' rally going. Marcus Wilson made a steal for the Hornets but a Bryant turnover followed. Chuck Mantione missed a pair of free throws for the Panthers, however, and eventually, Cozart got to the line and dropped both shots to trim the margin to 43-39 with 4:50 left to play.
A reverse layup by Brunett ended a drought of over six minutes for Cabot. The Hornets missed two chances to answer before Clayton Vaught converted two from the line after being fouled under the defensive boards.
Griffin's 3-point try refused to fall but, moments later, Motto blocked a shot by Davis and Cozart scrambled after the rebound. A turnover followed, though, and, with 3:01 left to play, Vaught scored again.
The teams traded turnovers with Griffin causing Cabot's when he defended Brunett for a five-second call. That led to a three-point play by Garner who followed his missed 3-point try, scored and was fouled with 2:06 showing.
Bryant was within 49-42 but Jones fed Vaught for a basket. Cozart knocked down a pair of free throws in replay then made a steal and a layup that had the Hornets back within 51-46 with 1:26 to play.
The Hornets almost forced a turnover but Cabot retained possession out of bounds and with 1:04 left, Davis began the late parade to the free-throw line. The Panthers missed just enough to keep Bryant's hopes alive. The Hornets were still within 55-49 when Griffin nailed a triple with :21.2 to go.
But free throws by Davis and Brunett closed out the win.
The Hornets host North Little Rock on Tuesday.
CABOT 58, BRYANT 49
Score by quarters
BRYANT 16 10 9 14 — 49
Cabot 22 5 16 15 — 58
HORNETS (4-13, 0-4) 49
Player fg-fga ft-fta reb fls pts
o-d-t
Griffin 3-10 5-6 1-0 1 3 13
Cozart 8-12 5-6 0-7 7 4 24
Wilson 0-4 0-0 1-0 1 3 0
Motto 1-5 1-2 1-9 10 5 3
Moore 0-1 0-0 0-1 1 3 0
Garner 2-3 2-3 1-0 1 4 7
Cambron 1-1 0-0 0-1 1 2 2
Nossaman 0-0 0-0 0-2 2 3 0
Trudell 0-1 0-0 0-0 0 0 0
Team 1-1 2
Totals 15-37 13-17 5-21 26 27 49
PANTHERS (9-8, 3-1) 58
Player fg-fga ft-fta reb fls pts
o-d-t
Thielemier 1-4 0-2 0-0 0 2 3
Brunett 4-8 8-10 0-2 2 0 18
Davis 6-9 3-6 1-6 7 2 17
Vaught 2-2 2-3 1-0 1 3 6
Jones 3-5 6-12 0-0 0 4 12
Mantione 0-1 0-2 0-2 2 1 0
Spry 1-1 0-0 0-2 2 4 2
Rock 0-0 0-0 0-1 1 2 0
Stafford 0-0 0-0 0-0 0 0 0
Team 0-5 5
Totals 17-30 19-35 2-18 20 18 58
Three-point field goals: Bryant 6-18 (Cozart 3-6, Griffin 2-4, Garner 1-2, Wilson 0-4, Motto 0-1, Trudell 0-1), Cabot 5-11 (Brunett 2-5, Davis 2-3, Thelemier 1-2, Jones 0-1). Turnovers: Bryant 16, Cabot 11. Technical fouls: Bryant, Cozart; Cabot, Spry.