EDITOR'S NOTE: All youth teams are welcome to submit scorebooks with rosters to rob@bryantdaily.com for game reports.
Photos courtesy of Lee and Lara James
Using the short game, the Dodgers, coached by Michael Catton, scrapped for two runs in the top[more] of the fourth inning to escape with a 2-1 win in a pitcher's duel against Arvest Bank, coached by Brian Hall at Bishop Park.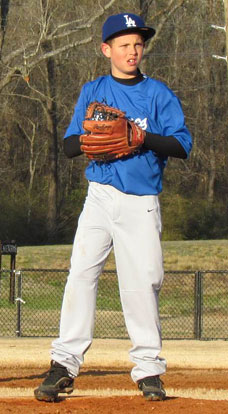 The two teams opened regular-season play in the Bryant Athletic Association Cal Ripken Blue League for 11-12 year old teams Monday night in a bitterly cold, gusting winds.
The Dodgers' trio of Logan Chambers, Rhett James and Zack Wells out-dueled Arvest Bank's Logan Grant, Brayden Lester, Tyler Jordan and Ryan Lessenberry in a well-played, tight ballgame.
Arvest took a 1-0 lead in the opening frame when Jessy Windemaker walked, stole second, took third on an errant pitch and scored on a passed ball before Chambers struck out the side.
It stayed 1-0 until the top of the fourth when James beat out an infield hit for the Dodgers' first knock of the game. He stole second, took third on an errant throw and, after Chambers walked, scored on a bunt single by Hammonds to tie it.
With one down, a passed ball put runners at second and third for Ryan Taylor who got down a squeeze bunt to get Chambers home with what proved to be the difference-maker.
The Bankers threatened to tie or take the lead in the bottom of the fourth when, with two down, Lester walked and Sawyer Holt's grounder drew a wild throw that allowed the runners to make it to second and third.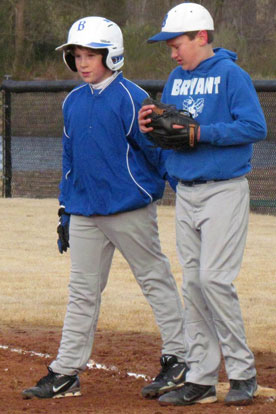 But James induced a comebacker to the mound to escape with the lead intact.
In the fifth, Lessenberry fanned two on the way to a 1-2-3 inning, keeping it a one-run game going into his team's final at-bat.
Again, Arvest had a chance when, with two down, Windemaker reached on an error after Wells had come within a strike of ending it. But the Dodger pitcher got the final out on a tap back to the mound to close out the win moments later.
Arvest had runners aboard in every frame. Besides the last two innings, their best shot came in the second when, with two down, Holt and Jordan cracked singles to put runners at second and third. But Chambers recorded his fifth strikeout of his two innings of work to squelch the threat.
Meanwhile, Grant and Lester had held the Dodgers without a hit over the first three innings. The lone base-runner came on a lead-off walk to Hunter Ulmer in the second. With a stolen base and Hammonds' bouncer to first, Ulmer reached third but was stranded as Grant recorded a strikeout and got the final out on Austin Cook's grounder to Jordan at third.