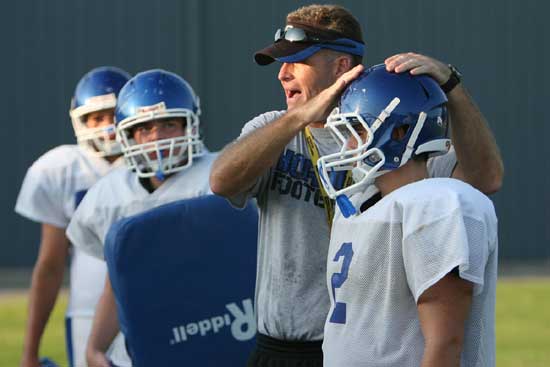 Photo by Rick Nation
LITTLE ROCK — Bryant head football coach Paul Calley is one of three finalists for the[more] 2011 Farm Bureau Awards.
The Farm Bureau Awards honor Arkansas' top offensive player, defensive player and coach of the year for each classification. Calley and a good friend, former Hornets coach Daryl Patton of Fayetteville, along with Jonesboro's Randy Coleman are the finalists for the Coach of the Year awards for the 7A/6A classifications.
In addition, former Bryant offensive coordinator Jared McBride, now the head coach at Hot Springs Lakeside, is a finalist for the Class 5A award.
The veteran staff at Hooten's Arkansas Football selects three finalists for each category, and those finalists are invited to attend the Farm Bureau Awards on Monday, Dec. 12 in North Little Rock.
Farm Bureau vice president-general manager Duff Wallace said, "Farm Bureau congratulates all of the finalists for this year's awards. They represent some of the best student-athletes in our state. Farm Bureau is proud to honor their excellence as the title sponsor of this outstanding event."
Farm Bureau Insurance has supported education and community involvement in Arkansas for more than 50 years.
2011 FARM BUREAU AWARDS
7A/6A FINALISTS
OFFENSE
Levi Runyan, Lake Hamilton
Shaquille Jones, Fort Smith Northside
Dallas Hardison, Bentonville
DEFENSE
Cody Dauksch, West Memphis
Brian Anderson, Little Rock Central
Seth Gates, Har-Ber
COACHES
Randy Coleman, Jonesboro
Daryl Patton, Fayetteville
Paul Calley, Bryant
5A FINALISTS
OFFENSE
Neal Burcham, Greenbrier
Derek Keaton, Camden Fairview
Hayden Smith, Greenwood
DEFENSE
Ajalen Holley, Hot Springs Lakeside
Jackie Harris, Watson Chapel
Cody Vaughn, Batesville
COACHES
Jared McBride, Hot Springs Lakeside
Mike Vaughn, White Hall
Rick Jones, Greenwood
4A FINALISTS
OFFENSE
Michael Ludwig, Heber Springs
Fredi Knighten, Pulaski Academy
Darrick Strzelecki, Gravette
DEFENSE
Justin James, Malvern
Deondrai Haynes, McGehee
Keith Humbert, Stuttgart
COACHES
Jeremie Burns, Ozark
Marcus Haddock, McGehee
John Fogleman, Malvern
3A FINALISTS
OFFENSE
Daniel McCoy, Prescott
Dustin Shelby, Charleston
Wil Jarnagan, West Fork
DEFENSE
Robert Cooney, Rivercrest
Ethan Roberts, Barton
Quanterio Heath, Rison
COACHES
Brad Harris, Lincoln
Van Paschal, Barton
Doug Loughridge, Charleston
2A FINALISTS
OFFENSE
Darius Barnes, E. Poinsett County
Jeffery Pinkston, Magnet Cove
Kenneth Dixon, Strong
DEFENSE
Josh Dority, Magazine
Matt Tenison, Hazen
Bronte Elliott, Junction City
COACHES
Scott Waymire, Carlisle
Sammy Weir, Salem
Brian Weathers, E. Poinsett County