Calley "gets his team back" as Hornets leave Texarkana in their wake
EDITOR'S NOTE: Because the look back at each day in Bryant athletic history has been so favorably received during the time when there was no sports during the COVID-19 shutdown, BryantDaily.com will continueposting past stories of Bryant athletics either posted on BryantDaily.com (from 2009 to the present) or published in the Bryant Times (from 1998 to 2008).
By Rob Patrick
Photos by Kevin Nagle
TEXARKANA — High school football pundits — in magazines, newspapers and on radio — have a tendency to take the long view sometimes. They notice trends and often make a big deal (too big a deal?) of them. For example, they like to point out that the 7A-West Conference has been dominant over the 7A-Central for several years now. They like to point out that a team like Bryant has, over the years, had its struggles with West teams.
Now, there are reasons that that is true — most of them peripheral — but nonetheless, it is often noted in the press.[more]
But for a player — say, a Bryant Hornets player, perhaps — it's all about here and now, this year. They don't take those things into consideration. Every year's a new one.
If you told a fan, or one of those pundits, that the Bryant Hornets took the Fort Smith Northside Grizzlies too lightly going into their clash on Friday, Sept. 10, they'd say that was preposterous. How could Bryant take any 7A-West foe lightly considering that history?
But players don't pay any attention to that kind of "history." All the Hornets know is they pretty much beat the Pine Bluff Zebras in a pre-season scrimmage then Pine Bluff went out and hung 51 points on Northside in the opening week. It didn't matter that the Grizzlies had the opportunity to score over 50 points too. It's human nature to compare scores.
Bryant lost to Northside last week, 36-21.
Bryant coaches — and players as well – started using words like "embarrassed" and "disappointed" when referring to the game. Head coach Paul Calley even questioned his team's effort, which hardly ever happens. Usually, win or lose, the coaches laud their team's effort.
Not this time.
Fast forward to Friday, Sept. 17, and the Hornets' trip to Texarkana where they figured to face a team much like Northside; a team with a top quarterback, a team with an undersized but quick defense.
Even after a pretty focused week of practice, Calley and his coaching staff were worried.
No more.
"We got our team back tonight," Calley said after the Hornets shredded the Texarkana defense for 360 yards of offense, forced four turnovers and rolled to a 35-6 win in which the "mercy rule" was applied in the fourth quarter, a development that absolutely stunned the Razorbacks.
"We just came focused and ready to play," Calley added. "That's what it boils down to, I think. They (the Bryant players) were all disappointed and embarrassed by the performance last week when we did a lot of things to hurt ourselves. But tonight, we did a lot of things to help ourselves."
Including a big night in the running game, a somewhat surprising development. But instead of deploying in their eight-man front, the Razorbacks used a second safety much of the night, remembering all too well how the Hornets had haunted them last season with post pattern passes.
"It made them weaker against the run," Calley acknowledged. "Of course, it took some passes away. And they're very quick up front but I thought, offensively, we executed extremely well. They did some things that could've hurt us but we played just that much harder tonight and overcame those things.
"It was just about living up to your potential," he emphasized. "I told them. I said, 'Guys, we need to get back to who we are, be physical, dominate the line of scrimmage, hit people. That's what we do. I hadn't seen that. Even against Benton, we didn't really get after people. But I thought, tonight, we were much more physical on both sides of the ball."
Calley, who coaches the offensive line in particular, challenged his veteran group after the performance against Northside.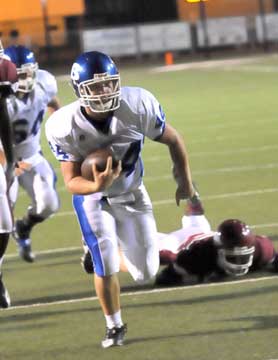 "They were man enough to accept the challenge. I thought they played really well," said the coach of center Justin Rauch, guards Steven Lecamu and Landon Pickett, tackles Austin Johnson, Jordan Murdock and Colby Maness, along with tight ends Cody Elmore and Josh Hampton.
And behind that effort, Stephen Clark ran with as much purpose as he had shown to this point in the season. He became Bryant's first 100-yard rusher of the season picking up 106 on just 10 carries, all in the first half. Karon Dismuke added 96 yards on 19 tries.
Bryant benefitted from 14 Texarkana penalties — many for unsportsmanlike conduct or personal foul — for 149 yards. In fact, one of those major penalties came after Hornets kicker Jace Denker was decked on a kickoff, injuring his back. After a long delay, Denker was stabilized on a stretcher and carted from the field. Calley reported that the CT scan was negative and that Denker suffered a deep bruise to his lower back.
"I thought our guys showed a lot of class and a lot of poise," Calley commented.
The turnovers, too, were a welcome development. The Hornets had forced just two this season but doubled that against Texarkana.
"That was the main point in my pre-game speech," Calley said. "To win ballgames, we've got to win the turnover battle. The good teams that we've had in the past forced turnovers. We hadn't forced that many this year. The ball was on the ground last Friday night four or five times and we didn't come up with any of them."
The Hornets scored on each of their first four possessions. On the first, they drove 70 yards in seven plays, aided by a pair of encroachment penalties. Clark contributed runs of 12 and 17 yards and sophomore quarterback Hayden Lessenberry, making his first varsity start, hit a 15-yard pass to Sawyer Nichols.
On a second and 10 from the Texarkana 15, Lessenberry rolled to his left to pass but when he saw wide-open spaces in front of him, he tucked the ball and ran it in.
Denker added the extra point.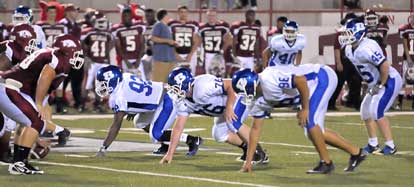 Hampered by a holding penalty, Texarkana wound up punting after being unable to pick up a first down. A long kick by Skylar Luther was sabotaged by two penalties. First, the Hogs were guilty of interfering with a punt returner trying to call a fair catch then they were hit with their first unsportsmanlike conduct penalty.
Great field position resulted. The Hornets set up at the Texarkana 49 and marched to a second touchdown. Dismuke used a gaping hole provided by the o-line for 8 yards then sophomore Jalen Bell slashed for 15. Bryant reached the Hogs' 21 and Lessenberry, who was 5 of 7 passing for 54 yards in the game, hit Dylan Pritchett with a 10-yard pass. On the next play, Clark rumbled 11 yards for the touchdown.
Denker added the PAT then kicked off. Texarkana had a player designated to go after the Hornet kicker on every kickoff. After Denker went down, sophomore Josh Lowery took over the duties and the Bryant coaches just had him kick and run to the sideline so he wouldn't get hit and hurt.
Thanks to the personal foul penalty, Texarkana was backed up to its own 16 but, sparked by a 45-yard run from quarterback Kierra Harris, drove into Bryant territory. They reached the Bryant 11 but, after Tavaris Clark was stopped for virtually no gain on first down there, the running back tossed the football at one of the Hornets who had been in on the tackle. The resulting penalty pushed the Razorbacks back to the 25 and, on the next play, Chuck Hillis was separated from the football and Jacob Brady recovered for Bryant.
With Stephen Clark ripping for runs of 36 and 17 yards, the Hornets drove to the 19 where a pair of incomplete passes had them staring at third-and-10. Texarkana put the blitz on but the Hornets had dialed up the perfect call for it, a middle screen. Davidson passed to Bell who, with an escort, went untouched until he was inside the 5 where he broke a tackle on his way to the end zone.
Lowery added the extra point and Bryant led 21-0.
And, after Texarkana went three-and-out, the Hornets offense was back on the field. In 11 plays, they scored again.
A holding penalty threatened the success of the march but, on a third-and-23 at the Texarkana 47, Dismuke broke a 30-yard run. On the next play, Lessenberry threw a quick pass in the flat to Dillon Winfrey who turned it into a 17-yard touchdown play with another broken tackle inside the 5.
Two plays later, Bryant had the ball back as linebacker Hunter Mayall recovered Tavaris Clark's fumble.
The Razorbacks forced the Hornets' first punt but, after digging out from their own 4 to the 32, Keenan Robinson caught a pass from Harris but fumbled. Holden Chavis recovered for Bryant with :08.8 left in the half.
And Texarkana's first possession of the second half became their third in a row to end with a fumble. After a long run by Hillis, Tanner Tolbert stripped the ball with a solid open-field tackle. Chavis recovered again and, after another personal foul penalty was walked off against Texarkana, Bryant had possession at midfield.
Nine plays later, senior fullback Dylan Pritchett powered into the end zone from 11 yards out. And when Lowery kicked the extra point, the mercy rule went into effect.
Texarkana eventually scored late in the game. With the first team offensive line still playing with back-up skill players against the Bryant reserves, the Razorbacks drove to the Bryant 11.
The starting front seven returned for Bryant to try to preserve the shutout but, on a third-down play, Elgie Richards' pass to Robinson was caught in a crowd for the touchdown.
The extra point attempt was undermined by a bad snap and with 4:45 left in the game, the final score was on the board.
On the ensuing kickoff, sophomore Austin Powell returned, running out of bounds under little duress at the 14. But five yards out of bounds, a Texarkana player blasted him, picking up another personal foul penalty. To his credit, Powell hopped up and gave the offending Razorback a friendly pat on the helmet as he ran past him on the way to the Bryant sideline.
But that was not the last Texarkana penalty. Two plays into the subsequent possession, the Razorbacks picked up another unsportsmanlike conduct penalty that pushed the ball into Texarkana territory.
The Hornets ran two plays to drain the clock.
It was the final non-conference game of the season. Bryant will visit War Memorial Stadium on Friday, Sept. 24, to open league play against Little Rock Catholic. The Rockets, incidentally, defeated Northside this week, 45-26.
BRYANT 35, TEXARKANA 6
Score by quarters
BRYANT 14 14 7 0 — 35
Texarkana 0 0 0 6 — 6
Scoring summary
First quarter
BRYANT — Lessenberry 15 run (Denker kick), 8:44
BRYANT — S.Clark 11 run (Denker kick), 4:44
Second quarter
BRYANT — J.Bell 19 pass from Davidson (Lowery kick), 10:41
BRYANT — Winfrey 17 pass from Lessenberry (Lowery kick), 5:37
Third quarter
BRYANT — Pritchett 11 run (Lowery kick), 7:30
Fourth quarter
TEXARKANA — Robinson 8 pass from Richards (kick failed), 4:45
Team stats
Bryant Texarkana
First downs 23 12
Rushes-yds 44-262 28-258
Passing 8-15-0 8-13-0
Passing-yds 98 61
Punts-avg 2-45.0 2-42.0
Fumbles-lost 0-0 4-4
Penalties-yds 5-52 14-149
INDIVIDUAL STATS
Rushing: BRYANT, S.Clark 10-106, Dismuke 19-96, Pritchett 3-27, Lessenberry 2-14, J.Bell 2-14, J.Powell 4-4, M.Harris 1-1, Davidson 1-0; TEXARKANA, K.Harris 9-102, Hillis 6-74, Grissom 4-41, T.Clark 5-22, Milhorn 3-18, Cornelius 1-1.
Passing (C-A-I-Y): BRYANT, Lessenberry 5-7-0-54, Davidson 3-6-0-44, Dismuke 0-2-0-0; TEXARKANA, K.Harris 6-11-0-44, Richards 2-2-0-17.
Receiving: BRYANT, Nichols 2-28, J.Bell 1-19, Winfrey 1-17, Garrett 1-12, Pritchett 1-10, Elmore 1-7; TEXARKANA, Milhorn 2-10, Resecker 1-13, Cornelius 1-9, Robinson 1-8, Stewart 1-6.